Samsung Galaxy Watch They are popular in Europe, thanks to their many functions. As with its phones, the brand also offers us many options to personalize the use of these watches, such as the gesture of double tapping on the start button. Normally this gesture opens Bixby on the watch, but we can customize it.
Many users with a Galaxy Watch do not use Bixby on it
, so being able to open another application on the clock thanks to this gesture would be very useful. The good news is that we can choose which app will open when using this double tap gesture.
Customize the Galaxy Watch's double-tap gesture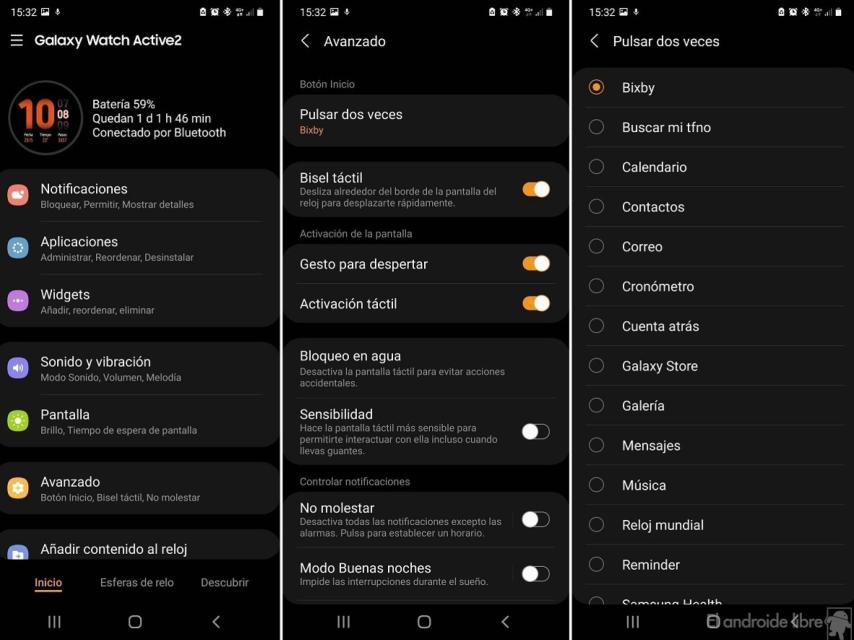 Wearing the watch comfortably is important for all users. The double-tap gesture allows us to open an app without having to search for it on the watch itself, so it's a great help when we want to open it quickly.
By default, Galaxy Watch opens Bixby when this gesture is performed on the start button. Although if you want you can choose which app will open when using this gesture. The steps to customize this are as follows:
Open the Galaxy Wear app on your phone.
Go to the Home tab at the bottom.
Enter Advanced.
Click Double Pulse.
Choose the action you want to take on the watch or app you want to open.

Once selected, exit this section.
The next time you want to do this, double-click the start button on your watch.
The Galaxy Watch offers enough options in this list, you can therefore choose to open a specific application when you press the start button of the watch twice, but also to perform a specific action, such as finding the phone for example. Each user will be able to choose the desired action in this regard.
You may be interested in:
Follow the topics that interest you
.