Notifications are essential to know what is happening in our digital environment. It's true that we'll want to focus only on the most important ones and disable the most superfluous ones, but it's also true that we won't want to ignore any of the most significant ones. Just because of that, our iPhone or iPad offer us the possibility to announce notifications.
This notification ad Occurs when we wear AirPods and, although this does not happen with all the applications that we have installed on our iPhone or iPad, it can surprise us strangely. Let's talk about how to customize the apps that receive notifications and, if necessary, how to disable this behavior when wearing our AirPods.
Choose which notifications are read or completely disable their reading
We talk about AirPods because they are the most common headphones to use with an iPhone or iPad, but the truth is that it is a system setting that is completely independent of the type of headphones we use. Just as Siri can announce who is calling us, it can also read us notifications.
And when does it? Just when we are wearing the headphones, it calculates that we may be far from our device, but still want to be informed. configure this feature It's very simple, the steps to follow are as follows:
We open the application settings on our iPhone or iPad.
We entered notifications.
we play in announce notifications.
Arrived here we have several options. The first is to disable announce notifications
to stop hearing any of them. The second, very interesting, is to be able to decide when this announcement will be made. here we can
enable or disable
Listeners
oh
coach
under "Advertise when logged in to"
. Thanks to this we can, for example, receive important notifications while we are driving.
Finally, at the bottom appears the list of notifications that we want to announce to us. From here we can choose, for example, that notifications from the Messages application are announced to us, but not from the application of our bank. The general recommendation here is that let's just leave the most important notifications
to be able to be informed of the situation without constant interruption.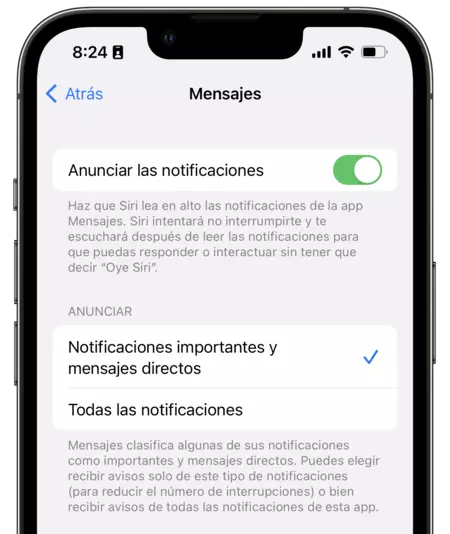 Note, in fact, that among many applications that are offered to us in the list, we can choose if we are announce all notifications from an application or only the most important ones. One more resource to finish clarifying when we will hear the text of a notification on our AirPods.
Although the first use of some AirPods that Siri reads us certain notifications may surprise us a little, it is a really interesting function. After configuring it to leave only the announcement of certain important messages, being able to be attentive without having to have our iPhone with us it can be very useful to us.
In Applesphere | How to record a video with background music on our iPhone using the Camera app