New users with a new Apple Watch often ask themselves this question: How do I download and install apps on my Apple Watch? The apps that already come as standard are very useful and add great value to the watch. But it is very possible that you miss being able to use other applications that you have integrated into your daily life. Let's look at two different methods to do this.
Download and install apps on the Apple Watch from its App Store
We have WWDC 2022 at the street corner and the whole process may change with watchOS 9. But for now, we have two ways to add apps to Apple watch. The first of the methods to download and install apps on the Apple Watch from the app store of the watch itself. To do this, you need to follow these steps: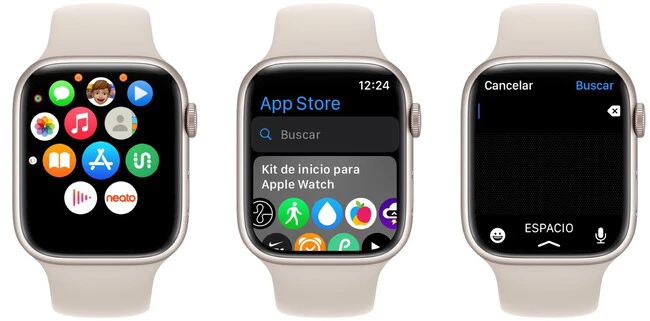 On your Apple Watch, press the digital crown to view the tile or list of apps you have.
Look for the App Store there, blue and with the usual symbol.
As soon as we open it, we can use the search engine to find the application we want. We can dictate it or scribble your name.
Another option is to browse the App Store, slide along your house. There we will see both interesting compilations and featured applications. Although the truth is that there is not much variety.
How to Download and Install Apps on Apple Watch from iPhone
This method to put apps on the Apple watch is even easier than the previous one. This, yes, you will need the iPhone it is paired with
to be able to add new applications. To do so, follow these steps:
On your iPhone, open the Watch app and go to the My Watch tab.
At the bottom, you will find a section with third-party apps that you have already installed and those that still need to be installed.
If you see that you are missing some, just click Install and wait for the process to complete.
It's usually pretty quick to install apps on your Apple Watch. Like always, you will need to have the iPhone and watch more or less closely and connected via Bluetooth. And make sure both devices have enough battery to complete the operation.