Pay, pay and pay. This is the fateful summary of many Spaniards every day. Even the price of oil or bread has reached levels unthinkable just a few months ago, although it is undoubtedly the rise in the price of gasoline that is causing the most headaches for drivers lately. Where does it come from that we desperately seek the cheapest gas station in our area.
Fortunately, our mobile can indirectly help us to pay less for gasoline or diesel. And this thanks to a series of applications available on Google Play that are fully adapted to these times and provide good information on the price of diesel. So, if you want to save, take note of the apps that we are going to show you.
Google Maps, the old reliable even for the price of gasoline
Yes, the quintessential GPS app is a great option for almost anything. From finding the fastest route to your destination to finding restaurant and cafe reviews. And, of course, it is also more than worthwhile to find gas stations at low prices. And knowing that we have (almost) all installed it and that does not contain advertisingIs the best option.
The procedure is very simple, since you only have to search for "petrol stations". Once done, they will all appear on a map, but if you want to see their price, you must click on "See the list". This is where you can consult a long list of refueling establishments in which, in addition to the name and address, the price per liter of gasoline. If you also click on one of them, you will see that the price of diesel also appears.
Google Maps
Use this website to find updated prices
The Google Maps application also has updated prices, but there is a webpage that is becoming more and more popular and that Update prices in real time. It may not be the most aesthetic, since there is also an abundance of advertising, but it is a reliable method that will get you out of trouble.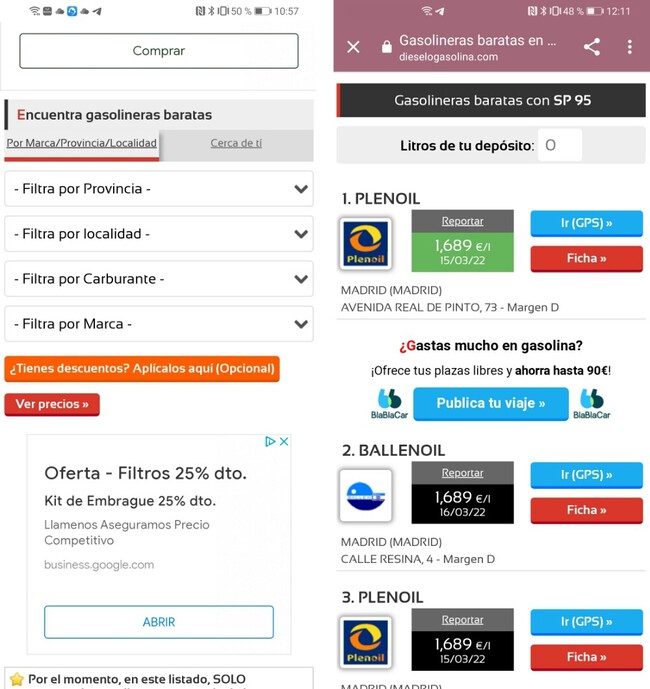 Once inside this website, you will see that a very simple search engine appears, but it allows you to use multiple filters such as province, city, fuel type and even brand. Once you have selected your preferences, you will be able to find a list of gas stations according to these filters with their price, obviously including gasoline and diesel.
The most specialized application to find cheap gas stations
We return to another application which, being called "Instant gas prices", does not have much mystery as to its usefulness. In principle, there should be no variation in this price reliability refers, being therefore linked to the Google application or the previously mentioned website. Its difference with these two alternatives is that it is much more intuitive since it has been designed precisely for this purpose and fully adapted to Android.
As soon as you open it, it will ask you for location permissions, which is great for being able to find gas stations nearby, although it's not mandatory as it also offers manual searches. First of all, it offers a search engine with different filters, although what we find most interesting is its see the gas station on the mapbeing able to see the price of the pumps first and get more information by clicking on each one.
Instant gas price