The arrival of HBO Max is the news of the day. Little by little, the renewed platform has reached different devices but there is one that resists in Europe. For now, it cannot be installed on an Amazon Fire TV or at least conventionally, because now I'll show you how you can do it.
For that you only need an Android phone and two apps installed on Fire TV which you can get from the same App Store of the Amazon device. You will need to perform a series of steps, some of which and almost all of them from your mobile and this way you will also have HBO Max on Fire TV.
HBO Max on Fire TV in a few steps
Far from the complications that require connecting the Fire TV to a PC, we will just have to access the APK Mirror site from the mobile phone and download the HBO Max application for Android TV from this link. The application will be saved directly to the downloads folder from the phone.
Let's see now install on mobile and Fire TV Send files to the TV app in a process we've already detailed in this article.
This is the application that will allow us send any type of content from the phone to the Fire TV and vice versa.
By the way and also on Fire TV, we are going to install a file explorer. For the tests I used An Explorer but Anything else you have installed can be used
or you search in the Amazon app store.

How to install any compatible app, via APK, on ​​a TV with Android TV or Google TV, for free and with one click
These are the previous steps and now everything will go really fast. With these utilities installed we open Send files to TV on mobile and Fire TV
marking one as the transmitter (the mobile) and the Fire TV as the receiver. In the search engine, we go to the folder where we downloaded the APK of HBO Max and we send it to the Fire TV.
Now on Fire TV we quit Send Files to TV and We open the explorer that we installed, looking for the downloads folder. There we will see the APK and to install it just click on it and select "Install".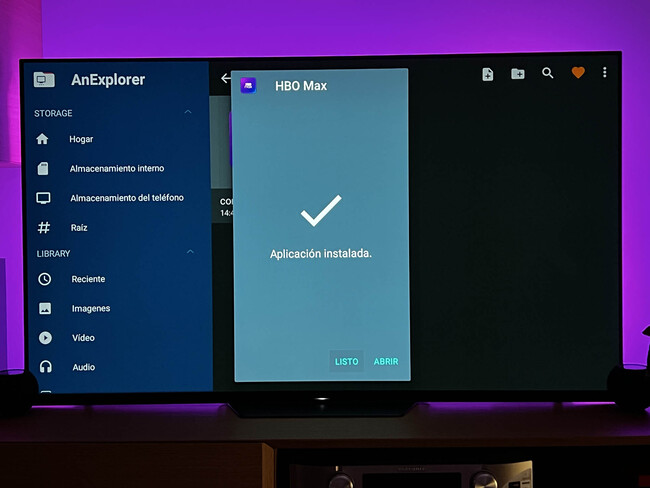 After a few seconds, HBO Max will be installed and you need to log in to start using it normally as if it is an Android TV.
This way it is very easy to have almost any Android app on the Fire TV effortlessly and with the help of your mobile.
Send files to TV
Developer: Yablio
Download it on: google play
Price: Free
Category: Tools