We love to personalize our phones with widgets, covers, wallpapers, fonts, and all sorts of other things, although the holy grail of personalization is still themes. Now well, not all android phones support custom themes.
Does your Android mobile support Android themes? The answer to this question is, as in many cases on Android, complicated. Out of the box, Android doesn't support themes natively, although they're relatively common to find on cellphones from some brands.
Android does not support "out-of-the-box" themes
There is no strict definition of what a theme is, since different mobiles interpret it differently. Typically, it's a customization package that changes multiple things at once, such as the wallpaper, interface colors, icons and sometimes the appearance of the lock screen.
The bad news is that Android does not support themes natively, so it depends on the manufacturer of each mobile if they want to add the functionality of themes in any way. Thus, you will find them on mobiles with different layers – which we will see later – but not on mobiles with Android close to stock or Android One.
If you have Android 12 you have something similar to Themes
Remember when we said Android doesn't support themes natively? Well, it's complicated and depends on what you mean by subject. If for you a theme is to be able to modify the colors of the interface, then in a certain way you will have it with Android 12 and Material You.
Material You is the latest evolution of Google's design philosophy, with new shapes, animations, and a greater emphasis on color and emotion. Part of the material that you are dynamic colors, where the mobile interface adopts a palette inspired by the colors of the wallpaper used on the mobile. In a way, it performs the function of a theme in that you can customize various elements, even manually, such as colors, wallpaper and icon shapes.
Of course, on Android, we rarely have a clear answer to a question. Android 12 dynamic colors are still optional, so having Android 12 does not guarantee that the colors of the interface will change with wallpaper, being optional. Of course, so far most manufacturers have chosen to integrate it more or less into their diapers.
Mobile brands that support themes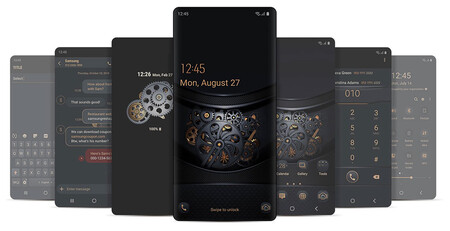 The best way to find out if a mobile supports themes is look what android layer they are using. Some layers include theme support, while others don't, so you're relegated to customization options with root, third-party apps, or settle for a minor level of customizing the look of the interface.
Xiaomi, Redmi, POCO and BlackShark mobiles with MIUI and derivative layers, support themes that can be downloaded and installed directly from the application themesas well as from the personalization settings.

samsung phones With One UI, they can use and download themes from the Galaxy Themes app as well as from the phone's personalization settings.

Huawei phones with EMUI or HarmonyOS can download and install themes from the Themes app, accessible from Android's personalization settings. The same goes for Honor mobiles launched with EMUI.

Mobiles of honor with Magic OS they support themes in the same way as Huawei mobiles, being able to install themes from the Themes application pre-installed on the mobile and in the settings.

OPPO, OnePlus, Vivo and Realme phones with ColorOS or derivative skins (OxygenOS, Realme UI, Funtouch OS) support themes via app theme store pre-installed, also from screen customization settings.

ASUS Mobiles With Zenfone UI, you can use themes through the pre-installed ASUS Themes app.

TCL mobiles With TCL UI, you can use themes from settings, in home screen personalization settings.
The other brands of Android mobiles (Google, Nokia, Sony and Motorola) opt for a near-stock version of Android, which does not include themes. In this table you have a summary of the status of themes on Android mobiles today, according to the brand.
| mobile brand | Ability | Does it support themes? |
| --- | --- | --- |
| Samsung | A user interface | Yes |
| Huawei | EMUI | Yes |
| Xiaomi | MIUI | Yes |
| Redmi | MIUI | Yes |
| A LITTLE | MIUI for POCO | Yes |
| black shark | JOYUI | Yes |
| Honor | magic operating system | Yes |
| Oppo | color operating system | Yes |
| OnePlus | OxygenOS | Yes |
| true me | Realme UI | Yes |
| Long live | Funtouch operating system | Yes |
| Asus | Zen UI | Yes |
| TCL | TCL UI | Yes |
| Alcatel | – | Nope |
| Google | Pixel Experience | Nope |
| nokia | – | Nope |
| Motorola | My user experience | Nope |
| sony | Xperia user interface | Nope |