When we are on vacation, we want to disconnect from work, so we will not be able to immediately respond to emails that arrive while we are away from the office, but by Gmail We have found an option that will respond automatically for us very useful for these situations.
it's about the gmail auto reply, a feature that notifies others when they send us an email that we are not available at that time for the holidays, by replying to emails received with what we wrote in our auto reply.
auto reply
Gmail's automatic reply can be activated from your Android app. To do this, simply access the The settings application, select the email account that we will not be able to attend during the holidays then click on auto reply.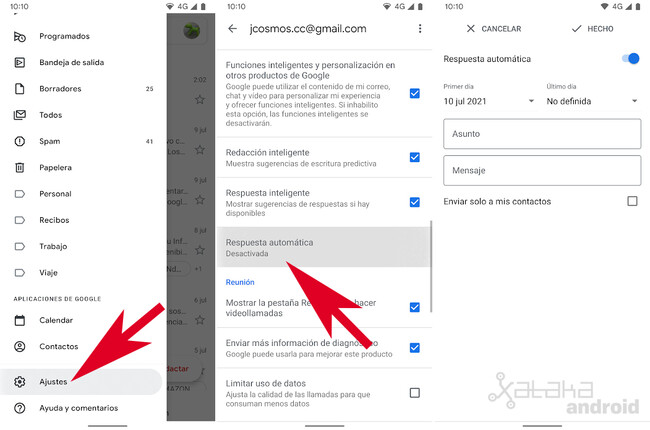 There we activate this option to be able to define the period
in which we are going to be absent and are already writing the email we wish to receive in response to each person who emails us on these dates. We should
write the subject and the message of the e-mail
to inform that until this date we will be away from the office or on vacation. It also allows us to enable only auto-reply for
just our contacts
in case we want to avoid that it automatically responds to strangers.
After filling in all the fields, just click on 'Done' to activate the automatic response. It will be activated at 00:00 on the first day and will be deactivated at 11:59 p.m. on the last day if an end date is set. When someone sends us an email, Gmail will automatically send that automatic email to them along with our message.
In Engadget Android | How to remove all Gmail tabs: how to remove "Chat", "Rooms" and "Meeting"