The Google Messages app is one of the most used SMS applications in Europe. This application has introduced a large number of functions over the years, such as the ability to schedule the sending of a message. In the app we also find smart answers, a feature inspired by the one Gmail introduced years ago.
Smart responses detect the content of an SMS and they allow us to send a response between the options that are offered. A fast and comfortable way to reply to text messages. Some Google Messages users want to use this feature, while others don't want to use it because they don't think it's useful.
Turn smart replies from Google Messages on or off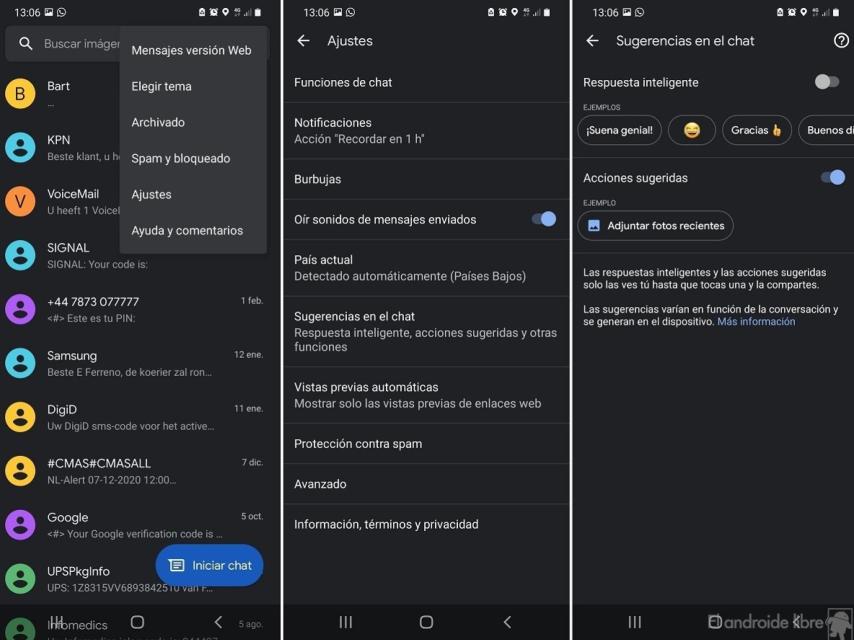 Smart replies in Google Messages are shown as a way to respond quickly to an SMS. This function will detect the content of this message that we have received and a series of responses will be generated depending on the message in question. This feature can be very useful for users of the app, although others don't quite see the usefulness of it. Fortunately, this is a feature that we can turn on or off in the app as we please, by following these steps:
Open Google Messages on your mobile.
Click on the three vertical dots in the upper right corner.
Enter the parameters.
Go to Suggestions in the chat.
Go to the first section, Smart Answers.
Turn this feature on or off, depending on what you want to do.
With these simple steps you have decided what to do with these smart responses in the SMS app on your Android mobile. If you have them turned on, when someone writes a message to you, the feature will be able to understand the context of that message and offer you a series of suggestions that you can choose and use as a response.
If you have disabled this feature in the app, you will be the only one writing the answer as usual, without there being a series of suggestions to write.
Follow the topics that interest you
.