More and more cars are equipped with Android Auto on their consoles and Google keeps launching more and more new products, but What about those of us who don't have an Android Auto compatible car? We were recently able to test the driving mode of Google Assistant, which is the mobile version of Android Auto, but at the moment it is not available to everyone.
While waiting for the driving mode to reach everyone, in this tutorial we will explain to you how to use Android Auto from the mobile screen, without integrated screen or cables of any kind. You will only need an Android mobile and a stand to place the mobile.
First step: open the app
It is not as simple as it sounds and it will depend on the mobile we have. The first thing you should know is that in Google Play there are two applications– One is "Android Auto" and the other is called "Android Auto for phones". In the case of Android Auto, the normal thing is that the app doesn't even appear in the app drawer (except in the case of the Pixel which you'll have it as one more app that you can launch), so you need to open the version for phones, if you can …
We have carried out tests and some are able to open the "Android Auto for phones" application without any problem, while others do not. If you have this problem, tap download activity launcher as Activity Launcher and do it manually as we explain below.
We open Activity Launcher and search for Android Auto in the list of apps.
We long press on the process to be executed (in our case it worked with "com.google.android.gearhead.vanagon.home1") and click on "Execute the activity".
If it worked, go back to Activity Launcher and repeat the process, but this time create a shortcut to have it always at hand.
As we said, we have tested various devices and had mixed results. With the Pixel 4 XL, there was no problem because Android Auto appears to be just one more app that we can launch. In the POCO M3 Pro we had to install 'Android Auto for phones' and it opened without issue, but in the Huawei P40 Pro we had to use the 'Activity Launcher' trick. We would like to come up with a method that works the same for everyone, but Google is not making it easy.
On the other hand, notice that 'Android Auto for phones' is an app that hasn't been updated since 2019, so does not have the latest news
who have reached the platform. Ideally, use the Assistant drive mode, but Google took a while to get started (two years) and it's not available to everyone yet, so this is the best way to have Android Auto on your mobile.
Android Auto
Android Auto for phones
This is Android Auto on mobile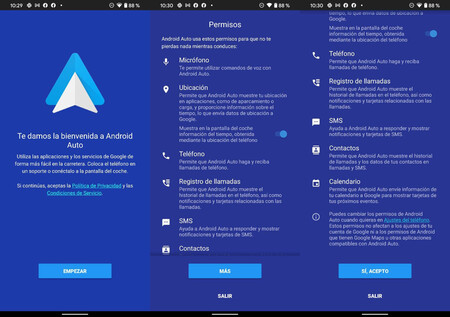 When we run it for the first time, we find the Android Auto start screen and, right after, the list of permissions we must accept to use it. The list includes permissions like phone, SMS, location or microphone, all of which are necessary to be able to control the functions that the app gives us, so don't be surprised if the list is long.
The home interface is super simple and consists of the clock widget and a few controls. At the top left we have access to the settings menu and to the right the microphone icon to use Google Assistant. We recommend using the microphone as the detection is very good and thus avoids distractions while driving. At the bottom we have more controls, from left to right they are:
Home or Back button: has a circle icon. If we press it on the main screen, we will exit Android Auto, while if we press it inside an app, we will return to the main screen.
Plans: when you tap on it, it will show us the map apps that we have installed, in our case Maps and Waze.
Phone: does not need a lot of explanation … to make calls.
Multimedia: here we will have access to different media player apps such as Spotify, Tidal and others.
As we said, the most comfortable and safest thing is to shoot the assistant and ask him to take us to a destination or play a song directly with our voice. In this way we we avoid touching the screen a lot, something we remember is not allowed during the walk.
Finally, briefly comment on what we find when we open the application side menu. From here we can see app info, send feedback or see how many apps are available for Android Auto in the Play Store, but the option we are most interested in are the settings. From there we can customize the applications we want it to show us, activate the detection of 'Ok Google' and configure notifications among other things.
As we said above, Android Auto for phones is an app that has not been updated since 2019 and Everything indicates that it will eventually disappear. However, considering how long it took Google to release the new drive mode, it's worth having this alternative until it reaches everyone.