Android TV is one of the most popular SmartTV platforms and it comes in televisions from many brands such as Sony, TCL or Xiaomi. On the other hand, we have the latest Chromecast with Google TV which has the new interface which also allows us to navigate between different apps and show recommendations.
Both platforms can be controlled via the corresponding remote control, but there are times when Having the mobile support as a remote control can be useful
, for example when we want to type something. We explain to you how to control your Android TV or your Google TV from your mobile with this application.
The best apps for Android TV
13 CHROMECAST TIPS with GOOGLE TV 2021 to get the whole game out of it
The mobile as a remote control with Android TV Remote Control
Download the app Android TV remote control from Google Play.
The first time we open it, you must Accept private policy and terms of use.
On the next screen, you should accept permissions

microphone, bluetooth and localization. Here you can choose whether you want to access the location all the time or only when using the app (it is better to choose the first one).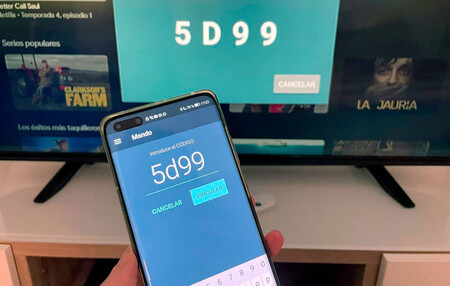 If the mobile is connected to the same WiFi network as your Android TV or Google TV, the device name should appear on the screen. Click on it.
In the next step, you will need to enter the code that appears on the TV screen on your phone and they will connect. From there you can control the TV through your mobile.
The remote control app for Android TV is very simple. By default we have the reticle mode enabled, but if we also go to the menu at the top left we can activate touchpad mode to move around in the interface using gestures.
Like the Google TV remote (you can see it in the first photo in this article), there is also a mic button to activate the assistant. However, the most practical thing about the mobile is that if we are going to search for something, we will not have to use the crosshair to type it and we can use the normal keyboard on the mobile.
Android TV remote control
Price: Free
Unload: and Google Play