Your TV or player with Android TV does not allow downloading Netflix from its Google Play Store? You don't have to live without streaming content – we've walked you through the easiest ways to watch Netflix from your unsupported Android TV.
Google has upgraded its Chromecasts to Android TV, which is a sign of the importance it has acquired for the company. Thanks to this system, it is not only possible to use apps and games, but also access most streaming platforms with the highest quality. Even Apple TV +, which recently made the jump to Android TV. Now: what if a device was not compatible with a platform as popular as Netflix? So you have to find a way to fix the problem.
Install the Netflix APK on your Android TV
In order for the Netflix application to be downloaded to a device, it must not only have a DRM protection system (Widevine in the case of Android), but also must have been certified by Netflix
(for playing high resolution and 720p content). As a result, you may be searching your Android TV's Play Store and Netflix may not appear to download. This indicates that a priori, your device is not compatible.
If your Android TV is not compatible with Netflix you will not be able to reproduce its content in high resolution using the app, but you can stream in HD or 720p. Of course, there is no choice but to manually install Netflix in APK; without guaranteeing that it will work on your device. This is a first step to check.
Installing an APK on Android TV involves sending it to the device to run the installer from there. For it:
Download the APK from Netflix. It is better to install the generic mobile app (from APK Mirror, for example), it is usually the one that offers the best compatibility (it is suitable enough to be used with the remote control).
Use your preferred method to send the files to your Android TV. With a USB key, via Easy Join Go or with Send files to TV, for example.
Once you have the APK file on your Android TV, install it using a file manager, such as File Commander.

Once Netflix is ​​installed, open it and sign in with your account. You should already have access to it.
In case your Android TV does not show you direct access to Netflix, you will need to access it using a launcher such as Sideload.
In the previous way, you should be able to access Netflix streaming. This, yes, surely with a somewhat low quality, especially if your TV is in 4K. In case it doesn't stop working, there are still other methods you can follow.
Netflix via Kodi for Android TV
This is a bit more cumbersome method than installing a simple app, but it will still work for you to watch Netflix on an unsupported Android TV. The "trick" is to open the platform through a Add by Kodi. Thus, you will have integrated it into your TV as if it were just another list of streaming channels.
To watch Netflix via Kodi, you need to do the following:
Open Kodi, go to settings, go to "Add-ons" and check "unknown sources". It is recommended to also choose automatic updates ('Install updates automatically').
Go back to the Kodi homepage and select 'Install from zip file'. Choose the zip repository that you downloaded on your Android TV.
Ready: Once the add-on is installed, you're all set to play Netflix from Kodi.
You will see that Kodi has its own way of distributing Netflix content from uses channel categorization. You can access all menu content, also use recommendations and even your own favorites. It is not the most comfortable way, but it also has its advantages.
The universal way: use Chromecast built-in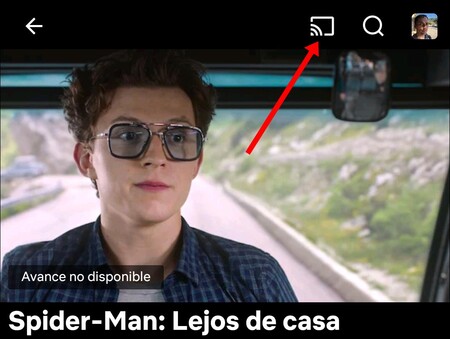 Like all Android TVs have a built-in Google Chromecast just open Netflix on your mobile and launch the series, documentary or movie from there. For that you have at your fingertips the icon "throw away": click on it and the content will be played on TV after choosing your Android TV.
Sometimes the easiest is what ends up working the best. So if you don't want to fight with APK files or Additional modules by Kodi, use the Google Chromecast built-in to Android TV. In this way, Netflix should be played in the best possible quality.