WhatsApp lets you add a small format to the text you send to your friends for a while by including a few special codes, although soon it will be as simple as using the corresponding menu. In Telegram it is also possible, and in three different ways.
If you want to add color to your messages, you can do it on Telegram in three different ways: by selecting the text and using a simple menu, adding code to format the text, or using a bot like @bold to do the formatting.
1. With the context menu
As several commenters have pointed out, Telegram has a menu for formatting text similar to the one recently included in WhatsApp. To access this menu, you must first write the text then select fragment whose format you want to change.
With this menu you can easily add bold, italic, fixed space, strikethrough, underline, links and texts with spoilers. The menu is somewhat hidden and appears after the first text selection. To access it, you must click on the ellipses to expand the context menu.
2. With codes
As in WhatsApp, it is possible to add basic formatting to your messages using various Markdown-inspired codes. Concretely, you can add bold, italic, monospaced and strikethrough. The codes are as follows:
**bold** type the text in bold

__italics__ writes the text in italics

"`monospace"` writes the text in monospace

~~strikethrough~~ write the text rod
Note that support for these codes is patchy in different versions of Telegram, for example, they may not work in some Telegram clients, especially if they are unofficial.
3. With bots like @bold
Several bots on Telegram allow to repeat the formatted message. @Bold is one of the oldest and not only allows you to write in bold, but also to write in italics and monospaced.
How to write in bold
To send a bold message on Telegram, you just need start your message with @bold then write your message. When you're done, wait for the floating menu to load and tap the option Bold. By doing so, it will be sent automatically, and you won't have the option to delete it for everyone or edit it, as it technically won't be sent by you, but by the bot.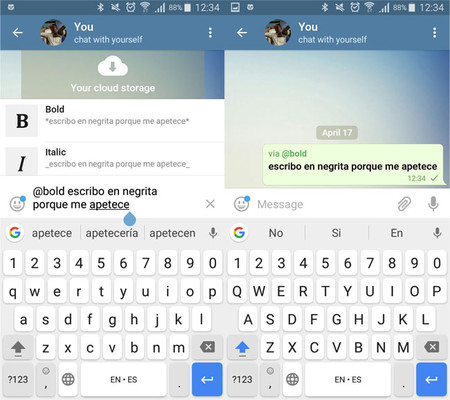 How to write in cursive
To send a message in italics, the process is practically identical to the previous one. Start your message by calling the bot with @bold then write your full message. When you're done, wait for the dropdown to load and choose Italics.
How to write in minivan
The third format allowed for now on Telegram is monospace, also known as system letter or fixed size. Once again, the use is identical to the previous one. First, start your message with @bold followed by your complete message and finally choose Fixed system in the drop-down menu (note that it may be hidden and you need to scroll down to see it).
How to write in different styles
The Bold, Italic and Fixed Sys menus allow you to write with formatting easily, without needing to enter any particular code, but in return you cannot mix different formats to, for example, include in the same message a fragment in bold and another in italics.
This is possible by using codes to do the formatting instead of menus. The codes they are based on the markdown standard, as in WhatsApp, and are as follows:
*bold* write in bold
_italics_ write in italics
`minivan` write with letra de tamaño fijo.
You can combine these codes to mix as many formats as you want in the same message, always respecting that certain formats do not overlap with others and that they open and close correctly. For instance:
*Hi how are you?_. 'I very well'.
It would display as follows:
Hi, How's it going? . Yo muy bien.
In this case, after typing your text preceded by @boldin the drop-down menu you must choose Custom Markdown so that the text is sent with all the formats you included in the message.