About to end the first week of the trial between Epic Games and Apple, the developer continues to develop its argument against the App Store model. Thus, the creator of Fortnite used documents in court and during questioning of witnesses to support her main argument: that the App Store is not the paradise that Apple claims to be. It's worth taking a closer look at how they built their argument.
APIs reserved for large devs and apps that transform once approved
Among the documents made public by the lawsuit between Epic and Apple in recent days, we have one that mentions APIs reserved for large developers. These are APIs that add functionality that is not present for all applications, but that large companies can ask Apple to handle cancellations and returns to users.
Didn't know that App Store subscriptions could be automatically canceled through StoreKit API. I'm surprised I haven't seen more offers to remove App Store billing. pic.twitter.com/DcXzM2CCrq

– David Barnard (@drbarnard) September 28, 2018
The conversation begins because Phil Schiller, head of the App Store in 2018, saw this Tweeter
and he passed it on to his companions to see what was going to happen. And there we see how there is a list of trusted developers who
have access to an automatic subscription / cancellation API
(including Hulu). A feature that is not accessible to everyone. Of course, it was clear from the conversation that he was still adding new features and didn't seem to be ready at that point.
In another separate document, we see a weekly report sent to executives on the performance of the App Store in 2016. The numbers are positive and you can see how Pokémon Go alone generated 35.8 million downloads and $ 47.7 million in income during this period. During the conversation, Matt Fischer, one of the managers of the App Store, called "shameful" the level of App Store accounts that were not considered "trustworthy".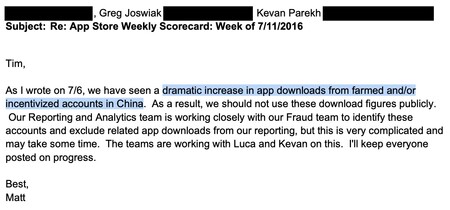 There are a number of scales by which Apple internally decides whether an account is trustworthy. They must be enabled in iTunes, not linked to a device Agriculture (manipulation) or corresponds to the date of the device with that of the manufacturer, among others. According to the conversation, in China there is a high level of suspicious accounts. Based on an analysis of over 500 million, 62% of them were considered reliable.
In this exchange, we see how executives prefer not to share figures related to user accounts. Since this is a metric that includes these "ghost" accounts, it can be misleading compared to others like income.
An application that becomes "bad" after being approved and cases of fraud
In 2013, the case of an app emerged which, once approved in the App Store, might act differently than expected if that's what its creators wanted. The case was published in Ars Technica, which is why an email exchange between App Store officials began. The app in question could be used to steal users' data and take pictures of it without their knowledge.
In the emails, Eddy Cue indicates that they should speak to Craig (we understand as Federighi) to implement three measures that avoid this type of case. Of these, two "will not only help us with malware, but also keep developers honest."
Other emails show how in 2018 the fight against fraud in the App Store was a priority divided between several teams within Apple. Of the impact it has on developers and usersIn addition to relying on the App Store itself, Fischer asks one of the managers to take charge from a "product point of view".
The App Store as seen by Epic is a hell
The documents Epic provided in its case against Apple and its App Store point the finger in a clear direction: its problems. Epic aims to create a narrative that things aren't rosy in Apple's digital store. Son very cloudy.
It is obvious that any organization and any industry has its lights and shadows. Especially one like the App Store which in its 13 years of history has become one of the main growth vectors within Apple services. What is reflected in these emails are the typical problems of an organization that has to grow quickly and often forced.
Epic's intention is clear: to portray the App Store as a dark pit of arbitrary decisions where Apple is unable to deal with issues beyond it.
If we look at the dates of the emails, conversations take place in 2013, 2016 and 2018. In other words, some cases date back almost a decade. Therefore, they don't have to show a picture of how the App Store works today. It's true that fraud, clones, and apps that try to cheat the user are still there, although we've also learned that Apple is taking the issue more seriously in recent months (steps that should have been taken a lot more). early).
The intention of the creator of Fortnite is clear: the App Store is not a paradise, hides many traps and they frequent arbitrary decisions. Thus, they intend to justify that they would do a better job monitoring their own App Store and their own digital payment system (and, by extension, others as well).