Samsung continues its strong commitment to folding and has just announced not one, but two new models. This is the renewal of your previous proposals; the mobile that becomes a tablet and the mobile which folds to halve its size. We are talking about the new Samsung Galaxy Z Fold3 and Galaxy Z Flip3.
The model that concerns us in this case is the Galaxy Z Fold3, the original concept that the brand presented in February 2019 and with this they have already renewed three times. Galaxy Z Fold3 improves almost everything over its predecessor, veámoslo. < /p>
Samsung Galaxy Z Fold3 technical sheet
INTERIOR SCREEN

7.6-inch QXGA + 2X Infinity Flex Dynamic AMOLED Display (228 x 1768 dots), 120 Hz, 374 ppi and S Pen support

EXTERIOR SCREEN

6.2-inch 2X Dynamic AMOLED (2268 x 832 dots), 120 Hz, 387 ppi

PROCESSOR

Snapdragon 888 5G with 8 cores, 64 bits and 5nm lithography (2.84 GHz + 2.4 GHz + 1.8 GHz)

MAIN MEMORY

12 GB

STORAGE

256 or 512 GB UFS 3.1

FRONT CAMERA

10 megapixel photodiodes, f / 2.2, FOV 80º and 1.22 µm

INTERIOR BEDROOM

4 megapixel photodiodes, f / 1.8, FOV 80º and 2 µm

REAR CAMERAS

Main: 12 megapixels, f / 1.8, 1.8 µm photodiodes, Dual Pixel AF, 83º FOV and optical stabilization

Ultra wide angle: 12 megapixels, f / 2.2, 123º FOV and 1.12 µm photodiodes

Telephoto: 12 megapixels, f / 2.4, PDAF, 1 µm photodiodes, Dual OIS, 45º FOV and 2x zoom

WIRELESS CONNECTIVITY

5G NSA and SA, Sub6 / mmWave LTE enhanced 4X4 MIMO

OPERATING SYSTEM

Android 11

SIM

2 x nano-SIM and 1 x eSIM

SOUND

Dolby Atmos stereo speakers

DRUMS

4.400 mAh

BIOMETRIC IDENTIFICATION

Fingerprint sensor and facial recognition

DIMENSIONS

67.1 x 158.2 x 16mm (folded) 128.1 x 158.2 x 6.4mm (unfolded)

WEIGHT

271 grams

COLORS

Ghost black, ghost green and ghost silver

THE PRICE

From 1,799 dollars
More and more robust and resistant
One of the main concerns with folding designs is durability. Nothing is eternal, and even less if this something allows us to fold it and unfold it. Samsung has improved the sturdiness of the Fold and in this generation they bring us a design that mounts 10% stronger aluminum, in addition to the Gorilla Glass Victus covering both sides. By the way, despite having improved all this, it weighs 11 grams less than its predecessor.
Stronger materials, a more robust hinge and water resistance are some of the improvements of this generation.
The Galaxy Z Fold3 continues to build on the same design that we had already seen. It folds up on its vertical axis and has two screens, a smaller exterior and a larger, flexible interior. The hinge still leaves a small space inside when folded, which make the thickness in this part bigger (16 mm and 14.4 mm in the thinnest part).
One of the great novelties of this generation is the arrival of IPX8 waterproofing. The Galaxy Z Fold 3 is, along with the Galaxy Z Flip3, the first fully waterproof foldable mobile. Strong of the hinge, Samsung affirms that the mobile it can be folded up to 200,000 times without problem.
Smooth and surprise screens
Like the previous generation, the Galaxy Z Fold3 has two screens, the outside and the inside, which is the one that folds up. On this occasion both panels have a refresh rate of 120Hz, whereas before we only found this advantage on the interior screen. Both are Dynamic AMOLED 2X and have a density of around 380 dpi.
On the indoor screen slight fold still visibleAs obvious as it is and if it bothers in use, we will have to analyze it in the review, although in previous folding models we have already seen that this fold ends up fading into the background to the 'use.
The interior front camera has been hidden under the screen.
Another novelty of this generation, the front camera has been hidden under the screen. What they did is the area of ​​the screen that covers the lens has a lower density than the rest of the panel, so that it lets in light but at the same time hides the camera.
Speaking of camera, on the back we find a vertical module with three lenses. The main one is 12 megapixels and has an f / 1.8 aperture, Dual Pixel focus and optical stabilizer. They come with an ultra-wide and a telephoto lens, both 12-megapixel.
Hello, S Pen
Already at the end of last year, there was talk that there would be no more Galaxy Note. The Galaxy S21's S Pen support was the first clue and we can already confirm that since the August event was where the new Note traditionally arrived.
The arrival of the folding during the August event and the support for the S Pen make it clear: we can say goodbye to the Notes.
When in doubt, the Galaxy Z Fold3 also supports the S Pen Fold Edition, which is specially designed for the Fold's flexible display. This model does not have Bluetooth connectivity, so it does not have some special features that the Note had. However, Samsung has confirmed to us that there will be an S Pen Pro that will have this option.
Of course, the Galaxy Z Fold3 still has features like the continuity between screens, multitasking capabilities that let you drag files between apps and more to take advantage of their design.
Qualcomm signed power and doubts about autonomy
We can not leave without talking about the technical characteristics of the Samsung folding. How could it be otherwise, level up a processor, but this time This is not a Samsung Exynos, but a Qualcomm Snapdragon 888. Until now, Samsung has reserved Qualcomm chips for the Chinese and American markets, but this time there will only be one version with this chip, at least for now.
At the moment there is no version with Exynos, but a model with Snapdragon 888.
When it comes to memory, we only have one option for 12 GB RAM and two storages: 256 or 512 GB UFS 3.1, not expandable with MicroSD. It also has a fingerprint reader under the screen and a facial recognition system.
The battery is 4,400 mAh, which seems a bit tight. taking into account that we are talking about a mobile with two screens, one of them quite large. We will have to wait for the review, but a priori it does not seem that autonomy will be its strong point.
Samsung Galaxy Z Fold3 versions and prices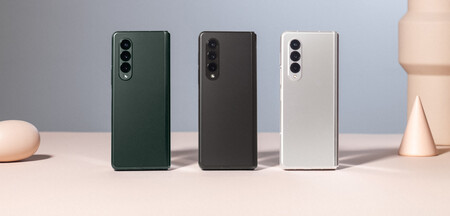 The Samsung Galaxy Z Fold3 will arrive in stores in three colors, to choose from Phantom Black, Phantom Green and Phantom Silver. In addition, it has two versions depending on the memory, 256 or 512 GB. The 256 GB model costs 1799 dollars, 200 dollars less than the same version of the Galaxy Z Fold2. It can be booked today on the Samsung website.