Samsung presents its next Galaxy Book with a novelty that will not arrive at Apple until 2024!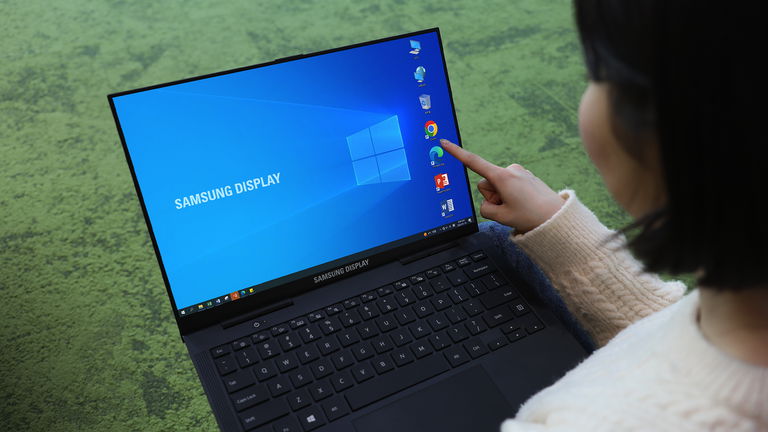 Next February 1 will be one of the most important days for Samsung, thanks to the premiere of the Galaxy S23 and other novelties that are vying for prominence in popular mobiles. As reported by Zdnet, Samsung will introduce next week the first OLED screen for laptops with integrated touch sensors.
OLED screens with touch sensors should debut with the new generation of the Galaxy Book
in 13-inch and 16-inch sizes, and capable of supporting 3K resolution and refresh rates up to 120Hz. Thanks to OCTA technology, or integrated touch AMOLED technology, the result will be a component more end than solutions using a separate button screen panel film.
Samsung is ahead
For years, Samsung Display has provided OLED displays with built-in touch sensors for the Galaxy S series and Apple iPhones. Now, in its version for computers, mass production of the panels is expected to expand to other laptop brands and partnerswho will switch to this technology in the future.
Of course, the list above would include those with the bitten apple. According to recent rumors, Apple plans to release its first MacBook with an OLED display within the next two years
, possibly followed by a MacBook with an OLED touchscreen. Samsung is also reportedly prioritizing the development of specific types of OLED displays that Apple plans to use in future iPad Pro models.
According to analyst Ming-Chi Kuo, Apple could launch the first OLED MacBook next year. Kuo didn't say whether the OLED MacBook would be a Pro or Air model, but last month display industry analyst Ross Young said Apple plans to introduce a new MacBook Air. 13 inches with an OLED screen in 2024.
For his part, Bloomberg columnist Mark Gurman, Apple is also working on adding touchscreens to Macsstarting with a MacBook Pro with an OLED display in 2025.
The first touchscreen MacBook Pro would retain a traditional laptop design with a trackpad and keyboard, but the screen would support touch input like an iPhone or iPad.
Samsung Display saw strong growth in 2022 thanks to the great popularity of the iPhone 14 manufactured by Apple. But Cupertino is the exception, and other smartphone makers like Samsung are seeing demand drop.
In 2023, lousy behavior is expected in the consumption of electronic goods due to the global economy. With which, the production of OLED panels for laptops is a great opportunity to protect your marginsGiven this less than optimistic scenario.