Samsung is unifying its entire commitment to IoT and the management of its smart devices in the SmartThings app on mobile and even in the car. In addition to automating your home and locating your lost items, you can also use SmartThings to save on electricity bill at home.
Samsung has just introduced SmartThings Energy, an in-app service focused on the energy consumption of your connected devices, which can analyze each person's energy consumption and give you recommendations
to reduce your electricity consumption.
SmarThings helps you with the invoice
SmartThings Energy is compatible with air conditioning systems, refrigerators, washers, dryers, cleaning cabinets or Air Dressers, air purifiers and robot vacuums compatible with SmartThings. From the app you will see how much electricity each of them consumes, with the advantage that the usage pattern is analyzed to find out where it has the most impact on your electricity bill.
This way, with SmartThings Energy, you can see the electricity and water consumption of each device or group of devices, in addition to comparing consumption against the previous month or against the consumption target that you have set.
SmartThings Energy checks the power consumption of your devices and gives you tips to save on the bill
Probably the most interesting part of SmartThings Energy is that the app analyzes the energy consumption for give you tips to save energy. For example, he may recommend not to fill the refrigerator completely to improve air circulation or to make sure nothing is blocking the air conditioning compressor.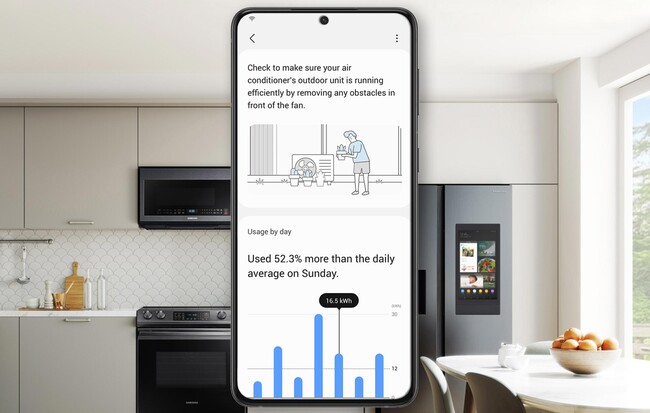 In addition, the app will send you notifications if too much electricity is used at a specific time. For example, you will receive an alert if you leave the washing machine on while you are away and it has exceeded the monthly energy quota.
According to Samsung, SmartThings Energy will be available for most of the brand's devices, while in the future access to members will be open, although its availability in different markets remains to be seen.
Plans
More information | Samsung