Samsung already has a fairly large product ecosystem in virtually every industry, and many of them have a common software feature: can be located remotely using the manufacturer's app that centralizes this and other service. We are talking about Samsung's SmartThings app.
The "problem", to call it somehow, with the SmartThings app is that it was only present in mobile app stores, both on the iPhone App Store and on the Android Google Play Store. and on the Galaxy Store itself. Samsung, and integrable in Android Auto but now it has also appeared in Microsoft. We can now install SmartThings on Windows
and search our Samsung devices from the computer.
You can now install SmartThings on your PC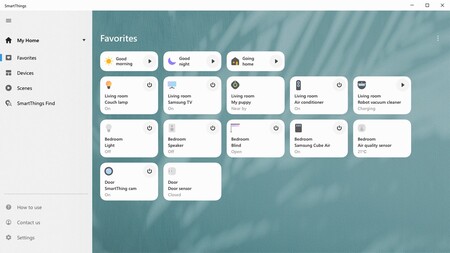 With SmartThings, we can do a lot more than just find our registered Samsung devices (although we're talking about the most common ones). From SmartThings you can control the device ecosystem
that we have configured in our smart home, for example, and set up scenes, run routines and the like.
Of course, having the application in several places is very convenient and it has already appeared on the PC. As can be seen from the screenshots of the app in the Microsoft Store, the App Store for Windows, SmartThings appears to be identical to the application we have seen on mobile phones
we will therefore have all of its features available. Including "SmartThings Find".
With 'SmartThings Find', we can find everything, from Samsung phones and tablets to accessories in its ecosystem such as headphones, and even its SmartTags, small devices whose function is precisely to not lose anything by being located remotely. . To be able to use SmartThings to locate Samsung devices, we will only have to register them in " SmartThings Find " and that's it, will be located with a mouse click on the PC.
SmartThings
Via | Android Police