Do you want to try the Rocket League adaptation to Android? You're in luck, there is already a way to install the APK on your mobile – just download the files and the installer. No need to use VPN and with active multiplayer games: Rocket League Sideswipe works perfectly.
The developers of Rocket League have announced a version of their famous mobile game, but there are still a few months to arrive on Android, also on iOS. There is currently a closed test in New Zealand and Australia, but you can test the game by installing the APK file and its data. Want to give a taste of the game of football with cars par excellence? No problem, there is already a way.
Cars, spins, acceleration and lots of fun
Rocket League has been celebrating for years on consoles and computers, not in vain it's a perfect game to compete online. In his cocktail of emotions, Psyonix presented football, cars, stunts, competition and the challenges of facing a team of players online. The result was millions of downloads, a success that we also predict for the mobile version: Rocket League Sideswipe.
Game developers introduced the mobile version yesterday March 25 with an announcement in which they revealed that there are already two territories with access: New Zealand and Australia. As usually happens in Android, it suffices that there is a soft launch or limited version so that access is extended to the rest of the countries if you have the right tools. That is, the APK file and the data.
The Rocket League Sideswipe APK has been of little use since you also need to install the data for this to work (Being a limited test, the servers detect the country from which the download starts). To work the magic we will be using the first version of Rocket League Sideswipe: APK Combo has the full installation pack so you can play after a few steps:
You need APK Combo Package installer to install Rocket League Sideswipe Zip. Download it from their website.
Go to this link and download the full Rocket League zip (this is the original). They are 788 MB. The download must be done on the mobile.
Open APK Combo installer and find the Zip file you downloaded. Install it.
You will already have Rocket League Sideswipe on your Android: all you have to do is start it and register for the game with your Epic Games account. This step is essential for playing.
At this time, VPN apps are not needed to simulate access from New Zealand or Australia, where the tests are being carried out. However, you may not be able to access the servers because their capacity is limited. And they won't always be activated, only for the duration of the first test. In our testing, we were able to perform two-on-two duels without any problems.
Rocket League Sideswipe for mobile looks great. The control of the cars is carried out by means of gestures and on a horizontal field, not in 3D. Even so, cars can jump, fly, speed up, spins are extremely varied, and in short, Rocket League Sideswipe aims to deliver great doses of fun once multiplayer matches are fully active.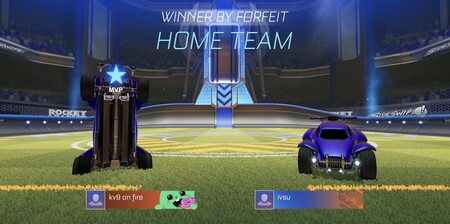 As we said, the title is not available for download in most countries. You can test it by following the process we looked at. And, if you want to save the spotlight for when it's most often available, the Google Play download link is as follows.
Rocket League side sweep