Everything seems to indicate that the future Apple Watch Series 7 will feature a very significant design change compared to the watches we all wear on the wrist today. According to renderings released by 91mobiles, the new Apple Watch could have a square edge design and increase the size of your screen.
Apple Watch Series 6 review: the PERFECT SMARTWATCH for DEMANDING users
When the rumor sphere rings …
It's the second or third time we've heard of a design change on the Apple Watch. A design change that would take a lot out of the iPhone 12 and its square edges, and also take inspiration from the design we hope to see in future 14 and 16-inch MacBook Pros. A design that would also increase the size of the screen. As Jon Prosser announced several weeks ago, it looks like this could be the design of the new Apple Watch.
That's what the renderings published on 91mobiles based on leaked CAD drawings make us think, at least. The new Apple Watch, which will keep the same sensor configuration in its lower part, will have much bigger speakers which will extend their opening over the entire side of the watch.
Similar design to the iPhone 12, more screen and better speakers.
Although the Home button and the digital crown show little change, we see in the images that the latter is much less prominent compared to the body of the watch. The watch case would still be 40 and 44 millimeters, although the new screen would reduce its frames, thus increasing in size
.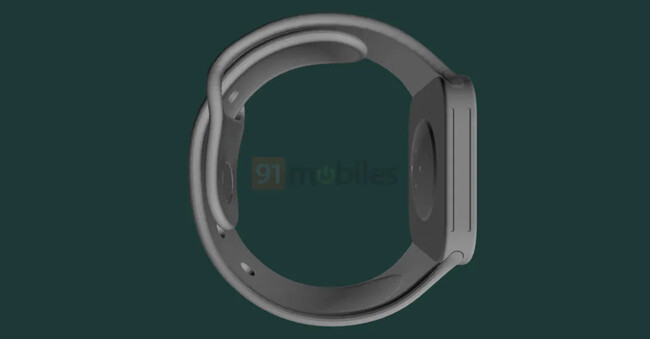 Depending on the measurements, the display of 44mm model would drop from 1.73 inches to 1.8. We do not have measurements for the 40mm model, although a similar increase is expected. In terms of thickness, this new Apple Watch would be 1.7mm thinner than the current Series 6, which should make it noticeably more comfortable on the wrist, while Mark Gurman said he expected it to be. 'there are changes in the design of the Apple Watch, of which Jon Prosser presented very similar renderings a few months ago and the information provided today by 91mobiles, the truth is that the possibilities of a redesign in the future Apple Watch are stronger than ever.
This would undoubtedly be the biggest design change for the Apple Watch since its launch. In its evolution so far we have seen changes in the distribution of the sensors, an increase in size, but with the Apple Watch Series 7 we would be talking about a major overhaul of the body of the same watch. A watch which, if all goes according to plan, should be presented in about a month.