iOS 14.7 is now available for download. Compatible iPhones can install the new version of iOS immediately, which adds some cool improvements. These include support for the Battery Pack with MagSafe announced last week, the addition of air quality to Maps, and other changes. iPadOS 14.7, watchOS 7.6, and tvOS 14.7 are also available.
iOS 14.7 available for download with all these improvements
With the release of iOS 14.7, Apple is putting an end to the large intermediate versions of this operating system. we will surely see minor updates from now on
, fixing bugs and making small changes until the release of iOS 15. And maybe even beyond, as the company is used to lately.
The notes of this new version show some interesting news. To begin with, iOS 14.7 is required to be able to use the Battery Pack with MagSafe. Remember that it is only compatible with the four iPhone 12 models, since they are the only ones with a MagSafe charging system.
The next most interesting improvement is the one that brings air quality to Maps. Europe is one of the countries that receive itas well as Canada, France, Italy, the Netherlands and Korea. This feature is also built into the Weather app with iOS 15.
The other improvements are minor. Like the ability to combine credit limits between different family members with Apple Card, option not available outside of the United States. The Home app now lets you control HomePod timers. And the podcast library lets you choose to watch all shows or just the ones we watch.
Solutions to probable bugs and security fixes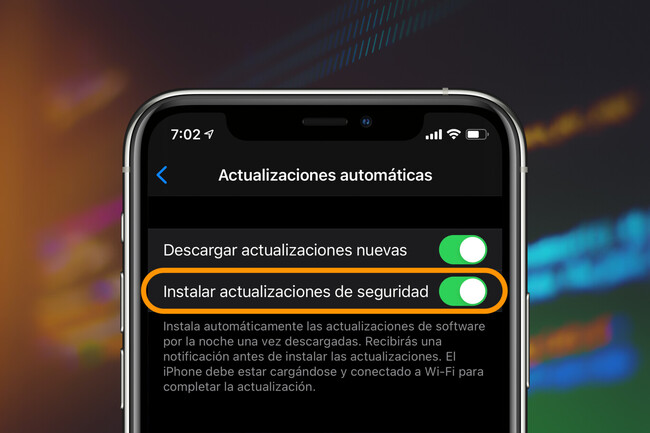 At the same time, iOS 14.7 incorporates solutions to common errors. Apple has provided a list of fixes for the following issues:
The button to share an Apple Music playlist may not appear.
Some Apple Music playback in Dolby Atmos and lossless would stop.
The battery replacement message may not appear when restarting an iPhone 11.
Error in the fact that messages written with a braille display show wrong information when composing an e-mail.
These Bugs have already been fixed. As for security fixes, Apple hasn't released any support documents yet. The company usually does this when a version of the software fixes them and the public version is already available.
This ensures that there is a solution to the security issue so that users can download it as soon as possible. Thus eliminating the risks for your devices. Finally, it should be remembered that Apple has made security updates independent of those of the system, a way to push the latest measures to the user.