Routines + is a new Good Lock module for the Samsung Galaxy with One UI 3.1 which brings the Bixby routines that we can create with Korean company mobiles to another level.
Among all these novelties, we highlight the new possibility to create macros that allow you to record a series of actions that we are going to do in the application that we want. The best thing about this new module is its integration with the rest of the Bixby routines which we can configure from its same section.
Create Bixby routines based on where you are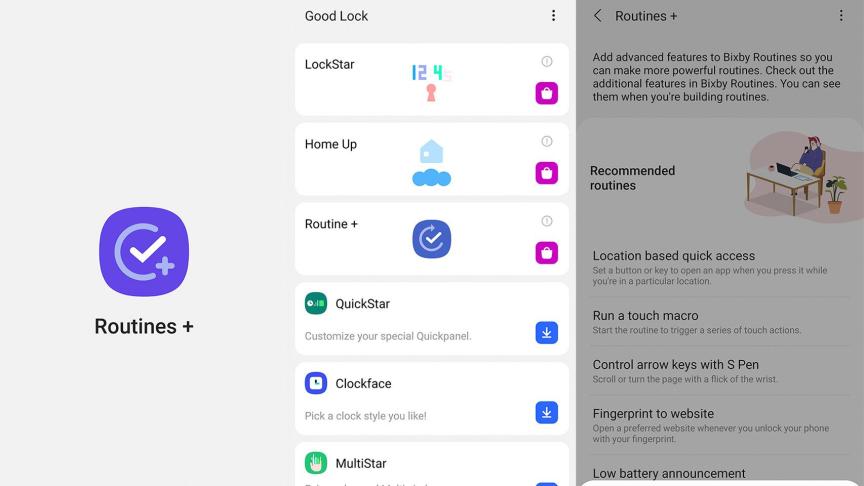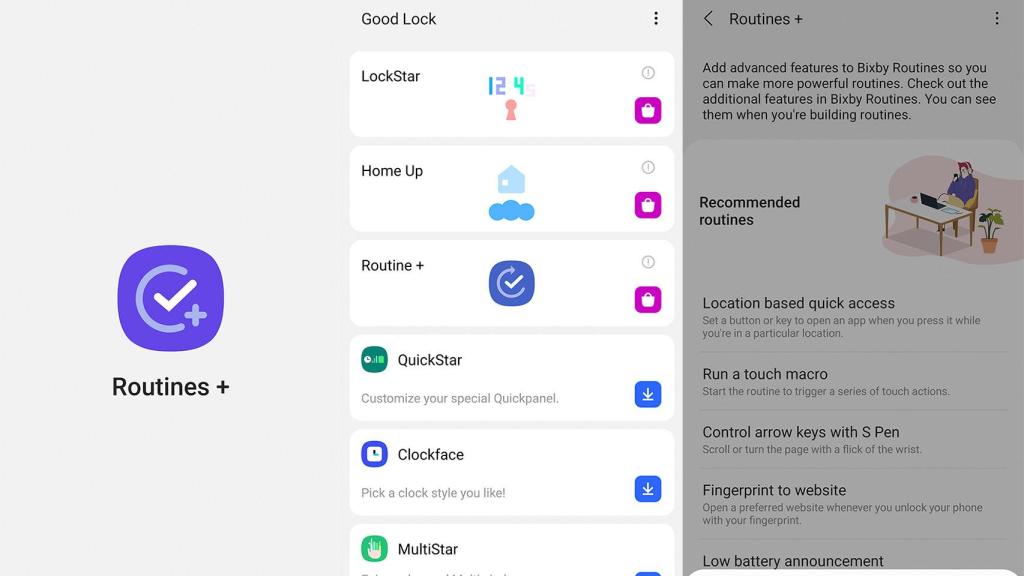 A new powerful module that injects new capabilities that many users will certainly know how to take full advantage of it. The first of these new features is quick access depending on where we are geolocated.
That is, we can customize a physical button, such as side, increase volume, decrease volume, double press and long press, so that when we press it and we are in a predefined location, an application is open
or action is taken.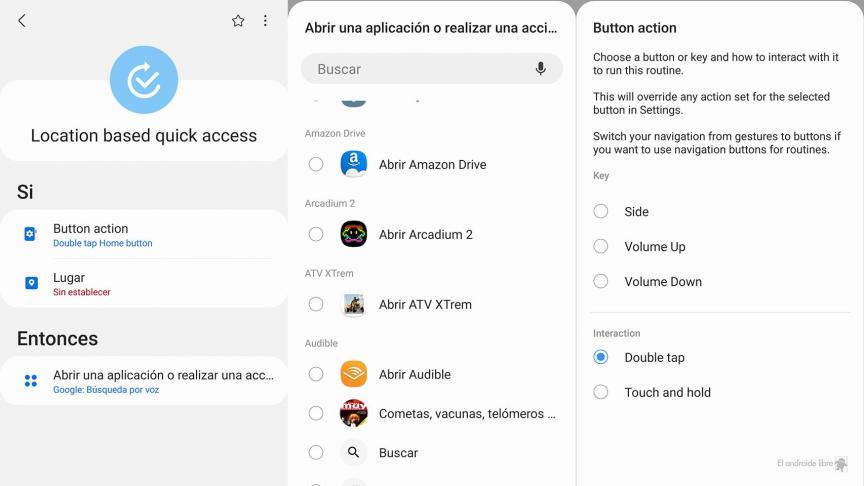 Besides opening all the apps we have installed, we can perform actions such as opening system settings or accessing custom sections of the same installed apps (in Audible we can use search, look in the library or play a specific podcast).
For example, in Gmail we can configure an action so that when you long press the volume key when we are in the office, directly open the inbox from one of the Google Accounts we have.
This will happen with all apps and in the action list you will find everything you can do. We make sure that the customization possibilities are incredible and using location is one example of a trigger, since we can use many more.
Create a macro of what you do in an app with Routines +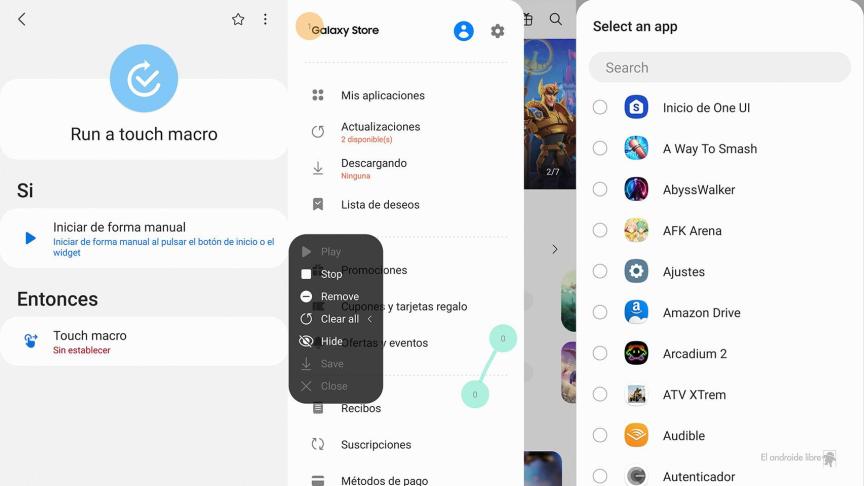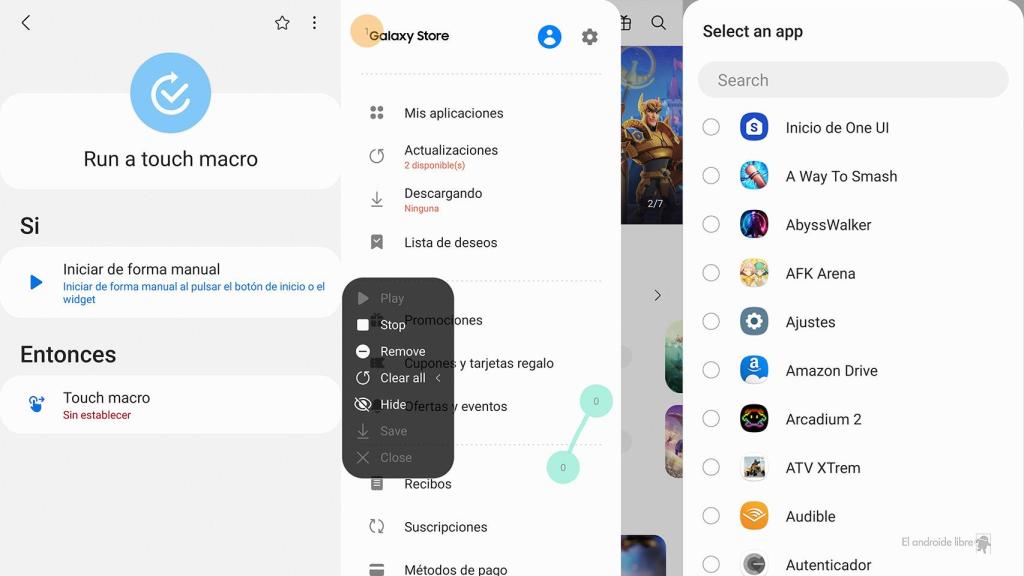 This novelty is pure magic, since its function is that let's record a series of keystrokes that we do in an application. Once the recording is done, we will place this Bixby routine on the desktop of our mobile so that with a press, the macro starts.
We will see how this application opens by magic and all previously recorded keystrokes are executed so that all those recorded actions are processed.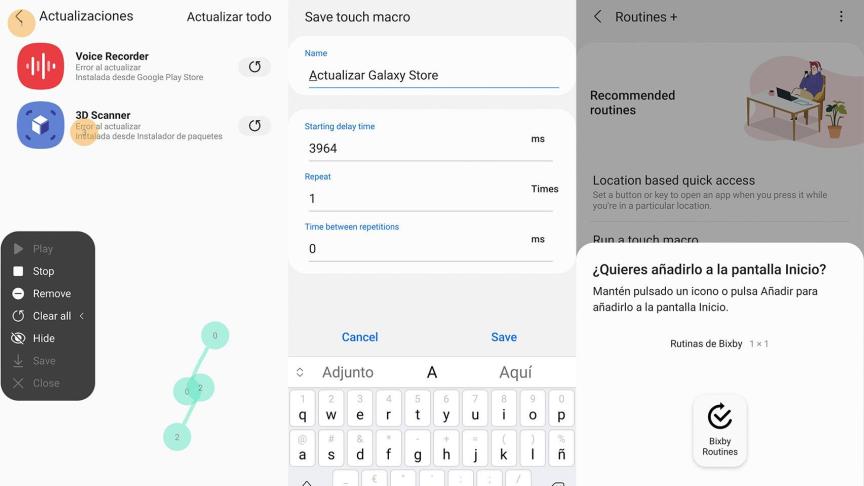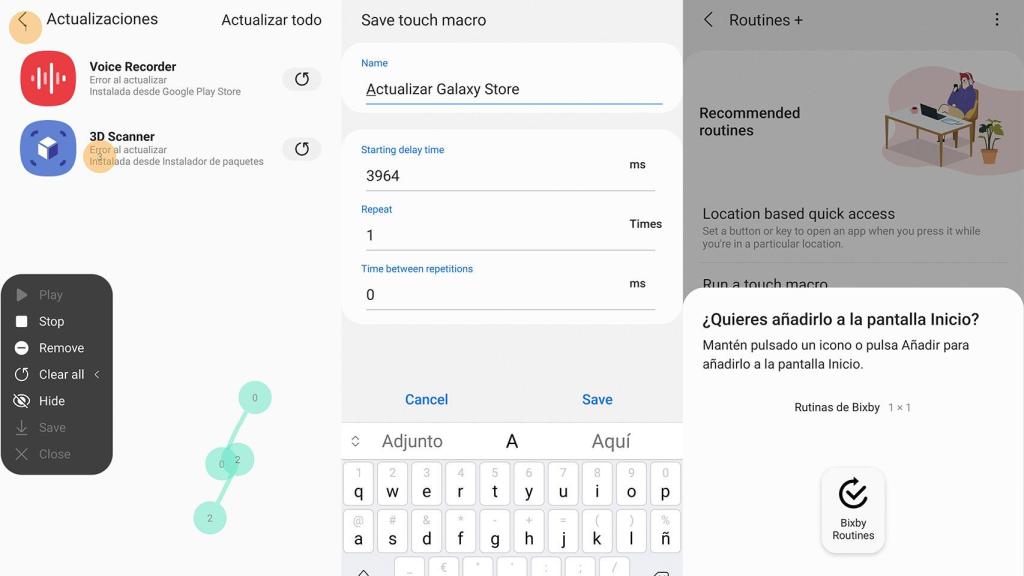 For example, we can record a macro so that all Galaxy Store updates are done. We give it to record and we do all these steps to record the macro.
Now it depends on individual needs and creativity to increase productivity with our mobile. A great integration for Biby routines on a Samsung Galaxy phone.
Use one of your fingerprints to access a website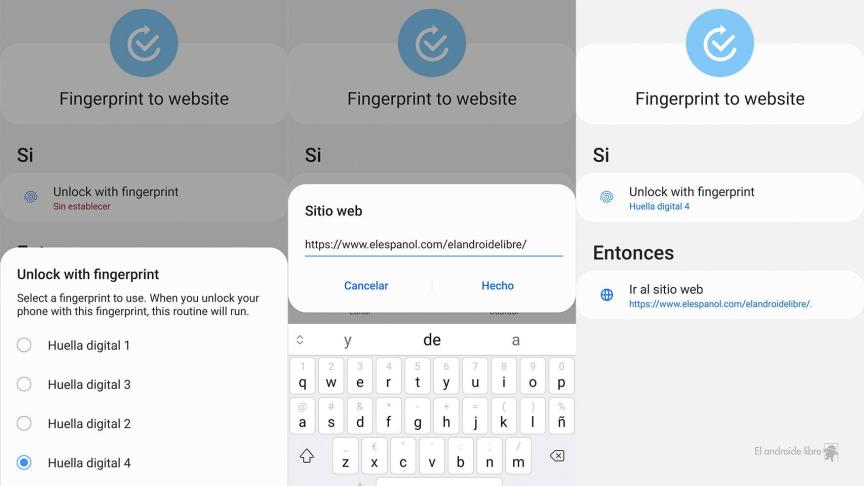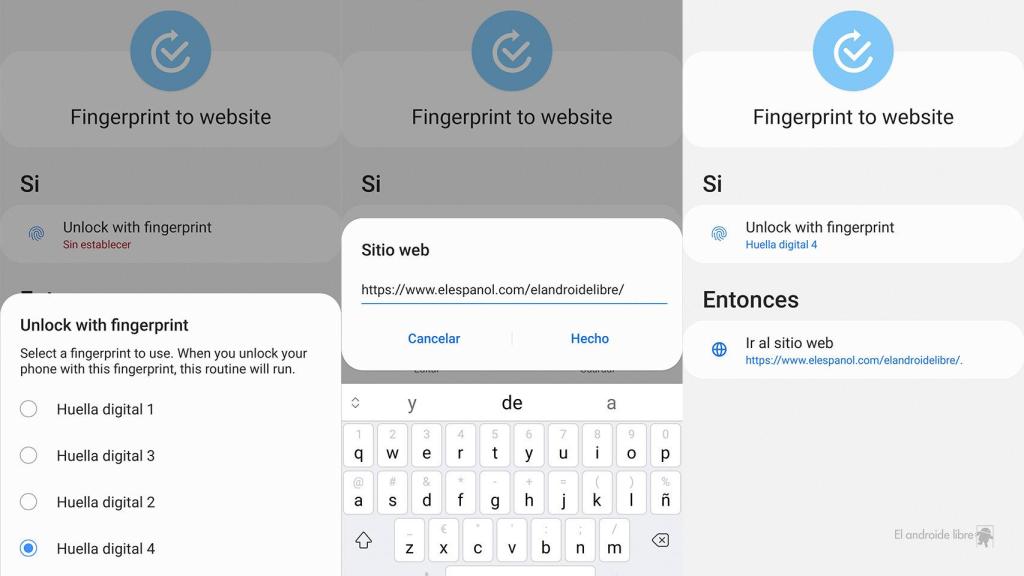 Routines + incorporates the ability to feed assign one of the fingerprints registered with the sensor to directly open a website when we unlock the mobile.
We have had this capacity available in the secure folder for some time now. When selecting one of the fingerprints, when unlocking our mobile, you have direct access to this space dedicated to privacy on a Samsung Galaxy mobile.
Like the rest of the new routines added, from the "Modify" button, we can assign another "Then" action when we unlock the mobile with one of the fingerprints engraved. For example, open a Spotify list or an app from Features.
Control the arrow keys with the S Pen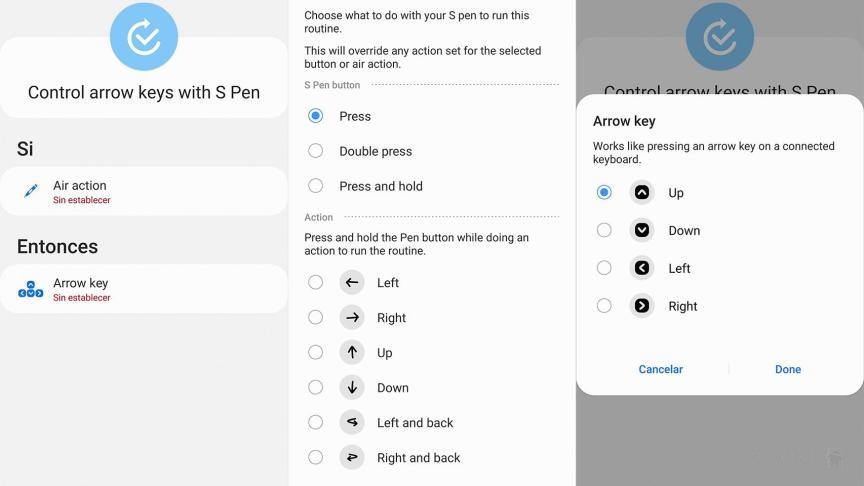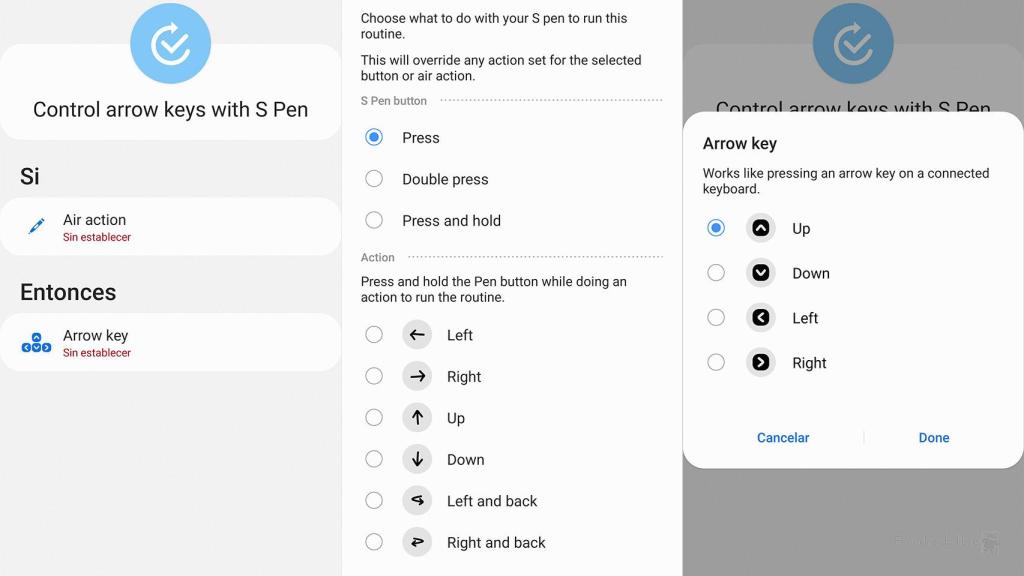 Routines + suggests using this new configuration for control the arrow keys with our S Pen. That said, it only works with the S Pen with Bluetooth, so we can forget the Galaxy S21 Ultra for this novelty of the Good Lock module.
You can configure the aerial action of the S Pen as you want with both a press, a double or hold, to choose the desired aerial action. Once you have chosen one, simply we configure the direction key which is executed.
Low battery announcement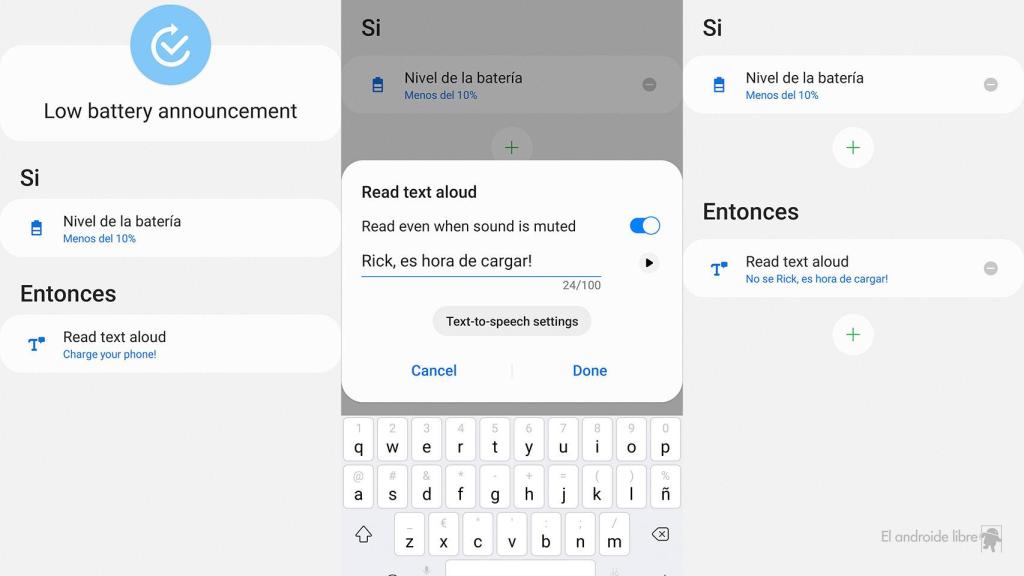 A detail to optimize the personalization of our Samsung Galaxy mobile is that read aloud the text we have configured when it reaches a battery level.
We have a maximum of 100 characters to enter the text we want and it can even be read aloud when the sound is muted. It also allows us choose Google's text-to-speech engine or that of Samsung, voice speed and tone.
All these new routines that we have included in the Routines section of One UI 3.1 settings so that we play with them and use them with many others. For example, you can enable the use of low battery saving mode when reading aloud.
A new module called Routines + that you can download from the Galaxy StoreAlthough if you can't find it, you can download the APK from apkmirror to enjoy all these new Bixby routines.
.