The cell phone is often the center of our leisure time, and even a lot of our social relationships, so choosing a good phone that meets our needs is just as important as decorating it with it. a good entourage of accessories that multiply your possibilities.
In the list that we will show you below, we include a total of 10 accessories that are as useful as they are inexpensive. It is not necessary to shell out a large sum to enjoy the accessories of our Android smartphone, and we will show you the selection we have chosen for you.
Ten accessories for an Android for ten dollars or less
As we said in the introduction, surrounding yourself with a good team of accessories for your mobile is very practical because it allows us to expand its use or improve some of its characteristics. We have selected for you a short list of ten accessories that can be yours for ten dollars or less to enhance your Android as much as possible.
3.5mm Headphone Audio Splitter
First of all, we offer you an accessory that is much more practical than it seems. This is an audio splitter for your cell phone's headphone port (if your phone has it, of course, as there are quite a few models out there already that don't). With this divider you can audio output from the phone to two different wired headsets without having to do anything other than connect them. In addition, it is compatible with headphones with microphone. A classic among accessory bags.
DeleyCON Splitter for headphones – Audio socket and stereo adapter cable – 1x 3.5 mm jack to 2X 3.5 mm jack – Headphone and microphone connection on 1x
Today on Amazon for $ 8.59
Headset adapter and duplicator to USB C port
Imagine that your cell phone does not have a headphone connector and you want to keep using the ones you have at home, or you want to buy better ones but with a cable and a jack connector. With this adapter, you can continue to use 3.5mm headphones but, in addition, you can continue to charge your mobile phone at the same time. It is also one of the most compact adapters you can find. Please note, it is possible that your mobile model poses problems with regard to convert USB audio to audio jackKeep this in mind because USB C is not always standard.
Adapter USB-C a connector of 3.5 mm auriculares compatible with MotoZ, Huawei Mate 10 Pro Xiaomi 6 Nubia Z17 Black Brand Dragon Trading
Today on Amazon for $ 8.99
64 GB SanDisk MicroSD
Finding microSD cards to expand the internal memory of your cell phone below the 10 dollars that we have set as the limit for this compilation is not easy, but it is not impossible either. SanDisk offers us a 64 GB U1 class 10 microSDXC model that incorporates an SD adapter to connect the card to other devices. Load with an additional 64 GB of music on your phone
without loading the internal memory.
SanDisk Ultra microSDXC Memory Card with SD Adapter, up to 120 MB / s, App Performance A1, Class 10, U1, 64 GB
Today on Amazon for $ 9.99
Selfie stick with tripod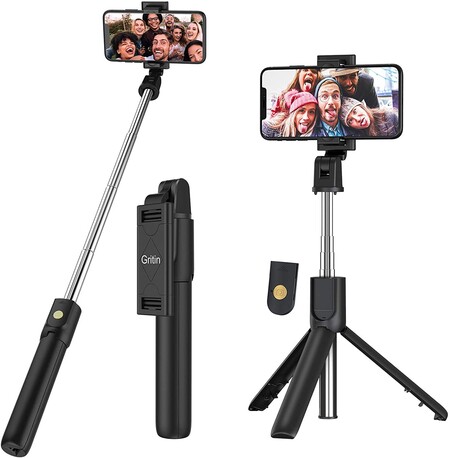 Another great travel companion is the selfie stick and this time we bring you one that also becomes a tripod. We can take pictures of ourselves or in groups holding it with our hands or place it fixed to escape and shoot with a wireless remote control. Another great option that takes up very little space when folded, ideal for always carrying in your suitcase or backpack.
Gritin Tripod Selfie Stick, 3 in 1 Bluetooth Mobile Selfie Stick with Wireless Remote Control, Extendable Monopod for Phone 11 Pro Max / 11 Pro / XS Max / XR / 8, Galaxy S10 / S9, Huawei, Xiaomi
Today on Amazon for $ 9.59
Belkin 5000 mAh Power Bank
Now it is the turn to power the cell phone and what corresponded was to step on the ground of external batteries. There are superhuman abilities and a lot of features, but here we bring you a basic one to use in an emergency. An external battery of Belkin 5000mAh with 12W power capacity. A full charge (and maybe more) for the vast majority of phones on the market. If you run out of power, use your powerbank and keep using your phone like nothing.
Belkin 5K Boost Charge Power Bank (portable charger with USB port, 5000 mAh capacity, external battery for iPhone, AirPods, iPad, Pixel and Samsung, among others), white
Today on Amazon for $ 6.90
Car holder
Using the mobile phone as a navigator when we are driving is very useful, especially if we do not have a built-in navigator in the car or compatibility with Android Auto. With this holder, you can carry the phone on the dashboard, being able to consult the on-screen instructions if you prefer to do so instead of just hearing the phone's voice, and without having to be with the mobile in hand, since you can cause an accident or earn a very curious fine.
Autkors Mobile Car Holder, Air Grille Ventilation Cell Phone Holder with Gravity Adjustable 360 ​​° Auto Universal Rotation for Phone, Huawei, Galaxy, Xiaomi and more
Today on Amazon for $ 8.59
Silicone holder for bicycles and motorcycles
Since then we have offered you a mount for the car dashboard, what do you think if now we do the same with a bike mount. A silicone grip system that allows you to attach the mobile to the handlebars of your bike to go out for miles and that allows mount the mobile horizontally and vertically
. So you can also connect Google Maps on your bike and not get lost, or maybe you can see what you are broadcasting if you are broadcasting your routes. Support up to 6.5 inch screen, by the way.
Mobile support for Bovon bicycle, universal silicone handlebar support for ATV and motorcycle, mobile support compatible with iPhone 12/12 Pro / 12 Mini / 11 Pro MAX – 4.5 "-6.5" Mobile
Today on Amazon for $ 9.99
Ring and holder for mobile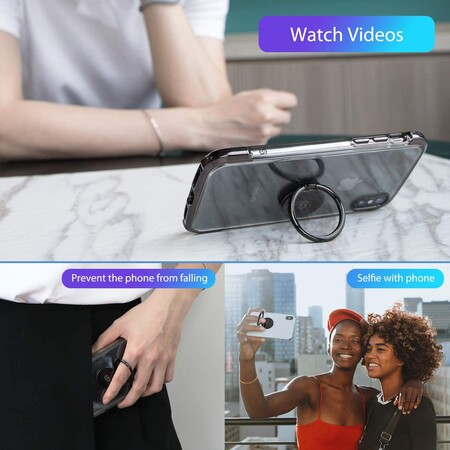 With cell phone rings, two things can happen: either you use them and end up taking them off because you didn't find them useful or you use them and find out that you always needed them and didn't. did not know. The advantage that they have is that they are inexpensive and the model we offer you, the Syncwire, also allows you use the ring as a support to keep the mobile upright if you are going to watch TV shows, movies or if you are going to watch Twitch.
Syncwire Cell Phone Ring, Cell Phone Holder & Grip: Universal 360 ° Rotation, Ring for Cell Phone, iPhone, iPad, Samsung Huawei and more
Today on Amazon for $ 8.99
Cleaning kit for your mobile phone
Keeping the mobile clean is always important, both aesthetically and functionally, as the accumulation of dirt and dust in its external connections can cause it to malfunction. We therefore bring you a cleaning kit for your mobile composed of 44 pieces for cleaning the screen, the USB port, the headphone jack, the speakers … the whole phone. Something that is always good to have on hand.
44 Piece Cell Phone Cleaning Kit, USB Charging Port and Headphone Jack Cleaning Tool Brush Tool Set Compatible with iPhone Xs Max X 8/7/6/5/4
Today on Amazon for $ 9.99
IPX8 waterproof case for two cellphones
Summer is coming, it is something that happens every year after spring, and we start going to the pool and the beach, and protecting the cellphone in these environments is very important because many factors can attack it. . From the sand to the water itself, whether sweet or salty. Therefore, having a waterproof cover on hand is always very practical and we are not bringing you one but two. Two blankets with IPX8 protection that will even allow you to throw your mobile in the water (close it tight, please) without damage. And transparent, so you don't miss a thing.
YOSH Mobile Waterproof Case IPX8 Universal 2 Units, Waterproof Waterproof Mobile Bag for iPhone 12 Pro MAX 11 XR X 8 7 Galaxy Note 20 S20 Xiaomi Poco X3 Huawei Mate40 Pro up to 7 "
Today on Amazon for $ 9.99
–
The new
Ten accessories for your Android for less than 10 dollars: supports, cleaning kits, adapters, covers …
was originally published in
Engadget Android
by Samuel Fernández.