Let your little one sleep soundly and dive into a magical dream with these bedtime story apps you can find on the app store.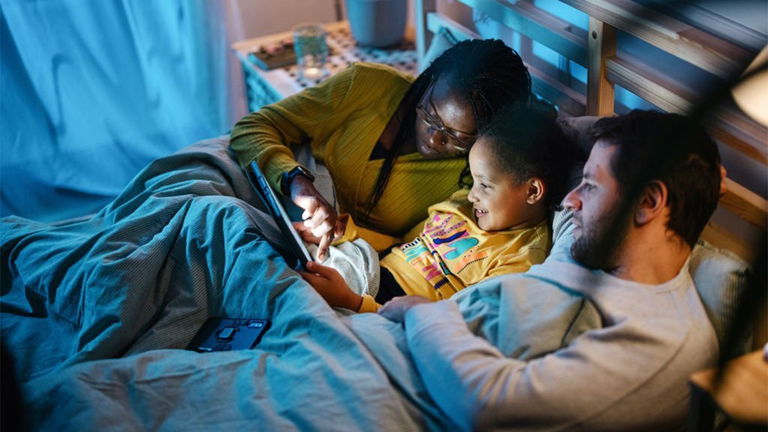 Telling your little one a story is one of the best activities that can be between father and son before going to sleep. Not only does it strengthen the bond and the family relationship, but it helps to stimulate the imagination of the little one and to achieve a deeper rest.
Now there are plenty of alternatives you can rely on to tell those stories full of magic, adventure, and heroism. In that case, we leave you with 8 bedtime story apps that you and your baby will love.
Storytelling apps for children on the App Store
Best Bedtime Stories Apps for iPhone
Tales for children: read Booka
audio stories for sleep
short bedtime stories
bedtime and fairy tales
Aesop's Fables and Tales for Children
short stories for children
sing me a story
Storybook: Healthy Attachment and Sleep
From classic bedtime stories to audiobooks, short stories and more, in this collection of apps you'll find a wide variety of options to share with your little one before they go. in bed.
Tales for children: read Booka
Stories for Kids: Reading Booka is one of the best options on this list and for many reasons. It is a very comprehensive app that focuses on learning in a fun, exciting and easy way for your child. Aimed at children from 0 to 9 years old, it offers a wide variety of titles from the main publishers.
Its kid-friendly interface has a simple, easy-to-navigate design with all the security you need. Its "Read to Me" feature allows toddlers to listen to their stories with the app as a narrator, making it one of the best bedtime story apps that you should try completely free.
audio stories for sleep
Audio stories are a perfect format to share with your kids anytime, especially before going to sleep. Precisely, Sleeping Audiotales offers 18 fabulous stories that you can listen to while letting your imagination run wild.
Among its most outstanding options we find the automatic narration and images on each page of the stories for a more dynamic and user-friendly interaction. As if that were not enough, it incorporates two fun mini-games so that the little ones can be entertained at all times.
short bedtime stories
As the name suggests, Short Bedtime Stories is an application that collects short, popular and children's stories for the little ones in the house. It is perfect for children from 0 to 8 years old in early childhood, preschool and elementary school.
With a library of 14 short stories, including Snow White, Red Riding Hood, The Wolf and the Fox, Rapunzel and many more, they are available in 9 different languages ​​with incredible illustrations that will make children's imaginations soar. children.
bedtime and fairy tales
Let your little one enjoy audio fairy tales, poems and lullabies with Bedtime & Fairy Tales, a perfect app to share before bed.
With a selection of bedtime stories, tales and songs lasting between 5 and 10 minutes, they are perfect for helping babies and children relax and rest deeply after a busy day. emotions and joy.
Aesop's Fables and Tales for Children
Aesop's Fables and Tales for Children are a collection of short animal stories filled with moral lessons to enhance children's development and learning.
There are over 150 classic tales and fables available in multiple languages. Likewise, the application offers different options for an easier experience for you, as a parent, when reading them, such as a search engine to filter titles, font size customization and bookmarks. story. Not to mention a dark mode for more comfort when reading at night.
short stories for children
Little stories for kids, it's an incredibly user-friendly and fun app for the little ones. It contains more than 1,800 illustrations, melodies, images and much more in a collection of 45 stories where children are the protagonists of the story.
Enter your toddler's name and gender to play the main role throughout the story. One of its most outstanding features is the ability to create your own audio books by recording your voice with beautiful music and many other options that your family will surely enjoy.
sing me a story
Why tell a story to your little ones if you know how to sing them? With Sing Me a Story with original songs created for the little ones, with fun animations they can touch and play before going to sleep.
With 10 original lullabies and 5 interactive scenarios, you can discover incredible illustrations together in a safe, simple and intuitive interface. There are more than 100 interactions, animations and sounds to discover in an app perfect for children from 2 to 6 years old.
Storybook: Healthy Attachment and Sleep
Perfect for children from 0 to 12 years old, Storybook: Healthy Attachment and Sleep is an ideal application to improve their sleep ritual, strengthen their development and their emotional health through more than 100 audiovisual contents designed especially for the little ones.
This app is great for strengthening parent-child connection, promoting deep sleep, minimizing nightmares, reducing fatigue and stress, controlling hyperactivity, boosting self-esteem, and much more. It is an application that every parent must have on their mobile today.
Enjoy with your child unique stories full of magic, adventure and epic with these bedtime stories apps for iPhone and help them in their development through deep rest and restful sleep.