I opened the storage room and there it was. the suitcase that He had accompanied me on so many journeys before the pandemic, it had almost become an extension of my body moving around airports all over the place. That year, everything stopped: travel, events, life, the world. In March 2020, we realized that nothing was really as important as our own health and that we were in as delicate a balance as the one that was broken at that time.
Two and a half years ago the world seemed to stand still, but now is the perfect time to come back
Almost two and a half years ago everything happened in the background. But after all that, we are also aware of something else: life goes on – must be done – and it's about connecting everything that makes us feel alive. Everything we miss in March 2020. Adventures, outings, walks, writing, reading, shouting. And the trips.
I took the suitcase like who recover armor.
"This may be the last time I use it" – this suitcase was already five years old (Although two and a half of them don't count) and had had too many adventures. However, my travel companion Samsonite Pro-DLX still had energy for one last ride: the first after all that, which means so much to all of this.
When I entered the room, I thought I saw how certain objects in the closet light up. Like in a video game. I had the most important ones bookmarked in my mind for a trip to an Apple event, and I hadn't needed them in a while. The tripod, at the end of a shelf. The microphones, the camera. External batteries. The American adapter. When I ordered them in the suitcase everything seemed to fit as if they were pieces of something that ends, finally – of something that begins in turn – and suddenly I realized that I was going to return to Apple Park. And that the best thing about an adventure like this is being able to share it.
On the way to what we were
It was night and the airport in San Francisco seemed to me to land in another planet
– again. There was a
some strange sense of normalcy
but it was comforting. I took the suitcase and got out of the plane, my eyes riveted on the corridor which was to give access to customs control. It was full of people.
someone behind me I was talking about SwiftUI. Like the good old times. I turned around like someone finding an unknown friend and couldn't help but smile. Looking around me, I realized that I was surrounded by many developers who Apple had invited the event. They all had the same smile as me. Shit, I loved it. It was the start of something, and it didn't strike me as nostalgia: more of a desire to know the future.
I arrived late at the hotel and I kept thinking about resting Something. The next day was the opening speech and I needed to regain my strength. This hotel had changed its name – and with some reforms it had become spectacular – but it still kept the spirit of the scene of events. Where we speculate before leaving the morning of the keynote what Apple will teach us. Where we work on any sofa, table or chair that we have on hand so that we can reach you with our articles. The moments at the end of such an intense day with more casual comments between us than we've seen. And what not.
The bedroom door had a bag hanging inside. it was him kit that Apple gave to the press who attended the event. During the last WWDC19 there was nothing similar (only for developers) but this time the surprise was a good pack that included an insulated bottle with the Apple logo, a cap, pins, "made in Apple" masks "…do you want me to do? I couldn't resist writing an article about the contents of this bag when I should be sleeping. It was 12:30 a.m. California time. And I didn't care: the rush preceding a keynote hadn't missed the rendezvous either, two and a half years later. A few Instagram stories later, I had to force myself to get some sleep.
the day of return
It didn't take long to sleep. At 5:00 a.m., a mix of some nerves about the event and half a bet with my teammates, I went down to the gym. frankly, yeah I didn't really know why I was doing it, it was only clear that he wanted to do it. Maybe the hug he shared with me on other adventures in the past, which was also there, was worth it. I put on my AirPods and started an elliptical exercise. Mentally I reviewed everything that was going to happen nextso that I don't forget anything.
It was the first mixed face-to-face and recorded video event: a resounding success, although people missed Cook and company on stage (which is why they burst into applause when they appeared by surprise )
It didn't help much, really. This event it had nothing to do with what we lived before. Although it was an event with guests, it was not going to be completely as we remembered from past events: it was outdoors, we were going to see the same video of the opening speech that would be seen online, and we had no idea it would come later.
When we we were approaching apple park I was surprised by the lush vegetation that surrounds the campus. Everything had become so big that it was difficult to see the huge circle of desks. But it wasn't wild growth – even if it looks like it – as a huge team of gardeners took care of keeping the trees and every plant in its natural and sustainable growth.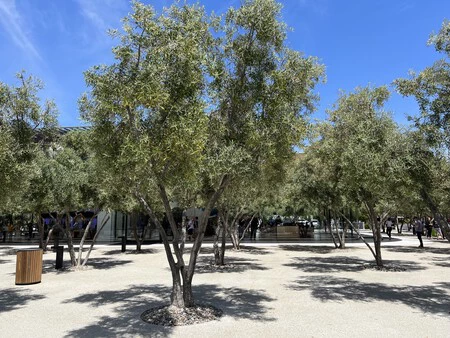 At the bend of this mythical avenue de Tantau, that was it. An entrance pharaonicperfectly clean, shiny, as if it were a huge ocean liner bound for another planet – the Apple Park looked more like a spaceship than ever perched on the plains of California. I wondered what all of this would have been like during the pandemic, the lockdown, what the loneliness was like in a place like the one that was created to connect people and ideas.
The silence in Apple Park is over: now everything seemed to be lively, again
But of these times of silence, there was nothing left. Everything seemed to boil and concentrate at a point of this immense ring which we had rarely crossed. And that was the first surprise: we weren't going to the Steve Jobs Theater like on other occasions, but we were going directly inside the ring. It took me so unexpectedly that luckily I was able to respond by recording stories of it all – places that don't usually leave us with pictures. Now we could walk.
An event, or rather a welcome party
all in inside apple park was a party. It was a fabulous day, and even though the California sun is strong, we came prepared with the hats and sunscreen that Apple had provided in the press kit the day before. On Applesfera's Instagram you can find more stories
the atmosphere that reigned that day: more typical of a summer music festival than a technological event. In a sense, it was both: an event that
turned into a welcome party
.
We were in the part of the ring that has a gigantic door to the outside, where the stage was set up with one of the panels to view the keynote (there were about two or three others inside the building) and with an exit to the inner ring area, only for developers, Apple staff and guests. Alongside, Apple has opened Caffe Macs so that anyone could eat or drink something while the event started.
Tim Cook took the stage and no one expected it. You didn't see him in the streaming video, but this man was so excited to welcome developers and guests to Apple Park once again. Together with Craig Federighi, they inaugurated one of the most special WWDCs of recent years: that of the return, that of all the desire that we had in those years, that of a certain relief for those who thought that didn't look like he was coming back.
A personal moment: the leisurely stroll from the Steve Jobs Theater to the Visitor Center that I couldn't help but record
At the end of the keynote, we had the opportunity to return to the Steve Jobs Theater to see the new MacBook Air M2 for the first time. The demo area was now on the top floor – we didn't go down to the entrance to the amphitheater – but it was still imposing and with the Apple Park in the background that now looked so different to me, Few years later. After testing out the new laptop and taking the photos I showed you in First Impressions, I decided to get out of there and take a walk around the Visitor Center. While you can't help but save the ride again for Instagram, it was a moment I kept to myself. To remember the year this place opened, Dylan's music and 2018 invitation with lyrics from one of Steve Jobs' favorite songs or the last keynote of 2019 we have lived in this place.
As I walked this road, with this feeling of freedom – and tranquility – because everything seemed to be coming back, but better than ever. Connecting the dots backwards – as Jobs said – is only possible when you appreciate and understand how important certain moments are. There is an important part in apple story it's not just in its devices, its services or its products: and it's those stories that start and come back to be taken up – to be celebrated – like that. I don't know if it's so or not – but I've never been happier to be here and to have the incredible opportunity to share it with all of you.
Thank you for joining me, two years – and even more desire to relive it like this – later.