Since last April Google opened the ban on third-party applications in Android Auto, news kept arriving GPS Navigators on the screen of compatible vehicles after several years where Google Maps and Waze were the only browsers available.
In recent months, most of the best Android GPS navigators have added support for Android Auto. we will see now The eight best GPS navigators for Android Auto that you already use in your car.
Google maps
When Android Auto reached the first vehicles in 2015, Google maps This was for three years the only GPS navigator available, and the one that currently comes by default as in most Android devices.
Google Maps for Android Auto allows us to enjoy on the screen of our car one of the best free GPS navigators with its powerful search engine for routes and places, its maps updated daily, its traffic alerts or speed camera warnings.
Maps – Navigation and public transport
Waze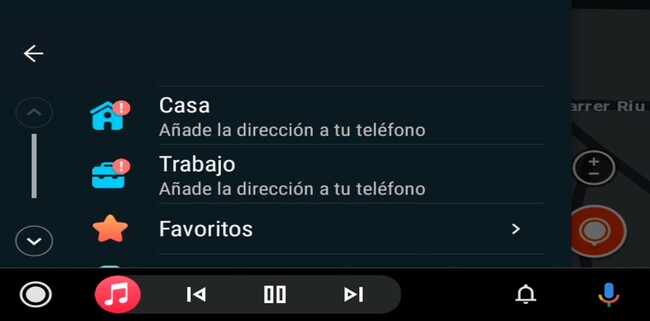 In 2018, Android Auto added its second GPS navigator with the arrival of Waze, Google's second-largest navigation application, and also completely free which has become very popular for its social functions.
Waze for Android Auto allows us to see your navigation step by step with its real-time traffic alerts and with its popular function of report incidents that we meet during the trip.
Waze – GPS, maps, traffic alerts and navigation
Developer: Waze
Download it on: google play
Price: Free
Category: Maps and navigation
Sygic GPS Navigation
Sygic he was the first third-party GPS navigator which arrived in March on Android Auto, yes, only for users premium of the app, although we can test this support for 30 days completely free of charge.
Sygic It is a very complete browser and one of the most downloaded and rated third-party GPS on Google Play. It has download maps, traffic warnings, speed cameras and speed warnings.
GPS navigation and Sygic maps
Developer: Sygic.
Download it on: google play
Price: Free with in-app purchases
Category: Maps and navigation
TomTom NaviGO
TomTom NaviGO This is the free, scaled-down version of the popular TomTom GPS navigator that the company launched on Android this year, and whose compatibility with Android Auto arrived last April.
TomTom NaviGO for Android Auto It allows us to take advantage of its detailed instructions with its traffic alerts, speed camera warnings or speed limits, among other features. Of course, this free version requires an internet connection.
TomTom AmiGO GPS Navigation-Traffic maps, speed cameras

TomTom GO navigation
In May, the full version of TomTom GO navigation to which you must be a subscriber to be able to use your application, both on your mobile phone and on your car screen.
TomTom GO for Android Auto It does not require a connection and allows us to test all of its functions free of charge for 30 days. Then you will have to pay via some of your subscriptions ($ 1.99 / 1 month, $ 8.99 / 6 months or $ 12.99 / 12 months).
TomTom GO navigation
Coyote
The famous radar alert Coyote arrived on Android Auto in mid-June, but like Sygic, support for Android Auto will only be available to its paid users.
Coyote for Android Auto allows us to take advantage of our car's radar alert, guided navigation and traffic incidents on the screen of our car.
Coyote: radars, GPS and traffic
MapFactor navigation
At the end of June, another free browser arrived on Android Auto: the popular MapFactor navigation, which uses the free maps of OpenStreetMap, although it allows us to buy TomTom maps.
MapFactor Navigation for Android Auto allows us to use your guided and offline navigation maps, speed camera warnings and speed limits.
MapFactor GPS Navigation Maps
Developer: MapFactor
Download it on: google play
Price: Free with in-app purchases
Category: Maps and navigation
Gaia GPS
Finally, we end our selection with Gaia GPS, a GPS navigator mainly intended for adventurers, whose compatibility arrived on Android Auto at the end of last July.
In Gaia GPS for Android Auto we have found a GPS that allows us to explore with our off-road car these dirt roads and roads to do in the mountains that other GPS devices do not understand.
Gaia GPS (topographic maps)
In Engadget Android | The 9 best speed camera apps for Android