The year is ending and it's time to look back and see what 2021 has left us. One way to remember how we use our smartphones over the year is to review most downloaded applications on Google Play throughout the year.
Google doesn't give the data, but luckily we have the rankings twice, compiled by both SensorTower and Apptopia. Different sources but almost the same list as includes many familiar faces and some surprises.
Most downloaded apps of 2021
Some things never change, like download tops from app stores. The top positions have been reserved for years for heavyweights such as WhatsApp or Facebook, which is evident in the compilation of most downloaded applications in the world compiled by apptopia. This list unifies downloads of the same application on iOS and Android.
In this list, first place is for TikTok with 656 million downloads, the short video app which also took the top spot in estimated revenue for 2021. The following positions are for the Meta troupe: Instagram, Facebook and WhatsApp. Communication continues to monopolize positions with Telegram, Snapchat, Zoom and Messenger, to end the list with the video editor of TikTok, CupCut and Spotify.
If we take as a reference the SensorTower data, we have practically the same list, with some small modifications of positions. Again TikTok in position number one, with all Meta apps in the following positions (Facebook, Instagram, WhatsApp and Messenger).
Telegram moved up to seventh, followed by Snapchat and Zoom, and a few bottom spots again led by CapCut and Spotify. In Sensor Tower we can see the Google Play download rank instead of handset, where the first position is for Facebook and we have WhatsApp Business in ninth position.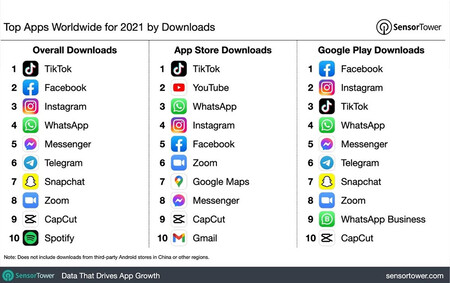 Taking both lists into account, we can get a pretty rough idea of ​​the most downloaded apps on Google Play in 2021. The Top 10 would be something like this:
TIC Tac

Instagram

Facebook

WhatsApp

Messenger

Telegram

Snapchat

Zoom

CapCut

Spotify
Most downloaded entertainment apps
Apptopia gives us a bit more detail, breaking down the data for the most downloaded apps of the year into specific categories. In the entertainment categoryNetflix takes first place with 173 million downloads and is closely followed by YouTube. Interestingly, the third place is for Google Play Games. Here are the Top 10 entertainment:
Netflix

Youtube

Google Play Games

Disney +

Amazon Prime Video

YouTube Kids

HBO Max

Tic

Hotstar

Pluto TV
Most downloaded shopping apps
In the purchase category, we see Shopee rise to the first place after a year 2021 marked by an aggressive expansion of this store Made in singapore, followed by Shein. Remember that these lists are based on the number of downloads worldwide, worldwide.
Shopee

SHEIN

Meesho

Amazon Purchases

Flipkart

Aliexpress

To wish

Pinduo

The cage

Ali Baba
Most downloaded social apps
the social apps They captured the vast majority of the world's top 10, so again we see almost the same faces in the social apps category. Mind you, with some little known names like Josh who is a TikTok clone from India.
TIC Tac

Instagram

Facebook

WhatsApp

Snapchat

Twitter

MX TakaTak

Discord

WeChat

Josh
Most downloaded cooking apps
The list of the most downloaded food apps of the year It is mainly run by chains such as McDonalds or Starbucks, with a strong international presence, as well as food delivery services such as Uber Eats or DoorDash. Here are the Top 10:
Mcdonalds

Uber eats

by Dash

Starbucks

Foodpanda

Zomato

Meituan to take away

Domino's

To grab

Too good to go
Most downloaded travel apps
2021 hasn't exactly been a great year for travel, but despite everything, apps like Airbnb have managed to add 44 million downloads. here are the travel and transportation apps most downloaded according to Apptopia:
Google maps

Uber

Booking.com

Google earth

Airbnb

Have I got

Lock

Raise

Where is my train

To grab
Most downloaded music apps
If we talk about music and audio applications, Spotify wins the distinction with around 203 million downloads for the entire year. The second place is for Resso, an application focused on creating content with song lyrics.
Spotify

Resso

Youtube music

StarMaker

Shazam

SoundCloud

Amazon Music

Wynk Music

Music player

JioSaavn
Most downloaded health apps
In the list of health apps most downloaded of the year, we have a technical link in the first two positions for Flo Ovulation & Period Tracker and Mi Fit, the management application for the Mi Band and similar devices.
Flo ovulation and period monitoring

Mi Fit

Home training No equipment

Six packs in 30 days

Lose weight for women

Calmed down

Muscle booster

e-Nabiz

Diet

MyFitnessPal
Most downloaded dating apps
We continue with the dating apps, a category in which Tinder and its 67 million downloads doubled to second place on Badoo. The following positions are for Bumble, Tantan, CuteU, and Grindr.
tinder

Badou

buzz

Tantan

CuteU

Grindr

A lot of fish

Love

Hinge

Happn
Most downloaded educational apps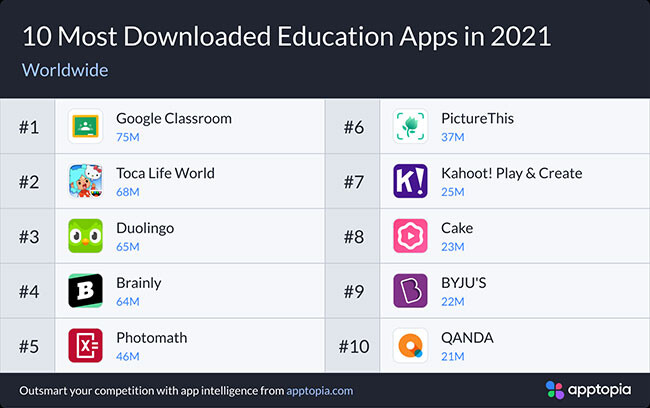 the educational apps They have been particularly important since the start of the pandemic, and the proof is that the top four positions in the ranking exceed 50 million downloads. Here are the Top 10:
Google classroom

Toca's Life World

Duolingo

Intellectually

Photomath

ImageThis

Kahoot!

Cake

by BYJU

HOW? 'OR' WHAT
Most downloaded business apps
Finally, we have the category of Commercial applications, also particularly important in this period when teleworking has spread in many sectors. According to Apptopia, Zoom received no less than 300 downloads in 2021.
Zoom

Google meet

WhatsApp Business

Microsoft teams

Adobe Acrobat Reader

Microsoft Authenticator

LinkedIn

Adobe scanning

Webex Meetings

DingTalk
Origin | Apptopia and SensorTower