If we have learned anything from the huge success of TikTok, it is that new users prefer spontaneous content, which can be created in any corner and without restrictions. Other services naturally try to catch this spirit.
[YouTube la fastidia con sus nuevas reglas y tu youtuber favorito va a sufrir por ello]
YouTube first tried it with Shorts, its version of short videos with which it intends to attract the same users who don't want to spend half an hour watching a symposium on the Internet. Now you want to try something different.
Live videos shared on YouTube
The new feature that has reached YouTube apps for Android and iOS is called "Direct Sharing", and it can be used to create a new type of content that is more direct and collaborative. It's a new type of streaming that allows us to invite other users to stream with us.
Any other YouTube creator can be invited to join our broadcast, although there can only be one guest at a time who will appear with us. It's a concept that probably sounds familiar to you, as it seems specifically designed for podcasts, where there's often a main presenter and a guest or talk show host. The difference, of course, when talking about YouTube is that it is a video stream and not just audio.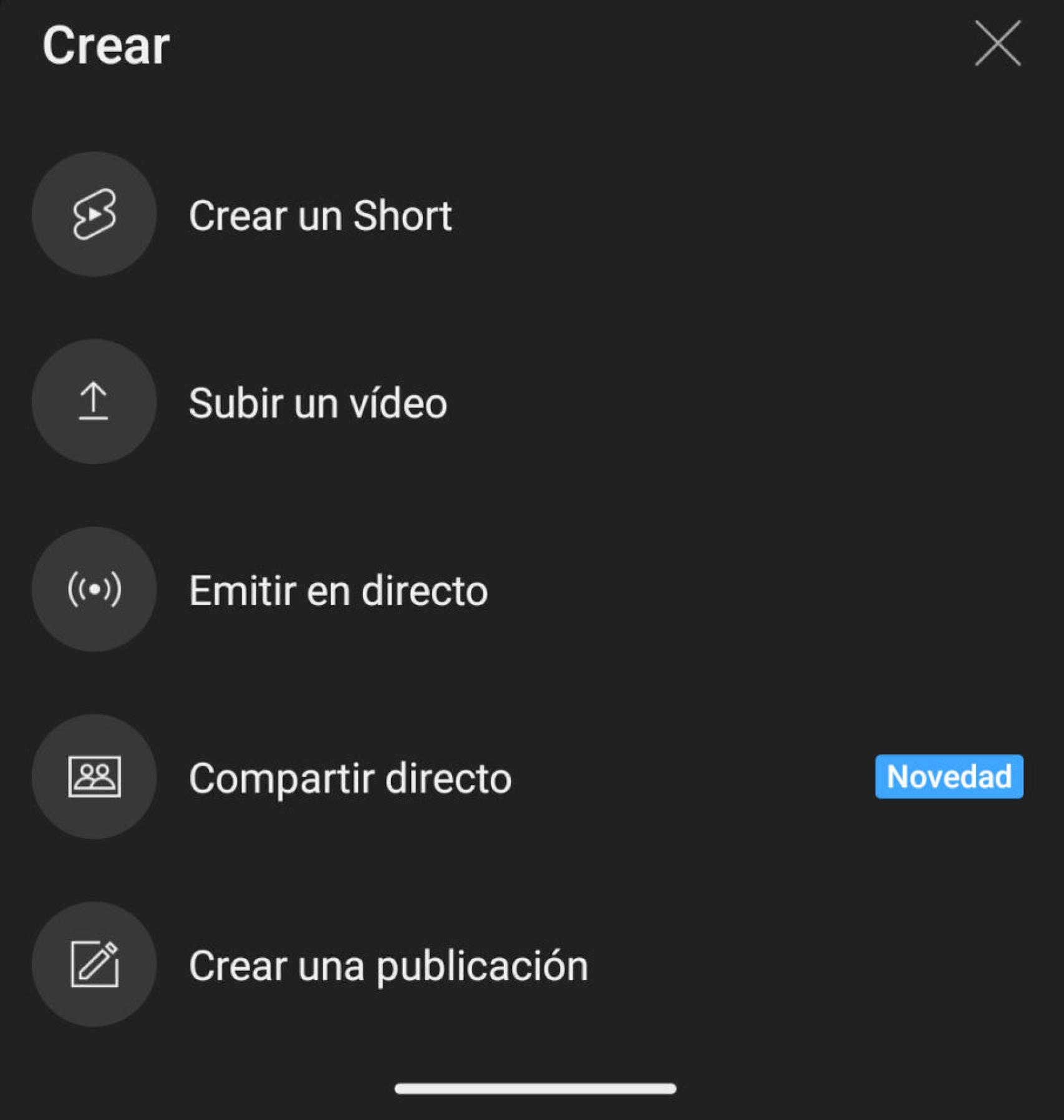 To access this function, we just have to open the YouTube mobile application and press the "+" button in the center, as we would do to download a normal video. We must choose the new option "Share directly", which will allow us to invite another user.
grab a friend and start a co-stream 🤝

🤩 presents Go Live Together, a new way to easily start a co-stream and invite a guest, all from your phone! 📱

creators need 50+ subscribers to host co-streams, but anyone can be invited!

more info here: https://t.co/g6PdxJY7ux pic.twitter.com/lmDDogXQ5t

— TeamYouTube (@TeamYouTube) February 2, 2023
The feature is limited to users with 50 or more subscribers; If you don't have them you will see the new feature but if you click on it you will get an error message that your account does not meet the necessary requirements. However, guests do not have this requirement, so you can invite anyone with a YouTube account.
Another limitation is that this feature is only available in the mobile app. Although we can schedule broadcasts from the desktop web page, we cannot start them from a computer. This makes sense, since the idea is that this is a different type of content than the usual, created from mobile; This can be useful for broadcasting events with a guest, for example.
You may be interested
Follow the topics that interest you