The new macOS Ventura comes with many new features: we review the top 20 tricks for your Mac with the new operating system.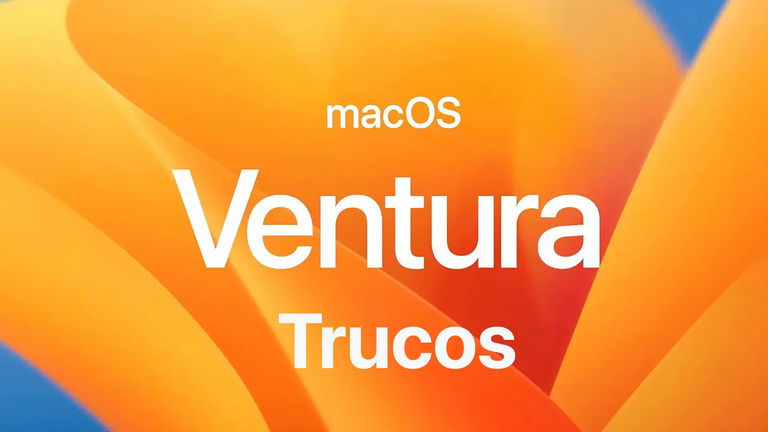 Apple has now officially released macOS Ventura and it's a system that arrives loaded with new features for our Mac. Many improvements are inherited from other operating systems of the company and many tricks are also present in other Apple devices.
It is a brand new operating system with lots of tricks you need to know to get the most out of your Mac with macOS Ventura. We are going to go over the top 20 you should know.
Use the iPhone as a webcam
One of the coolest features coming with macOS Ventura. The webcam on Mac doesn't have the quality of the rear cameras on an iPhone, so Apple has created a feature that lets you wirelessly use your iPhone as a webcam on your Mac.
This function is available in almost all video call apps, you just need to have the iPhone near the Mac, connected to the same Wi-Fi and select it as the camera in the application if it does not appear automatically. In addition, we can select various effects such as c entered framing, portrait mode, studio light or aerial view, which focuses on what we have on the table.
Use iPhone as an external microphone
In the same way that we can use the iPhone as a webcam, we can also use it as an external microphone. iPhone microphones are really good, so they can be a great solution for capturing sound.
To use the iPhone as a microphone on the Mac, you need to enter System Settings > Sound > Input and select iPhone. Now your iPhone will work as an external microphone.
Remember an email
Mail is one of the applications that has included the most novelties and among them we have the possibility to remind us of an e-mail. If, for example, you received an important email in the afternoon and you want your Mac to remind you tomorrow when you're at work, now you can do that.
just do right-click the message and click Recall. You will see options such as Remind me in 1 hour, Remind me tonight, Remind me tomorrow, and Remind me later. The last option will show a clock and calendar for you to set a specific time and date.
Schedule an email to be sent
Another new function of the mail application which allows you to program the sending of an email. Merely write the email and, instead of clicking on the send icon, press the arrow that appears next to it. You will see options to ship tonight or schedule a ship date.
Cancel sending an email
I'm sure it's happened to you before You sent an email and realized there was an error or was incomplete, your Mac now lets you undo the send to fix it.
After sending the email, a Undo send option at the bottom of the sidebar (If the sidebar isn't showing, choose View > Show Sidebar.) By default, you have 10 seconds before the option disappears, but the interval can also be set to 20 or 30 seconds or fully disabled for immediate delivery.
Edit a sent message
This iMessage feature has also arrived on the iPhone via iOS 16 and allows us to edit a message that we have already sent for a period of 15 minutes. just do right-click on the sent message and press Edit. This only works with iMessages, not SMS, so both people must have an Apple device that supports this feature.
Delete a sent message
In the same way we can also delete a message already sent. The steps are similar Right-click on the sent message and click Delete. If the recipient is not logged in, they will not see the message.
Add the Stage manager or Visual Organizer icon
Manager, visual organizer in Spanish, is the new multitasking invented by Apple for macOS and iPadOS. This allows us to have a group of applications to be able to work and quickly switch between them.
The truth is that it works very well on macOS, but it works better if we add the icon to activate or deactivate Stage Manager in the status bar. Come into System Settings > Control Center and under Visual Organizer, select Show in Menu Bar.
Use background sounds
A feature that has been available on iOS for some time and is now coming to macOS Ventura. This function allows you to play a series of background sounds, rain sound, oxead sound or white, pink and brown noise. You can activate it from Settings > Accessibility > Audio > Background Sound.
Now we have Clock app
macOS Ventura includes new applications and among them we have a Very interesting Clock application. The app lets you see a world clock and the different time zones, as well as set a timer, countdown or stopwatch.
New weather app
Previous versions of macOS included a weather widget, but not a dedicated app. If you have an iPhone or iPad, the Mac app will be familiar to you. Have same functionality of the iOS appanimated weather backgrounds that change with the weather at your location, severe weather notifications, air quality indicators, maps and weather forecasts.
Detect duplicate photos and videos
The duplicate photos and videos detection feature is also available on iPhone and iPad and it is really useful. The Photos application takes care of detecting all these duplicates for you so that you can merge them. In the Photos app, you will see the Duplicates albumInside, all duplicate photos and videos appear in chronological order, with a merge button next to each.
Copy and paste photo edits
If you want to edit multiple photos on your Mac from the Photos app, you can now copy and paste these edits to apply them to as many photos as you want
. Once you've edited a photo, tap
Image > Copy Changes
. Go to another photo and press
Image > Paste Changes
.
Separate the subject from the background
This feature is also available on iOS and allows us to easily separate a subject or object from the background. This feature is available in Safari, Preview, and many other system apps. you should only right-click on the photo and click Copy Subject then paste it into another application.
Lock notes with your login password or Touch ID
Notes may be locked with passwords for a long time, but now you can do it associated with login password or Touch ID. They will also be end-to-end encrypted.
Transfer FaceTime to Mac from iPhone or Vice Versa
FaceTime on macOS Ventura works with Handoff, so you can answer a FaceTime call on iPhone then transfer it to Mac, or vice versa. A notification will appear in the right corner of the Mac to transfer to the llama.
Translate text from images from web pages
We've been able to translate entire websites into multiple languages ​​in Safari on macOS for quite some time, and now this function also translates the text that is in the images of this website. A function that can be very useful.
New AirPods settings menu
This menu is also available on iPhone and iPad and allows us to access various AirPods settings. When you connect AirPods to your Mac, in System Settings, you will see a new setting in the sidebar to configure your AirPods and the different modes.
New menu for a gamepad
He is a new menu appears in the system settings when we connect a controller to the MacRemember that PlayStation and Xbox controllers are fully compatible. From this menu you can set some functions of the external controllers.
New isolation mode
It's a new security function which aims to protect a small number of high-level users who are exposed to targeted cyberattacks. This is not a function for common users. can be activated from System Settings > Privacy and Security > Isolation Mode.
10 secret new features of macOS Ventura that Apple did not present
These are the best new tricks you'll find in macOS Ventura. A system loaded with new features and secrets to discover, remember that now you can install it on your Mac.