The Spanish DGT (General Directorate of Traffic) launched some time ago the miDGT application, with which we can register our driving license on our iPhone. You can download it for free from the App Store, compatible with iPhone and iOS 11 and later. You can now use miDGT to replace your physical map, also taking advantage of a wealth of additional information and data. With applications like this and initiatives like CarKey to have car keys on the iPhone, we will soon forget about wallets and keys in favor of our terminal.
Our colleagues from Xataka have published a full review on its use on an Android terminal (where the miDGT application is also available), but you can use it since the registration method is exactly the same as on iOS. All you need is a suitably configured electronic DNI, a [email protected] PIN code or a permanent key to identify yourself.
miDGT on the iPhone has all your vehicle information at the touch of a finger
In addition to the driver's license, the app also has shows how many points you have on the map and all vehicle information in your name, including theft notifications, registrations, cancellations and insurance changes. We can even generate a QR code from the driver's license, in case a sensor needs it.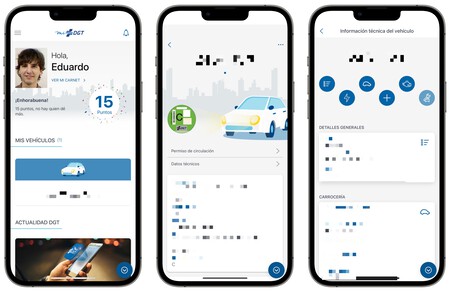 In addition, we will see other information such as the expiry date of the ITV
of our vehicle, its environmental label and the date on which you took out the insurance. It is an excellent resource to have all the information at your fingertips without having to resort to papers, receipts and documents which can be lost too often.
Given the absurd bureaucracy that sometimes surrounds this type of official documentation in Europe, miDGT is a big step to be able to have our official documentation on the iPhone being, moreover, legally valid. Of course, the app has plenty of room for improvement, even though it's fully functional.