The GTA Online Car Meet is one of the most important places in the game and it is precisely one of the main protagonists of this week due to the bonuses, discounts and gifts that have been enabled. You just have to keep reading this guide to discover everything you will find until September 28.
All bonuses and discounts until September 28, 2022
Podium Vehicle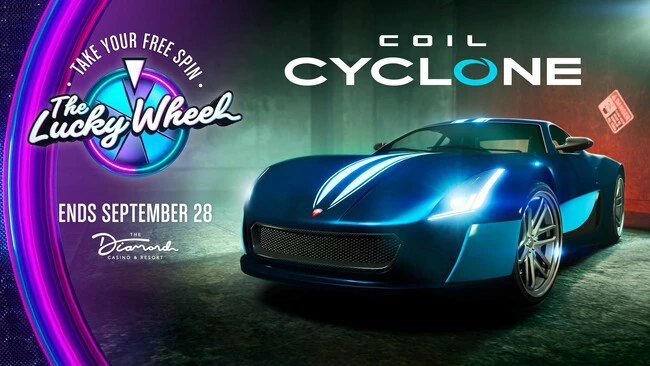 In the lobby of The Diamond Casino & Resort you can participate in the Wheel of Fortune to try to win all kinds of prizes, including the podium vehicle. If luck smiles on you then you will get a Coil Cyclone.
Items to get for free
This time you can get free the subscription fee to the LS Car Meet, as well as all the ammunition, extended magazines and silencers you need for the military rifle. As if that were not enough, you will have the opportunity to add the Vapid Flash GT to your collection without paying anything in return.
Special vehicles in dealerships
dealer Premium Deluxe Motorsport de Simeon He has a number of vehicles at his disposal for you to try or even buy. Specifically, they are all of the following:
Annis Euros
Bravado Gauntlet Classic
Declass let's go
Imponte Phoenix
Karin Previon
As for the dealer Luxury Autoslocated opposite Record A Studios, has some exciting offerings including the Enus Jubilee in Ice White Metallic with the Grafiti cover and the imported Grotti Itali RSX with a classic silver coat of paint and the Aerodynamic cover with a 30% discount. off.
Exclusive PS5 and Xbox Series Bonuses
Another feature of the LS Car Meet is that those who have the version of PS5 y Xbox Series X/S You can benefit from the following bonuses when visiting Hao's Special Works:
Race against the clock: In this week's competition you will have to go as fast as you can from Sandy Shores to La Puerta.
premium test vehicle: This time the pick is the custom Pfister Astron, outfitted with the fanciest parts possible.
Special rewards and bonuses
Numerous game modes and activities are available in Los Santos that will grant you more money and reputation points than normalso take advantage of these days to participate in the following:
Car Meet Time Trials: These types of races will be very important because all participants will get double the rewards.
Car Meet Races: In the rest of the clandestine races that you can get into, you can choose to earn triple reputation points.
expropriation: In this mode you will have to get a territory and make sure that no one takes it from you if you want to get double dollars and reputation points in return.

deathmatches: In this fierce competition the danger is guaranteed, but it will be worth it to get double the rewards.
Workshop customer work: if you complete all the tasks that they entrust to you, they will give you double the rewards in return. Additionally, completing workshop bounty endings will also award double dollars and reputation points.
discounts
The workshops are on sale and you can buy yours for 40% less than usual, as is the case with its modifications and improvements. Likewise, all of these vehicles have been temporarily reduced in price:
| Vehicle | Discount | Precio Original | discount price |
| --- | --- | --- | --- |
| Albany We have personalization | 40% | $925,000 | $555,000 |
| Annis Euros | 40% | $1,350,000 | $810,000 |
| Dinka RT3000 | 40% | $1,715,000 | $1,029,000 |
| Grotti Itali RSX | 30% | $3,465,000 | $2,425,500 |
| Karin 190z | 50% | $900,000 | $450,000 |
| Karin Futo GTX | 40% | $1,590,000 | $954,000 |
| Karin Sultan RS Classic | 40% | $1,789,000 | $1,073,400 |
| Obey Tailgater S | 30% | $1,495,000 | $1,046,500 |
| Vapid Clique | 40% | $909,000 | $545,400 |
| Vapid GB200 | 40% | $940,000 | $564,000 |
Bonus con Prime Gaming
Lastly, the Prime Gaming subscribers who have linked their account with the Rockstar Games Social Club will receive in return $125,000 for connecting at any time during the week. Money will be deposited into the Maze Bank account 72 hours after the current weekly event ends.
More GTA Online guides