Almost a month has passed since Bleeding Edge was released. The multiplayer title of Ninja Theory, creators of Hellblade and DMC, leads us to 4v4 clashes in two game modes and various maps, where the importance lies in the characters, their abilities and the balance between them. From the official Web of the game have announced news for the next few days, among which is a new character.
There are thousands of people who provide developers their feedback and suggestions on how they can improve the balance of the game, what new content should they add, what corrections need to be made and what content to bring in the future of Bleeding Edge.
Developers made the decision to change the update schedule in order to focus on solving problems that had a negative impact on the player experience. This meant that Mekko, the latest addition to the character roster, had to wait until they were sure that everyone who wanted to play that character could do so with the latest fixes and optimizations underway.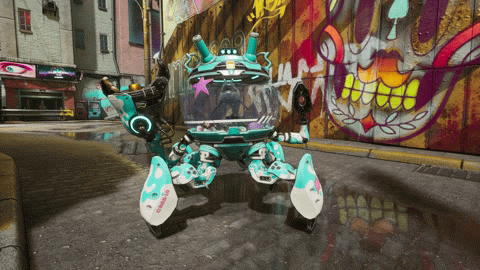 The developers have received reports from players that they have continued to experience issues while playing Bleeding Edge online. Following the latest review, the team focused on investigating these issues and looking for optimizations and fixes to improve the game for console players. Ninja Theory has confirmed that The last batch of changes they tested has shown a noticeable improvement in game performance on all platforms. These fixes will also improve the problems of players experiencing other fighters.
These changes will be implemented in the next patch, which they hope to launch next week. Not only do they hope to improve the Bleeding Edge experience for the entire community, but they have also confirmed that Mekko will finally join the Bleeding Edge roster in this patch. Along with Mekko they have also added a new unlockable emote for all fighters and the TECHNO VIKING board. This of course comes with a handful of paint jobs available to unlock with your credits to further customize your Bleeding Edge fighters.
Ninja Theory has also confirmed that they will release a skin pack in after the patch that adds Mekko that will add multiple new skins for each fighter. It's not about palette swapping or tinting, it's all about completely new designs from the mind of the Bleeding Edge development team.
Although there is no firm date for that new update, they make it clear that the team is also experimenting with new ideas for game modes And they have another new fighter up and running as they are researching ranked and custom game modes to see if they have a place in Bleeding Edge. They also confirm that they have a new map currently under development
.
"The Bleeding Edge team may be small, but we are passionate about the game and the incredible community we have, we will continue to read and listen to what you tell us and we will keep you informed of our plans for Bleeding Edge", concludes the official website, making it clear that Ninja Theory is more committed than ever to the game.
<! –
->