The Force is very intense today. Star Wars has not stopped growing in recent years. The premiere of Episode IX: The Rise of Skywalker it was not the end. Since then we have seen series like The Mandalorian, The Boba Fett Book and recently Obi-Wan Kenobi. In addition, the series of Ahsoka y Andoramong other.
Star Wars has not been left behind in video games either: Battlefront II managed to redeem itself after a controversial launch and Jedi: Fallen Order won the hearts of critics and fans. Now Electronic Arts and Quantic Dream present Jedi: Survivor and Star Wars Eclipse respectively. Meanwhile, Ubisoft and Lucasfilm Games develop a game without presenting.
In this context, it is time to review the meaning of the colors of the lightsabers so that you can choose yours when (re)playing Jedi: Fallen Order in preparation for everything to come, especially Jedi: Survivor

.
What is a Star Wars lightsaber and how does it work?
Lightsaber culture is very rich and extends beyond the movie. Religions and schools have been founded around the Jedi philosophy and the art of the lightsaber. Here I offer you a little pearl of wisdom about these noble weapons made "for more civilized times".
The first thing you should know is that laser swords are very complex devices possessing up to 18 essential mechanical parts (not including the kyber crystal) and designs as different as their wearers.
With the arrival of the Empire, the planets that possessed kyber crystals were assaulted/destroyed to prevent the creation of new lightsabers and therefore the resurgence of a new Jedi order or other Sith. those planets are Ilum, He says y Christophsis. In the Rogue One movie you can see how the Empire devastates Jedha. Would any planet survive?
As a general rule, the lightsaber is a reflection of the personality of the wearer. The Clone Wars series showed that the kyber crystal, the heart of the lightsaber, tests and "chooses" its wielder.
What does each color mean on Star Wars lightsabers? Choose your way.
The color arises depending on how the wearer channels the Force through the crystals (originally colorless), although this does not change if it is carried by another person because it will always represent its original bearer. When the personality of a Jedi or Sith changes, they are forced to switch lightsabers, as swords are believed to have certain power of loyalty.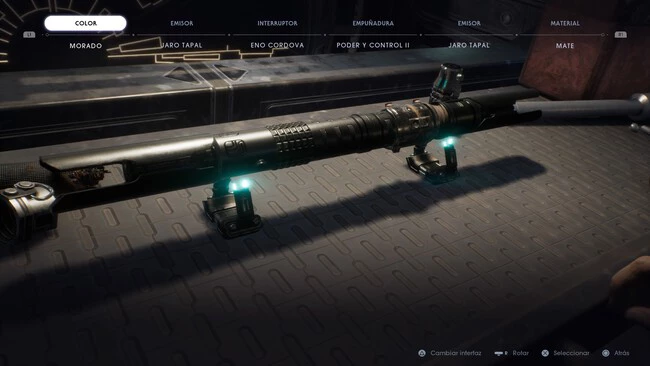 Blue: skill and youth.
This color is intended for Jedi wearers whose knowledge in swordsmanship it is far greater than his knowledge of the Force. For this reason, he is often referred to as the padawan color. Those who reached the rank of Master and retained this color are known as Jedi Guardians and are often assigned to high-risk missions.
Blue is related to combat and bravery, and it is also the color of the Old Jedi Order. Here is the reason why this color has always represented Jedis, the Resistance and in general the "good sidethe Star Wars.
Some famous carriers are: Obi-Wan Kenobi, Anakin Skywalker, Plo Koon, Ki Adi Mundi, Luke Skywalker, Cal Kestis (padawan), Jaro Tapal and Rey (early phase). Finn used a lightsaber of this color to defend himself against Kylo.
Green: wisdom and maturity
The green color represents Jedi bearers whose power is much more powerful in the Force. In combat, they prefer to use the Force and leave the sword as a defensive tool. Green symbolizes Peace.
They are beings more interested in living force study than in the domain of the lightsaber, although it does not mean that they are bad duelists. These Masters used to become teachers, negotiators, and part of the Jedi Council.
Some famous carriers are: Qui-Gon Jinn, Yoda, Kit Fisto and Luminara Unduli. Ahsoka Tano and Anakin Skywalker were also temporarily recognized by green.
Red: power and dominance of the passions
Red is the color of the Sith and Dark Sith Lords or Sith Lord in their Master rank. This color was found naturally in kyber crystals, but it faded over time. In the end, the Sith were forced to use any other type of crystal and force it with the Force to such an extent that they became Redwhich is why it is often said that the kyber crystal "bleeds".
Sith tradition dictates that the applicant must abandon his Jedi weapon (if he had one) after assassinating another Jedi, stealing the assassin's lightsaber, and corrupt your crystal by using the Force (suffering, hate…) until he becomes Red. If the process is not done correctly, the crystal becomes unstable, giving the curious effect of Kylo Ren's sword.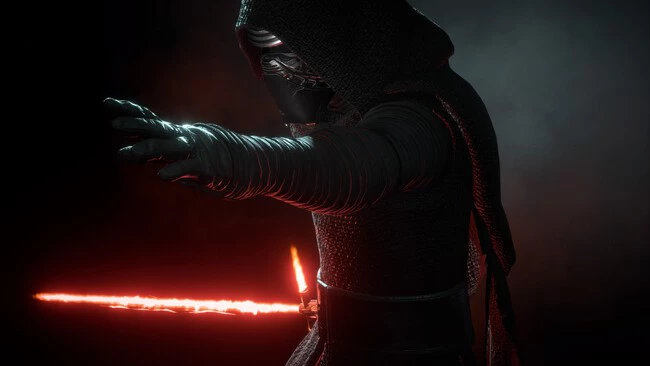 Some famous carriers are: Darth Plagueis, Darth Bane, Darth Revan, Darth Sidious, Darth Maul, Conde Dooku, Asajj Ventress, Savage Opress, Darth Vader, The Inquisitors, Kylo Ren and Caballeros de Ren.
Yellow: balance, service and discipline
Yellow is a nice color in lightsaber culture. It represents balance and discipline in helpful people. Bearers of this color are people who complement their dedication and study of the Force with other specialties such as computing, medicine and science
. It is not surprising that Rey, scrap metal and pilot, chose this color.
These carriers are known as Jedi Sentinels and had two roles within the Order: intelligence missions o Jedi Temple Guardians, doing teaching, research and maintenance work. It could be said that it is a style similar to Verde, but much more balanced and focused on serving.
Some famous carriers are: Bastila Shan and Rey (end stage).*
Orange: balance and alternate skills
Orange and yellow are very similar. It is granted to bearers with dark, tough character and whose power lies in the physical skills. However, they do not stand out in the use of the Force or the use of the sword compared to other colors such as Blue or Green.
They make up for these shortcomings with others. social and technological skills. Negotiations and dealings with politicians, for example. In the Jedi Order they are part of the Sentinels. It is a very strange color.
Purple: balance in power
The purple color is reserved for exceptionally powerful carriers and that thanks to this force they achieve a communion between the light side and the dark side. This style requires enormous self-knowledge and self-control. You could say they have the best of both sides.
As an interesting detail, it was Samuel L. Jackson who requested that his character, Mace Windu, wear the color purple because he liked it. He was granted and this event cemented much of the meaning of this color.
Some known carriers are: Darth Traya, Revan, Mace Windu, Mara Jade y Jaina Solo.
Gold: justice, compassion and wisdom
Gold is one of the most beautiful colors. The bearers of this color are pure beings on the light side, they always have positive inclinations and qualities. It is a very strange color.
Some famous carriers are: Qu Rahn y Rey (fase final).*
Bronze: Pure Physical Strength
The Bronze color represents the carriers who base their physical strength skills
above any knowledge of the Force or swordsmanship. They tend to prefer to use other means of combat such as their body. Some fans maintain that they can even use Blasters and other ranged weapons in a complementary way.
Some famous carriers are: Lowbacca.
Silver: faith, patience, calm and peace
The Silver can be considered the next step to the Green in the Jedi evolution, beings experienced and entered the old age. are carriers extremely peacefulwho avoid conflict at all costs and prefer to resolve conflicts through dialogue (negotiation and diplomacy). That is to say: without using the lightsaber or the Force.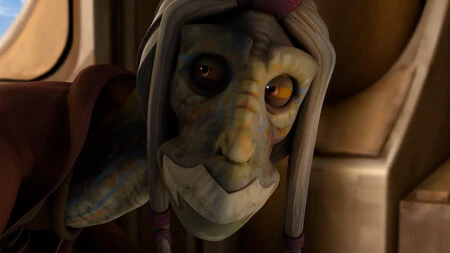 Some known carriers are: Tera Sinube.
White: purity and exile
White is both a beautiful and sad color in Star Wars lightsaber culture. Its only bearer is Ahsoka Tano after peacefully and consensually leaving the Jedi Order during The Clone Wars series. It is considered that the white color is the reverse process of Jedi corruptionnamely: the purest form.
Ahsoka's series will offer more information about what she did after joining the Jedi order and, consequently, about how she evolved until she ended up using this color. Until then, the target can be likened to a former Jedi turned into a Ronin.
Black: absolute and unlimited power, supremacy and pride
This color resembles dark saber o Darksaber. Its bearers have historically been independent beings, unrelated to the Force as we know it, and extremely powerful. It has nothing to envy to Jedi and Sith. The only Jedi known to have worn this color was the Mandalorian. Tarr Vizlacreator of the Dark Saber long before the Skywalker Saga.
The Dark Saber has a different shape and sound to the usual laser swords, similar to the swords we know. It was kept in the Jedi Temple for 300 years until it was stolen by members of House Vizsla. It first appears in The Clone Wars series. Currently in possession of Din Djarin (The Mandalorian), its current owner by right. He still hasn't managed to master the ancestral power of his people.
*It is still debated whether Rey's lightsaber at the end of Episode IX is yellow or gold. In any case, both colors represent the character.
beyond the colors
Star Wars lightsaber culture is very extensive. In this post I have told you what these swords are, how they work and the meaning of their colors.
However, topics such as the history of lightsabers, their different forms and types, and the fighting styles used with them have been left out. You can complete this information in the Official wiki or in different published books.
Personally, I'm still undecided between the yellow and the dorado. And do you already know what your color will be in Jedi: Fallen Order and Jedi: Survivor? I read you in comments. Feel free to fill in any information that I have missed.