Stick with this trick: Before shooting on goal in FIFA 23, hold down the top buttons of the controller (just above the triggers). If the rival goalkeeper falters or is stunned you will hallucinate. EA Sports calls this new technique "the shoe" and adds an extra power and emotion to the shot at the cost of leaving us a valuable moment exposed. But when the leather crosses the bow… Blessed glory!
The new football season EA Sports It officially starts, and despite the fact that having practically all the great professional football licenses is no longer the highlight of each new delivery, Juve and even the fictional team of Ted Lasso himself joins the party. In iGamesNews We have already put on our boots and left our knees on the PS5 grass. The sensations that it leaves us FIFA 23? Some really positive.
Something you can already see in our gameplay. Because if we devastated Barça by putting eFootball 2023 to the test, now we are the ones who face the Catalans wearing the merengue shirt. What better match than The classic to warm the atmosphere?
The finishes and the degree of detail of the players are absolutely impeccable. The technology HyperMotion2 that combines real player records with an artificial intelligence system is crazy and the best thing is that the new rhythm of the matches totally works in favor of the set of novelties introduced since FIFA 22. Of course, this year the cross-play between same generation consoles, PCs and Stadia It is present from the very day of launch. Something that the saga had been asking for years. Extra point for Electronic Arts.
It may not be a delivery that aspires to be revolutionary, but based on successes, technology, lessons learned and good ideas, the initial sensations are clear: now we are facing a soccer game that feels like a true New Generation. And beware, those who are passionate about FIFA Ultimate Team will have reason to be obsessed: EA has redesigned the chemistry system of FUT23 and with crossplay the Transfer Markets are shared. Not only are real gaming marathons coming up, but there will be very crazy bids.
And what if it's my first FIFA in years? Don't worry. EA Sports counts on it and continues to take you by the hand through trainers, explanations and gives you all the possible tools. If you come from the golden age of PES with switching to the alternative control system you will already defend yourself with ease, but the new batch of tricks and the new style of dribbling with the left stick are as simple to master as they are versatile during games. And if you want to have a simple party, between the Quick Matches and the VOLTA you have the party set up in record time. But let's go to the essentials: What am I going to find when playing FUFA 23.
The new EA Sports football season kicks off
Let's start with the bad news: facing our impressions, in VidaExtrwe were able to play the versions of FIFA 23 of PS5, Xbox Series X and PS4 and, as in the case of NBA 2K23, we already anticipate the bulk of the novelties and technological and gameplay improvements fall on the new generation systems. This year, too, PC gamers are playing in the top division and, on paper, are on par with the new consoles and Stadia.
In the case of Nintendo Switch, we fear, EA Sports has opted to offer another year a content update using FIFA 20 for Nintendo Switch as a base.
From here, and after listening to Andrew Anthony give us the traditional welcome, we will feel at home again: the simplified interface of FIFA 22 It returns showing what's new at the top and our favorite modes in order of preference. Now, in addition, there is an additional element: FIFA 23 crossplay opens a new social tabwith which we can improvise games with any player through a direct friend request.
Something similar to Fortnite and MultiVersus with the EA account as a meeting point. A complete success.
What will we notice when we feel the field? From the start, HyperMotion2 technology achieves on PS5 and Xbox Series X an unprecedented level of realism and body expressiveness in sports games. But, in addition, and this is important, it manages to give more dynamism and credibility to our actions with the command. The repetitions look scandalous, but it is in the fluidity of playing and the rhythm where those of us who have spent literally more than 500 hours in the previous installment realize that we are in a new season.
FIFA 23 not only does it add more and better animations, but the new tricks bring more nuance to the games. the shoe, a new type of more precise and powerful shot, it is a glass cannon that slightly brings the camera closer and exposes us for an instant, but not only achieves epic shots, but also brings really intense moments to the game.
If to this we add the technical dribbling, We will see that they bet on a more feline mobility and a more powerful offense, and those sensations are always received with open hands in a soccer game. Also, one thing we've noticed in the games we've played is that even though various players have similar speed, they perform differently on the pitch. We will have to see how this feature ends up defining the online experience.
And when it comes to defending? We have the new bragado system and the bragado in career using the left trigger that serves as a counterweight to the above, and despite the fact that it relies heavily on the predisposition of HyperMotion2 technology, it works.
However, the greatest joy that we are going to take in this installment is the redesign of set pieces. Whether on penalties or corner kicks: The kick has been rethought to give us even more control over spin, direction, and the final position of the ball. Another thing is what happens once we have shot, because football is like that.
All in all, it won't take us two games to absorb the changes and take advantage of them in quick modes, and use them in our favor in the Ultimate Team.
Maximum casual fun and modes capable of obsessing us for months
EA Sports once again makes the most of million-dollar licenses and passion for professional football, but is very aware of the charm of improvised parties and neighborhood football. In fact, FIFA 23 not only does it make it very easy for us to enjoy both experiences, but also for us to intersperse them at our own pace.
input, notable changes have been introduced in the star modes. As far as we have been able to test the Ultimate Team receives two important improvements that will give an extra identity to this installment:
On the one hand, Moments are introduced a parallel progress system where it is possible to access lots of direct rewards in addition to the classic objectives and Seasons system based on using earned points. An exchange system that opens an interesting door: now we can earn what we want doing what we want and it is a total success.
For another, the chemistry system has received a drastic change in FUT23. In essence, chemistry serves to enhance the performance and team play of our Dream Team. Until now, this chemistry was related to the harmony that exists in our squad based on proximity. Now the general characteristics are taken into account. It is more complicated to get the most out of this feature, but fairer.
As we discussed, the Transfer Market being shared will give new nuances to our progress from week to week as the letters come in. In Form and themes. And that the World Cup appears will be a total push in the face of these new ideas.
It's still early days to pass judgment on the career mode and a Pro Clubs mode that now shares space with VOLTA's street-style soccer. A fast mode even more fun thanks to its Arcade.
In addition to the traditional parties on small courts and the possibility of playing with our own character with a style and abilities to taste and even what we can consider momentary superpowers, the Volta Arcade is committed to offering an equivalent to the idea of ​​Fall Guys through of short tests, eliminatory but very fun.
One of them goes through games of Soccer Tennis
In addition, there is also a feet equivalent to dodgeball
Or the typical game in which the one who drops the ball leaves the game
Elements that, added to the classic Quick Matches introduced in previous games with intense alternatives to the classic formula or crazy rules round out the proposal of a FIFA 23 that comfortably meets those who are looking for a deep experience with lots of rewards and long term; as well as those who want simple casual fun to spend an afternoon with friends. Now both sharing a sofa and each one from home and from different consoles.
The warm-up is over: it's time to get the most out of FIFA 23
Our contact with FIFA 23 it is just an appetizer of our final impressions. We have been able to play games online, but it remains to be seen how cross-play and playable novelties affect and end up defining the online experience. Not to mention, of course, those essential FIFA modes that deserve to be addressed in greater depth or the greater presence that women's football has been given. It will not be long before we reach clear conclusions.
In the same way we do not forget the game proposal for PS4 and Xbox One. It might seem that we have focused on our progress in the next generation systems, but there is a huge amount of shared news and others that are felt at the controls. And we're not just referring to DualSense technologybut also.
It has already become very clear to us with this advance that FIFA 23 It is a generational leap for the saga, but it is no longer a question of resolution, performance or ultra-fast loading times, but also how EA Sports is working so that there is truly a leap in quality which is evident in the ninth generation of consoles, and we hope to find the same on PCs and Google Stadia.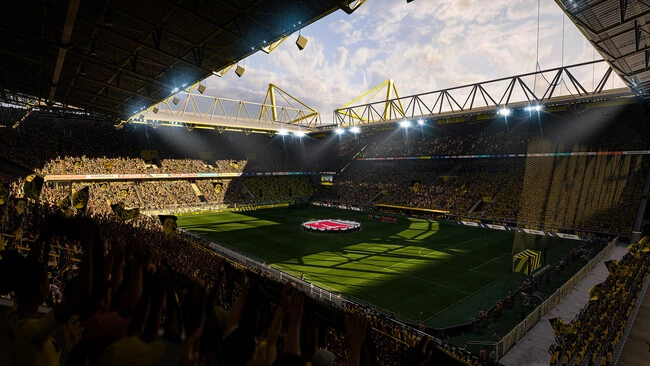 In any case, it will not be long before we reach our final conclusions: the kick-off of FIFA 23 kicked off with the Champion Editions launching across all systems and early access, while all other versions will be playable on PS5, PS4, Xbox Series X/S, Xbox One, PC, Stadia, and even Nintendo Switch. from September 30.
What if, although We are already told that it is not compatible with Steam Deck, our plans are to see to what extent it is possible to play on Valve's machine. Marathon soccer days are coming!
FIFA 23 Standard Edition PS5 | Castellano
platforms: PS5, PS4, Xbox Series X / S, Xbox One, PC and Stadia. Also available on Nintendo Switch via Legacy Edition
multiplayer: Yes, with crossplay on same generation systems
developer: EA Sports
Company: Electronic Arts
Launch: September 30, 2022