Setting up our own gaming setup not only implies getting a good machine to play with, be it a console or a PC Gaming, but also a good number of peripherals, and much more importantly, with furniture that is capable of offering both comfort when playing, as an appearance that enters our eyes, given the number of hours that we will spend inside it.
Although there are currently lots of stores that sell items to use for our gaming setup, at IKEA we can find everything we need, and always at a really attractive price. But best of all, today, May 28, if we use the discount code AF28MYDOM we will have a 10% extra discount on purchases over 50 dollars. And for that reason we bring you five recommendations for your gaming setup.
Five recommendations for your gaming setup thanks to IKEA
Kallax shelf
It is one of the most popular IKEA products. Although it has multiple uses, the Kallax shelf can be used in our gaming setup to place our figures, video games or even gaming peripherals. Several streamers make use of this shelf to decorate their setup, and the truth is that it is a fantastic opportunity to get hold of it. Right now, we can get it at IKEA for 53.10 dollars (previously for 59.00 dollars).
Vitrina SALE
Collected within the gaming accessories section, the UPPSEL display case is another of the best options that we can find in the Swedish establishment. This glass cabinet comes with two shelves (also made of glass) that we can place to our liking, to better adapt it to our needs. In addition, it is adapted to place RGB LED strips, and thus give our setup more personality. At IKEA now for 107.10 dollars (before for 119.00 dollars).
UPPSEL, Display cabinet, dark gray
UPPSEL chest of drawers
Not only the storage of our PC or console is important. Also the one that serves to store our devices is, and with this drawer we will have a good amount of space to store our peripherals
or to keep them collected, thanks for example to the strip that it includes to place our gaming headphones. Thanks to its dimensions of 40 x 58 x 50 cm, we will have more than enough space. Now at IKEA for 116.10 dollars (before for 129.00 dollars).
UPPSEL, Drawer with wheels, black
gaming desk PLAYERS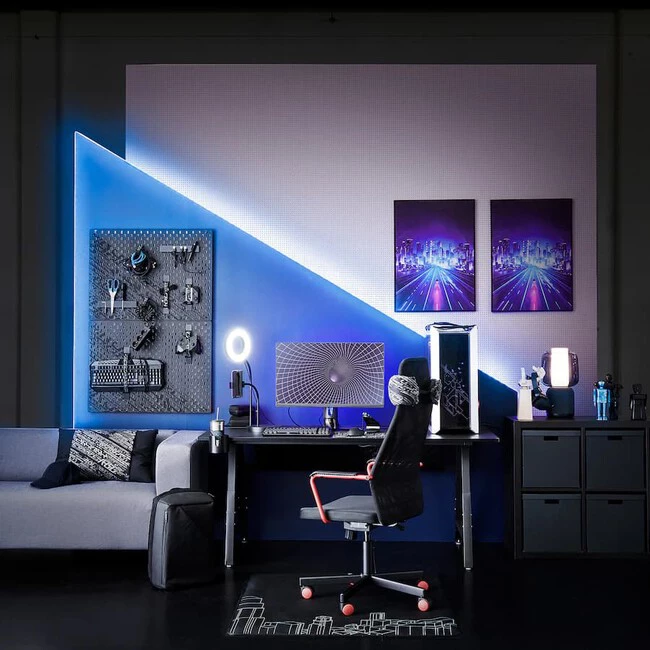 The place where we have placed our console or PC, as well as peripherals such as the computer and other elements is crucial. And when it comes to playing, one of the best options is to go to a gaming desk, like this model, that has different height levels, a grid to organize the cables, and a generous surface
to have all kinds of peripherals on it (68-78 x 160 x 80 cm). At IKEA for 152.10 dollars (before for 169.00 dollars).
PLAYERS, Escritorio gaming, negro
Silla gaming CONTROL GAME
Having a comfortable place to sit during long sessions is essential. And if we also want it to have a gaming appearance, the Swedish manufacturer makes it easy for us with its STYRSPEL model. Count with one comfortable support for arms, lumbar and cervical, which are also adjustable. As if that were not enough, its armrests are adjustable in height, laterality and angle, and its wheels incorporate a pressure-sensitive brake mechanism. At IKEA for 152.10 dollars (before for 169.00 dollars).
STYRSPEL, Silla gaming, gris/rojo
Remember that you can subscribe to Amazon Prime so totally free for 30 days (later 49.90 dollars per year).
Super deals available today
HP Victus 16-d1033ns Intel Core i7-12700H/16GB/512GB SSD/RTX 3060/16.1"
XFX SPEEDSTER SWFT 210 AMD Radeon RX 6600 8GB GDDR6
AOC 24G2SAE/BK 23.8″ LED FullHD 165Hz FreeSync Premium
Imagen | IKEA
In iGamesNews Selection | You won't need to leave home: this arcade machine is a bargain, and Amazon brings it home for free
In ExtraLife | The best webcam for Twitch, which one to buy? Tips and recommendations