Despite being a search of manual, NarutoThe most stubborn and unpredictable ninja in the Hidden Leaf Village, he has a deservedly privileged position in the world of video games. At the end of the day, it's about one of the great icons of manga and anime. A rambunctious ninja with such exceptional abilities that they make his massive playable legacy even more interesting.
In fact, over the years we have been able to deploy countless ninjutsu techniques and unleash all known chakra natures through prolific sagas such as Clash of the Ninja, Uzumaki Chronicles  Ninja Destiny! and especially the extended series Ultimate Ninja. Bandai, Takara Tomy and subsequently Bandai Namco have known how to channel the success of manga and anime through video games. Sometimes with great results and sometimes in a somewhat less successful.
However, a part of Naruto's legacy in video games did not leave Asia and the Japanese territory and another that did reach the shelves and digital stores from all over the world ended up going practically unnoticed. The reason for the latter? Well, the annual number of published games starring manganime heroes is overwhelming and sometimes the differences are not appreciated enough.
Starting from that premise, in iGamesNews we have prepared a very special selection of games based on the work Masashi Kishimoto– We have rescued more than two dozen games based on the not-so-known Naruto manga, anime, and movies. Being a very unique retrospective to the legacy of one of the Shūeisha's titans.
Since the debut of Naruto, Sasuke y Sakura on the console Wonderswan from Bandai itself, being its first video game, to its most curious releases for iOS and Android devices, through deliveries released on consoles that are now discontinued that, as original or entertaining, deserve a second chance to shine.
Some titles you will know, others will be a discovery. Without further ado, below you will find 23 games based on the Naruto manga and anime
(and Naruto Shippuden) that you probably didn't know about.
Naruto: Konoha Ninpo Chou
Year 2003
Plataforma: WonderSwan Color
Bandai launched the first video game starring the Kishimoto ninjas in late March 2003 in WonderSwan Color, his very own 16-bit notebook, offering a free-key RPG adaptation of Naruto and Team 7's foray into the Land of Waves.
Logically, the fact that the WonderSwan Color was not released in the West means that, although as a game it is correct, Naruto: Konoha Ninpo Chou it has not even been officially localized in other languages.
Naruto: Shinobi no Sato no Jintori Kassen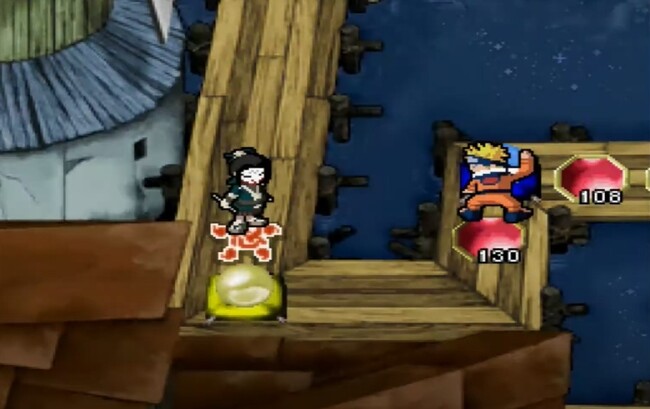 Year 2003
Platform: PlayStation
Just a few months after their debut in video games, the Naruto characters arrived on desktop systems with Naru to: Shinobi no Sato no Jintori Kassen.
The first and only game of Naruto Launched on the first PlayStation, it is a traditional board game with boxes and dice (although in this case it is a roulette wheel) in which we must conquer each of the scenarios.
Naruto: Konoha Senki
Year 2003
Plataforma: Game Boy Advance
Before closing the summer of 2003, at the end of September, Naruto rounded off his arrival on c onsoles with a third custom Game Boy Advance game: Naruto: Konoha Senki.
A curious tactical RPG based on the story arcs of the Land of Waves and the Chunin Exams.
Naruto Path of the Ninja y Naruto RPG 2: Chidori vs. Rasengan
Year 2005
Platform: Nintendo DS
It is very likely that you know that Naruto: Path of the Ninja had its own sequel on Nintendo DS, but there are two nuances to consider:
From the outset, the Path of the Ninja It was also released on Game Boy Advance exclusively for the Japanese territory. Quite a rarity.
However, the curious thing about Naruto RPG 2: Chidori vs. Rasengan is that, also as a Japanese exclusive, a limited edition of copies was created in which Sasuke starred on the cover, the instruction manual and even the image of the game card.
Two exceptional editions of relatively well-known games for two installments that made good use of Nintendo's dual-screen systems.
Naruto: Ultimate Ninja Card Battle
Year 2005
Platform: Arcade
In 2005 Bandai itself began filling Japan's arcade halls with Data Carddass arcades, offering card collectors the ability to interact with their heroes on screen. And, logically, Naruto had his own experience Card Battle.
Naruto: Rise of a Ninja
Year 2007
Platform: Xbox 360
Naruto: Rise of a Ninja It is one of the most exceptional games of the scandalous Kishimoto ninja: it is the first Naruto title developed by a non-Japanese studio (Ubisoft, no less) and released exclusively for Xbox 360, a Made in USA system.
In the playable, Naruto: Rise of a Ninja It offered a good mix of genres, including action, adventure and even interesting RPG overtones, covering the anime's plot from practically the beginning to the epic combat between Naruto and Gaara.
Naruto Shippuden: Ultimate Ninja Mission
Year 2007
Platform: Arcade
Two years after launching Naruto: Ultimate Ninja Card Battle, Bandai took advantage of the makeover of the characters and the new tone of Naruto Shippuden to update its game proposal with arcade collectible cards, using models taken from the PS2 games.
Naruto Shippuden: Dairansen! Kage Bunsen Emaki
Year 2008
Platform: Nintendo DS
As we will see, Takara Tomy is one of the developers who has devoted the most to adapting the Naruto anime to portable systems and Nintendo consoles. Offering new points of view within the already well established alternatives of struggle.
In the case of Dairansen! Kage Bunsen Emaki, we find an interesting action game that allows us to go through perspective top-down the first story arcs of Naruto Shippuden.
Naruto Shippuden: Naruto vs. Sasuke
Year 2008
Platform: Nintendo DS
Despite its name, we are talking about a title integrated in the prolific saga Naruto: Ninja Council, and one of the most particular deliveries: Tomy limited the use of the touch functions of the Nintendo DS and, on the other hand, succeeded in giving more weight to tag team matches with new techniques and increasing mobility. Something that was achieved by reducing the size of the characters.
Naruto: The Broken Bond
Year 2008
Platform: Xbox 360
A must see for all Naruto fans on Xbox systems: Ubisoft's sequel to Naruto: Rise of a Ninja it retains the best of the adventure and mobility sensations of the 2007 game and not only gives continuity to its plot, but considerably expands the characters involved in the story.
Naruto Shippuden Legends: Akatsuki Rising
Instead of adapting Naruto: Uzumaki Chronicles 2 to PSP, Bandai Namco produced a kind of sequel tailored to the hardware of the first PlayStation laptop that, without reaching the visual milestone of the desktop, knows how to maintain and give some continuity to the sequel to Uzumaki Chronicles.
Naruto Shippuden: Dragon Blade Chronicles
Taking advantage of the Wii's motion control system, Takara Tomy pulled himself out of the hat Dragon Blade Chronicles, a hack-and-slash starring Naruto and the leaf ninjas in which they not only solved missions based on slashes, but also renewed their wardrobe with spectacular light armor created for the occasion.
Naruto Shippuden: Shinobi Rumble
Year 2010
Platform: Nintendo DS
The fifth installment in the series Ninja Council draws heavily on the Itachi Pursuit Mission story arc from Naruto shippuden and, in the process, takes playable elements from Jump Super Stars, a brawler starring the stars of the Shonen JUMP. Offering combat full of pure action in side scrolling for Nintendo DS.
Naruto Shippuden: Kizuna Drive
The sequel and continuation of Naruto Shippuden Legends: Akatsuki Rising Not only does it allow us to tackle Itachi's Pursuit Mission on PSP, but it introduces a more elaborate plot and, in the process, new team-fighting mechanics. Now we can add up to two assistants to the battle.
Naruto Shippuden: The New Era
Year 2011
Platform: Nintendo 3DS
With the arrival of Nintendo 3DS, Takara Tomy set out to take advantage of the laptop's three-dimensional graphics technology through a review of the action saga in scroll lateral Ninja Council with the characters of Naruto Shippuden with characters, settings and cinematics with stereoscopic 3D effect.
Naruto Powerful Shippuden
Year 2012
Platform: Nintendo 3DS
From the hand of Inti Creates and Bandai Namco, Naruto Powerful Shippuden offers classic, laid-back platforming action with an extra charm: Kishimoto's ninjas boast of technique and humor with superb chibi look which adds extra points to the set.
Naruto: Ultimate Ninja Online
Year 2013
Platform: Web browsers
In 2013, ten years after the premiere of Naruto in video games, Bandai Namco, Cyberconnect2 and Chinese titan Tencent Games joined forces to shape Naruto Online, an MMORPG set in Kishimoto's ninja universe and that, two years later, arrived in the United States.
Naruto Mobile
Year: 2016
Platform: iOS, Android
Naruto Mobile is a game focused on action and combat in scroll-lateral for mobile devices: Tencent offers us to fight with the Naruto characters more or less in the style of the classics beat'em ups, without reaching the excellence of the great exponents of the genre.
Naruto Shippuden: Ultimate Ninja Blazing
Year: 2016
Platform: iOS, Android
Released in 2016 for iOS and Android, Naruto Shippuden: Ultimate Ninja Blazing offered a strategic team dueling experience with an RPG-style progression system and over a hundred characters to unlock. The servers are expected to shut down in February 2021.
Naruto x Boruto: Ninja Voltage
Year: 2016
Platform: iOS, Android
Defined by Bandai itself as afortress strategy action game, Naruto x Boruto: Ninja Voltage is a free-to-play action and RPG title in which we must create fortresses and recruit Kishimoto's ninjas to assault other players with spectacular ninjutsu techniques.
Naruto: Slugfest
Year: 2020
Platform: iOS, Android
Naruto's most ambitious project released for mobile devices: Naruto: Slugfest offers an open world MMORPG set in the time when Naruto returned from training with Jiraya during the early days of Naruto Shippuden.
Naruto: Slugfest offers the player to choose from four classes specialized in different types of combat (Earth Keeper, Blazing Lotus, Thunder Assassin and Wind Shooter), a presentation in line with what is currently expected from mobile games and the possibility of recruiting the characters of the manganime.