The Logfolk Graveyard is where it happens. There should indeed be a plaque. In a game where time can become a blur of bright hisses, I somehow remember the exact moment. Until then, I've been browsing OlliOlli World – always having fun, sometimes well done, sometimes just scraping it. But then Logfolk Graveyard presents optional challenges: Advance your skills through ghosts.
I love ghosts. All levels here have optional challenges, but that ghost! I realized I must have wanted to fool it, even ahead of time! So I had to do things that I rarely choose to do in games. I have to do something that seems to violate the cardinal rules in a purely furry game with OlliOlli World. I had to go back. Going back to the tutorial I quickly skimmed and forgot a few hours ago, back to the core of the advanced trick system to properly understand these beautiful and scary things.come back so I can get them down.
OlliOlli World is the latest and wildest entry in a series of 2D skateboarding games. For obvious reasons, the basics remain the same.Back in 2014, Roll7 designed a stick system that seemed to capture skateboarding joint – At the knees and ankles, at the moment when the human body becomes a lively jack or shock absorber. You hold and release the stick to cheat: pick a direction and see what happens. Can it land? Can you relate it to other tricks? Can you merge a grab? any.
But advanced tricks build some Street Fighter 2 on top of it. Hold the rocker and turn it a quarter turn – or more. It's harder. It's harder to do in a hurry, and you're always in a hurry here. It's harder – at least for me – to internalize. Regardless, this is OlliOlli's quivering, running, crunching heart, and as I said, it remains the same here. You no longer have to press the buttons to land properly – although you can still if you like – I feel like the buttons may have moved in position, but basically, on wheels, it's always the same beautiful thing it used to be.
Yet it all expands! The first two OlliOllis are true 2D affairs, scrapbook planes. I think the first outing was Pixelart, then the second smoothing Hoxton Ad Agency Vector: Bonanza Bros' background freezes in the moment of a perfect sunset. Meanwhile, OlliOlli World brings things into Cel Coloring 3D, where wobbly, floppy, ethereal characters embark on a gorgeous and goofy adventure in a cartoon ice cream-colored landscape.
Models and assets are 3D, but the world is also a bit far from the 2D plane.You'll get points in your run where you can switch tracks, for example, jump from this route to that route, maybe That The route curls up and goes through the first one. There will be half pipes that push you back the way you came, but on a different thread. You can go in and out of the screen a little, somehow never sacrificing readability. The game is still broken down into custom runs or levels, but those levels are combined to tell a story, forming a series of appropriately weird places you walk through.
It's beautifully done: pen doodles blended with cartoon seagulls and lush oak forests. My favorite place is probably the arena of the factory, where you race on production lines and toxic sludge, and sometimes skate on moving platforms. Then there's a sci-fi cityscape with a truly epic drop and some brutal chain-riding. Meanwhile, the soundtrack is like the Wii OS tunes covered by Mr. Scruff and the statue-age Moloko: squidgy, chirpy, chicky, zappy. The perfect tune for the Holiday Inn cocktail lounge on the rings of Saturn, where it could have all happened anyway. But more importantly, the gritty sound of the wheels on the jointed concrete and the click and click of the planks in motion. Refreshing. Hospitality.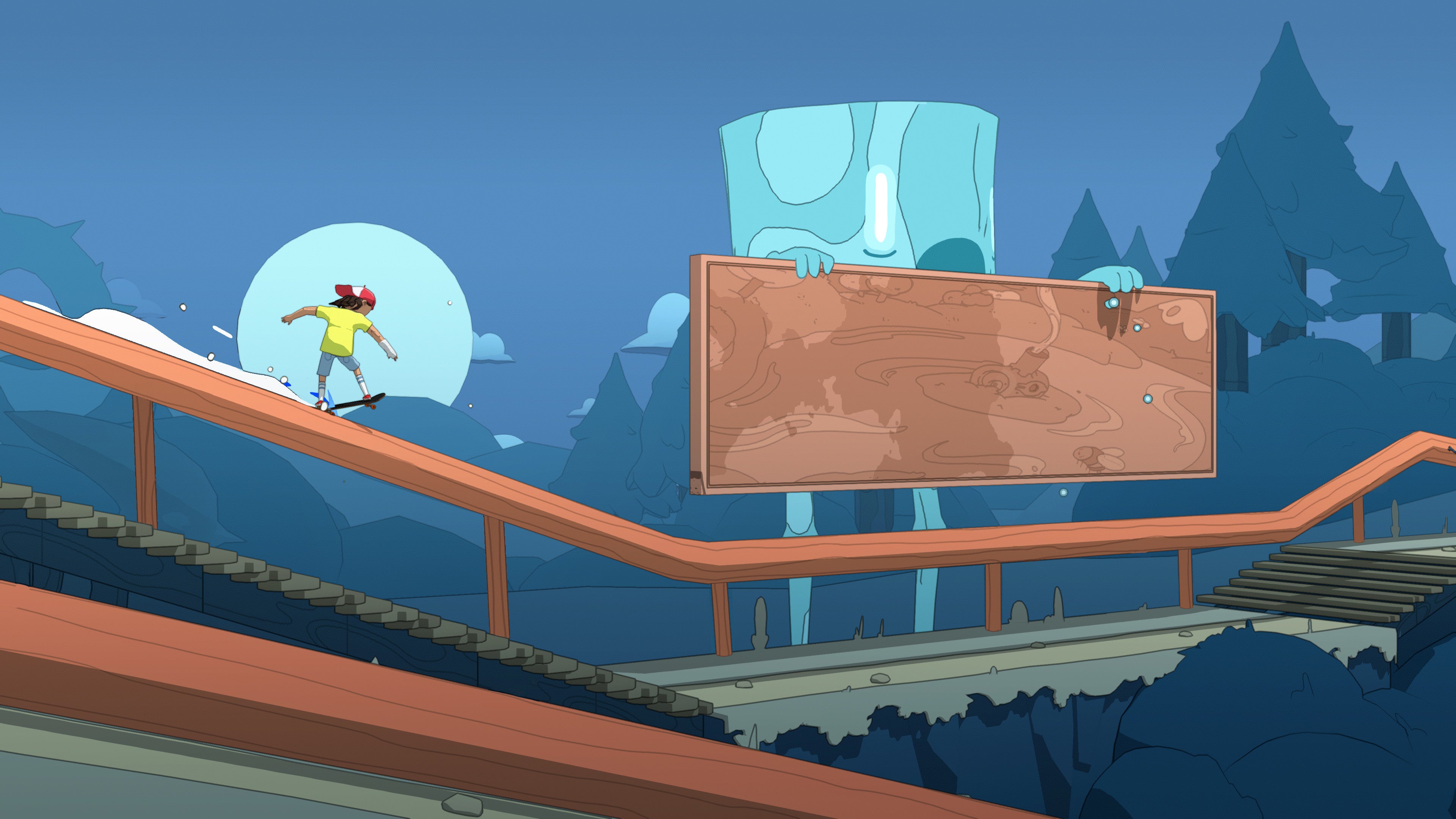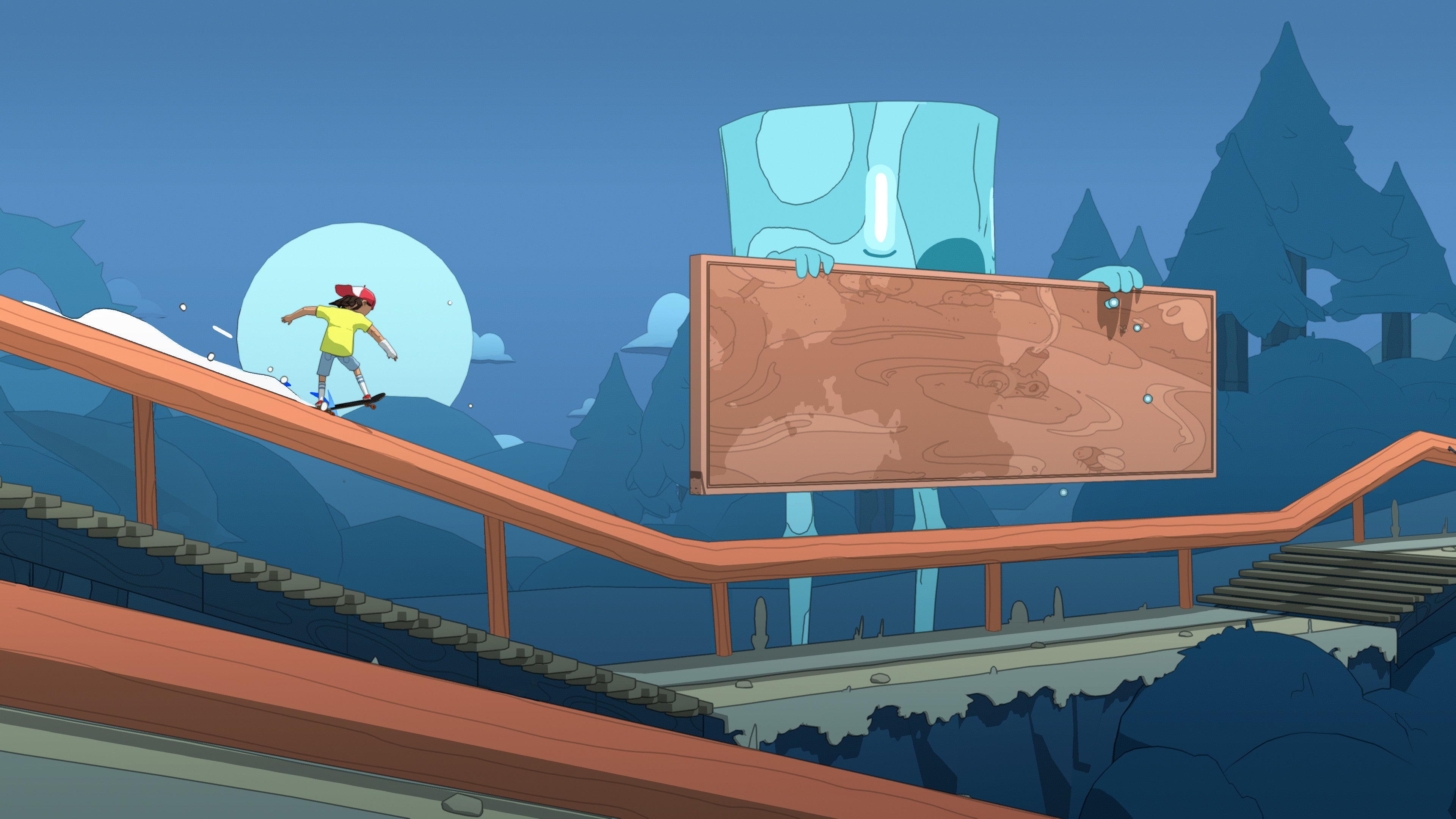 Some of the runs are heartbreaking in their own right, sprinting the grind and obstacles and walls together for the dexterity and panic of a proper Morse code blast. Add in branching routes, creative screen furniture and new skills – some of which are delivered surprisingly late, like climbing stairs – that take you back to earlier lessons to discover new routes, and you've got a guy with a huge heart Gaming: Skateboarding, platforming, memory testing epic.
But it's a skating game, and these games are always two games. OlliOlli World is a good example: at first you just have to get to the end of each level. But you want to do advanced tricks with ghosts, don't you? Optional challenges let you think of the level you just fought as a series of new possibilities. Then you pass that barrier, and the whole world is full of possibilities. Two games in one: a mix of fixed platform obstacles where you need to get your ace, then those gaps for self-expression and doing extra tricks, chains, grabs, manuals, and spins for wild points. Oh those crevices! Find them! Create them! (Watch them.)
So you send out an already intricate world. You test the possibility. You know, I recognize that feeling. (Thanks here to Edwin, whose recent great article on poetry and combat systems got me into this way of thinking.)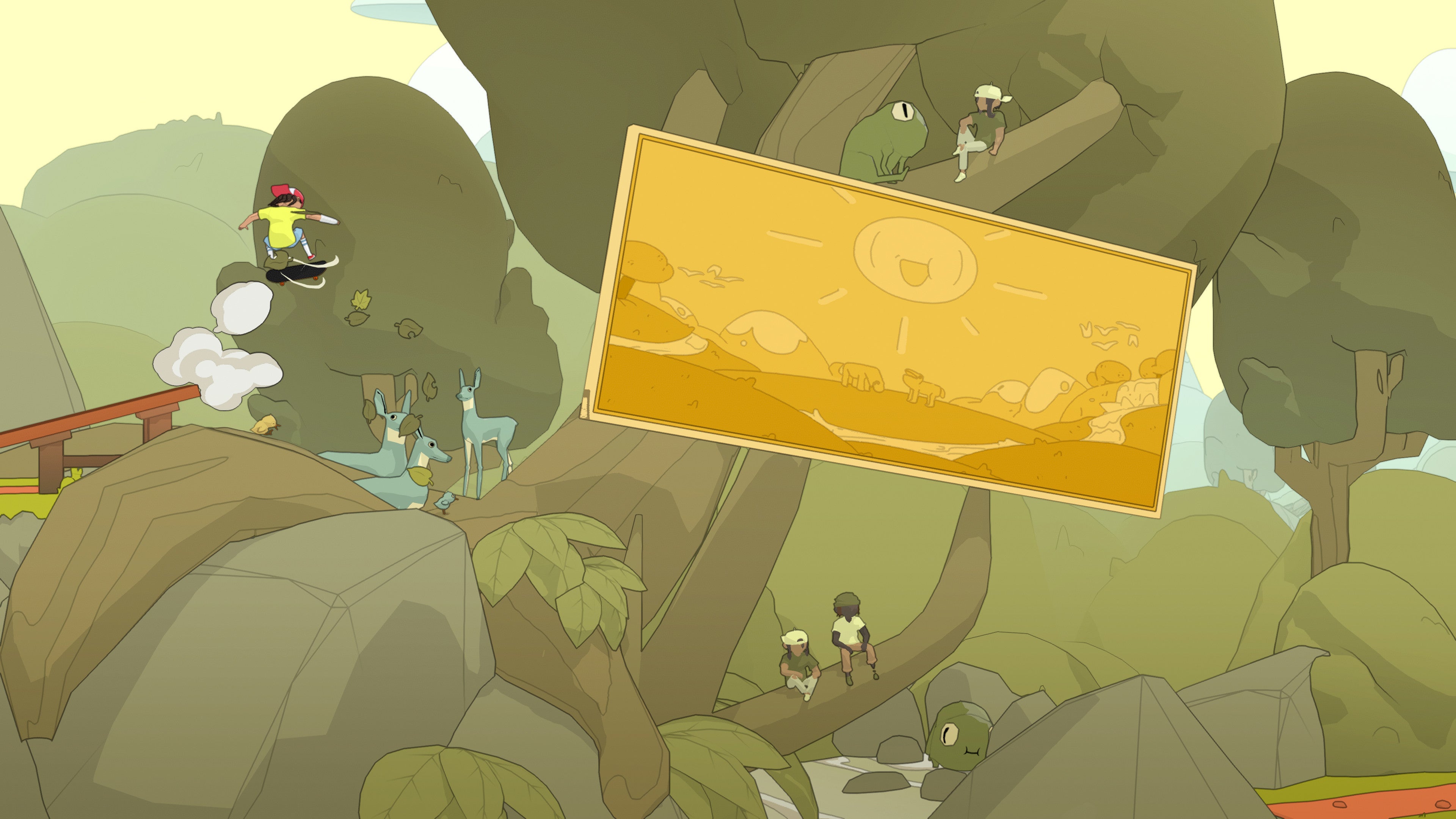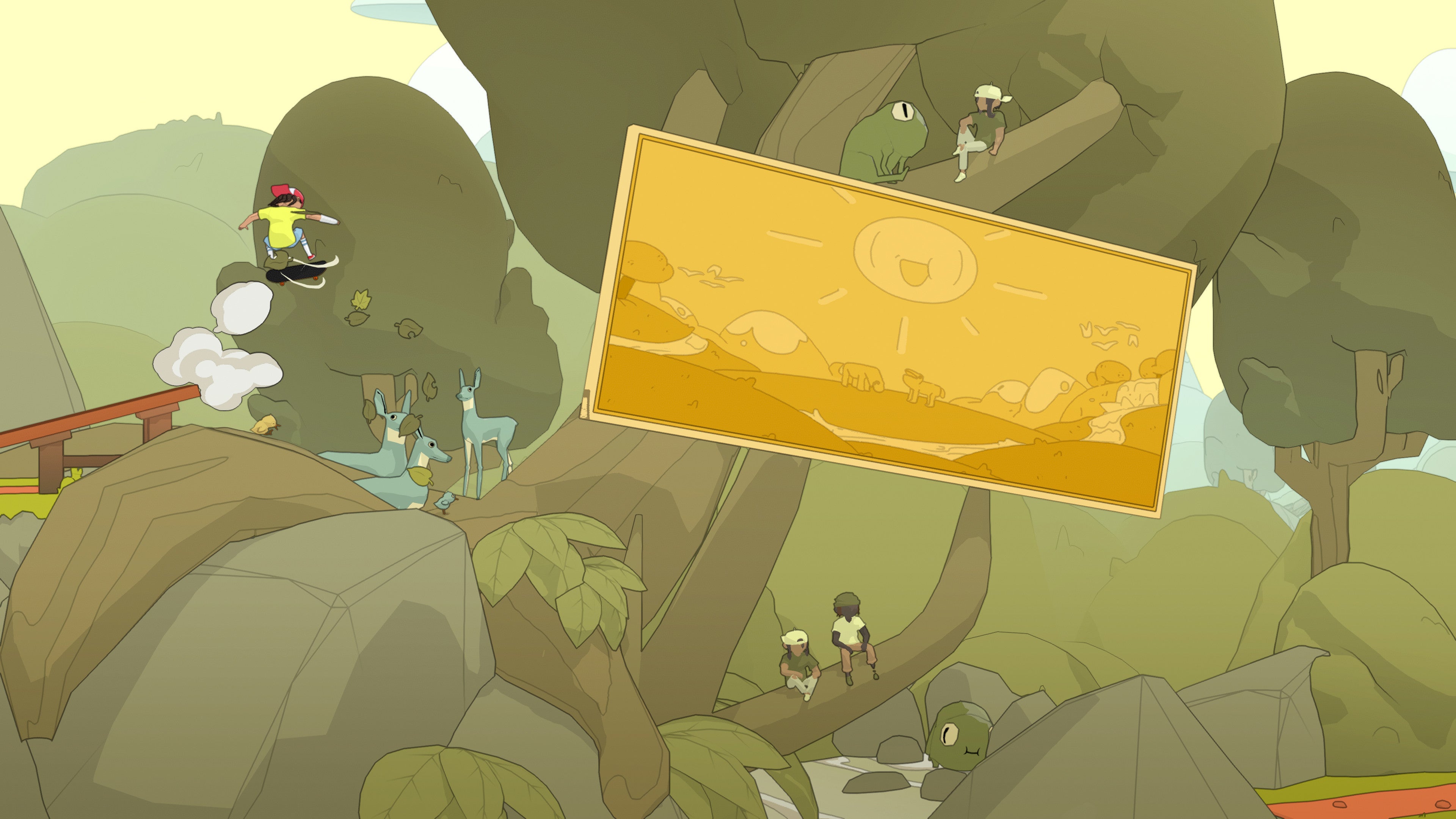 this feeling. Writer John McPhee calls it Draft No. 4. He's talking about writing.Super quick, since we were reviewing a skateboard game, so here's what he said: "After reading the second draft aloud and reading through the article for the third time…I attached the words and phrases to draft number 4's pencil case. if i like anything in the process [by "process" he is talking about writing in general here] It's draft No. 4. I went looking for substitutes for the words in the box. "
Listen: Those pencil cases. McPhee was speaking of the words "mission accomplished but seemingly provided opportunity." Replacing them is where we often get something rich and truly memorable, something unique in an article, I think. You look for spaces where you can do something special. A prank. Link it to the manual for another trick, maybe catch it. An advanced trick. mercy. The world opens up a little. The sun in the sky was a little brighter.
This is true of all OlliOllis, but it also connects these games to the wider genre and makes them part of the wider fabric of skating fun. Take Tony Hawk: It's a space that is explored first, and a space that is then transformed through your own movement. This trend of making things your own, covering them with your artificial acrobatics, is true throughout the world of skating games. It's the genre it often feels all other genres should aspire to – in terms of challenge, yes, but in terms of sheer expressiveness. We often follow critical paths in first-person shooters, but in skating games, as Oliver Sacks once said, we're all meant to be individuals. (He's not talking about skating competitions.) What could be richer than that? OlliOlli World excels in this regard.
Speaking of wealth. Oh, and the quality of poetry this game leaves in the reviewer's notebook: Investigate the world of Xiaoyun. Blue triangle. pink shape.
In order: Cloud World allows you to access several additional modes. One is a procedural generation tool that lets you run it yourself and share them through a zip code system. The other is an affiliate system that allows you to join with others and set a score as you pass the rankings together.
The blue triangles are optional levels on the map. The pink shapes are side quests. Every level in the game has a basic goal of getting to the end and getting there without restarting – checkpoints are fair, restarts are brisk – then there are additional challenges, and every level has Score a "local hero" beat, along with standard leaderboards. Everything is filtered through muted colors and cartoony, returning to the feeling that the game is a world with its own place and celebrities, and the lovely story that runs through it. I haven't even mentioned the awesome character creator that you always unlock new items for it, but right from the start, you can spin pretty much anyone you want with just a few random button presses.
Draft No. 4. I think OlliOlli World is a game about writing — I guess more accurately, a game about rewriting — but that's probably because I'm a writer. This reminds me that writing can be a quiet body. I bought a pen the other day – cheap from some site or other, and the mere act of using it is reminiscent of something very OlliOlli at its peak. That is, the line! That feeling of scouring on the surface of new paper, leaving a smooth trail that slowly seeps into the white ground. Partial control, but not full control. Not always. Creator and audience combined.
In truth, though, this game might be the perfect glimpse into any activity that involves the joyful business of learning, with many stages of ability to pass, and many new things to notice, explore, and experiment with. Love to write, yes.picture ice skating, I think. That's it: I love this game because it's about learning and experimenting. Maybe learning never ends, maybe we can always try new things.