You could forgive the Platinum team if they made their debut from bullet hell conventions in the 2D shooter genre.
After all, the style made famous by Toaplan, Cave, and their contemporaries is often considered an advanced form of the genre, which favors excesses and often dazzles players, collectors, and the press alike. All of this could make Bullet Hell especially appealing to studios that more typically focus on energetic, delightful over-the-top AAA action games.
With Sol Cresta, however, Platinum is expanding a collection that began nearly 42 years ago, Nichibitsu's 1980 release Moon Cresta. Back then, it would take more than a decade for even the titles to start hinting at what could happen with high bullet counts. Moon Cresta's was an era before the barrage, and the Bayonetta studio made an impressive commitment to honoring the genre's conventions as they were in the first half of the 1980s.
That's not to say Sol Cresta felt like a shooter back then. Instead, Platinum has gone to great lengths to modernize the classic genre template, embellishing it with the sophistication and rhythm of a modern game, while making sure it stays true to shooters from over 40 years ago.
The result is a game that definitely feels different than most contemporary shooters. Especially those associated with arcade culture and Japan's prolific shooter development scene. Rather than having players traverse pixel-sized hitboxes in a billowing stream of neon bullets while insisting they manipulate an incredibly complex scoring system, Platinum has built a game built around player ships with a dizzying range of abilities .
When Moon Cresta was in the lead, it introduced a rather innovative "docking" system at a time when many 2D shooters were very formulaic, often overtly copying the profitable formulas of hits like Galaga and Space Invaders. While Moon Cresta itself actually started out as a Galaxian hack, it did a lot to stand out from the competition when it came to letting players power their ships by attaching extra parts.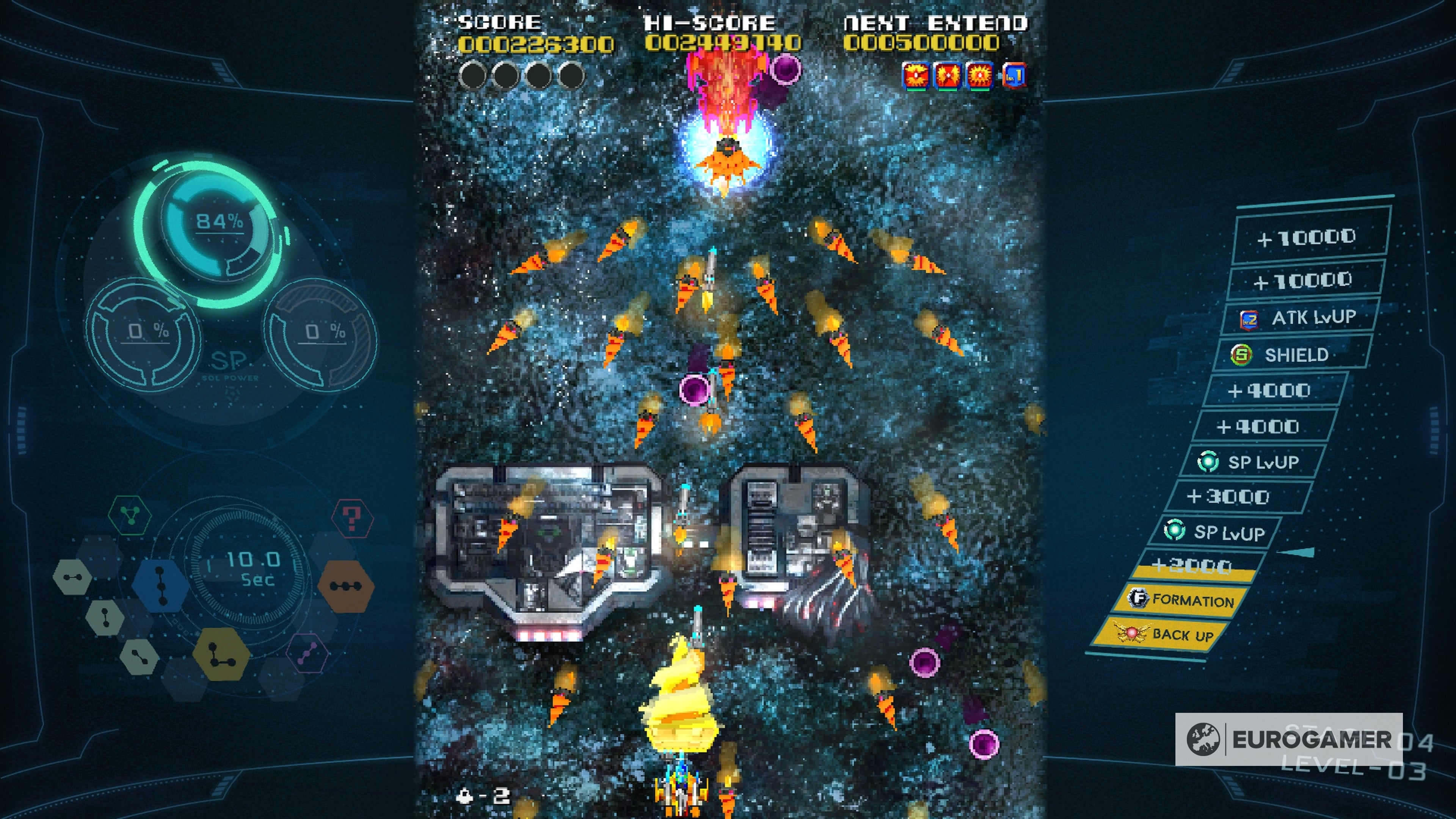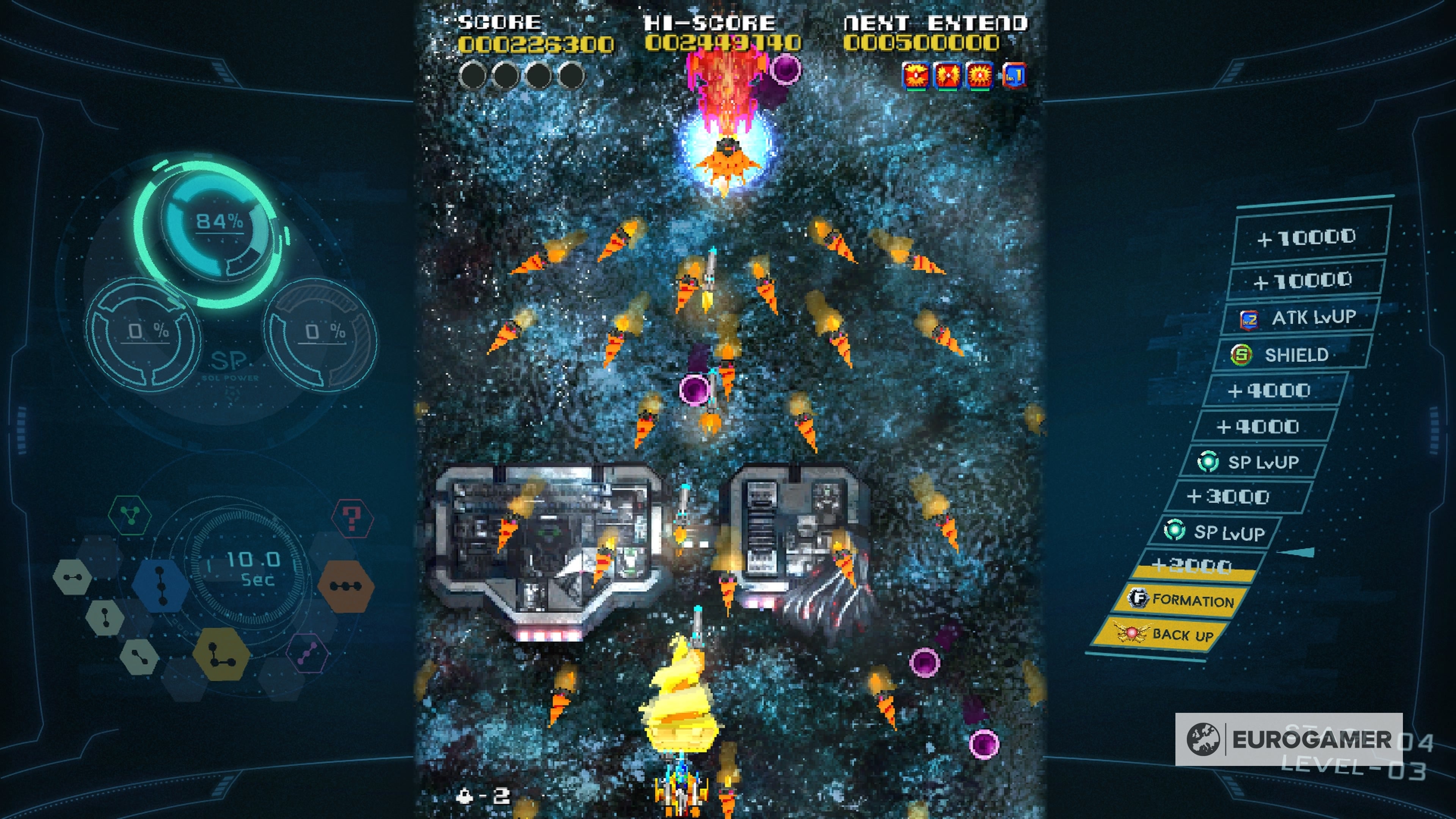 Platinum takes this basic concept and builds on it, giving Sol Cresta's protagonist attack ships so many crossover abilities that it's dizzying to play at first. The Core Player Ship is a basic, underpowered and ultimately vulnerable ship that packs as much punch as the Pea Shooter. Soon, though, power sources will appear, allowing you to attach a second and third of these ships to your main fighter. With each new element you dock, the flexibility and capabilities of your weapon system greatly increase.
So you'll be piloting a ship consisting of three smaller ships, each with different weapons, as well as their own special attacks. Yellow ships provide devastating direct fire, blue can rip with powerful but imprecise homing missiles, and red has weaker spread attacks. This color-coded description is important because it allows you to keep track of which craft is which as you detach and reconnect ships to make different ordnance mixes.Depending on your position in the front, center or rear, you can prioritize different main guns and special weapons – the latter unleashing a devastating salvo from the charge of the fire button
Hit the "Split/Dock" button and in-game time slows down as your ships are separated from each other, while an otherworldly cable connects them into one. Move them into a new arrangement – maybe move blue to the front, then red, then yellow – at the touch of a button, they'll merge into one, and your new weapon system is instantly ready.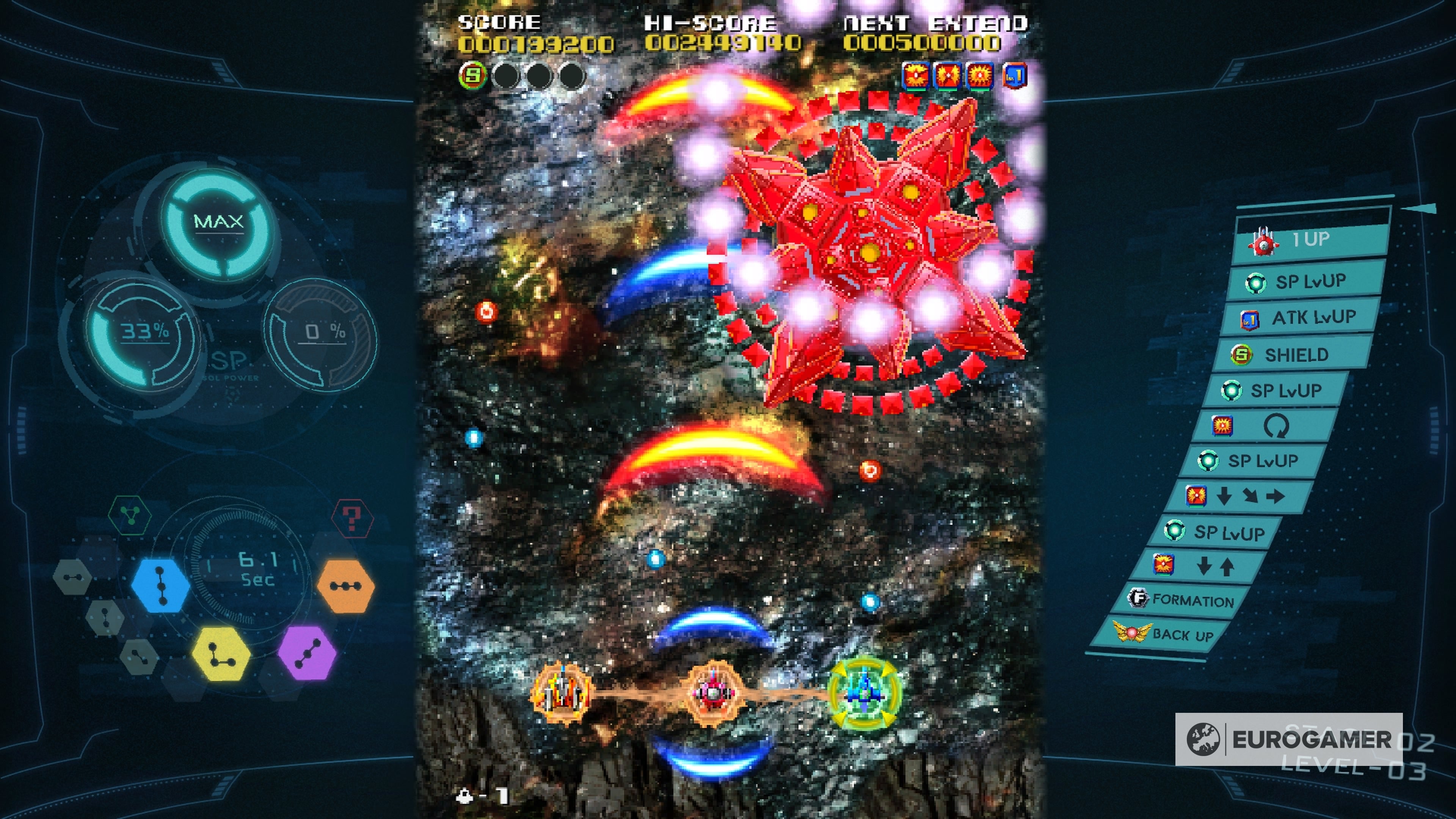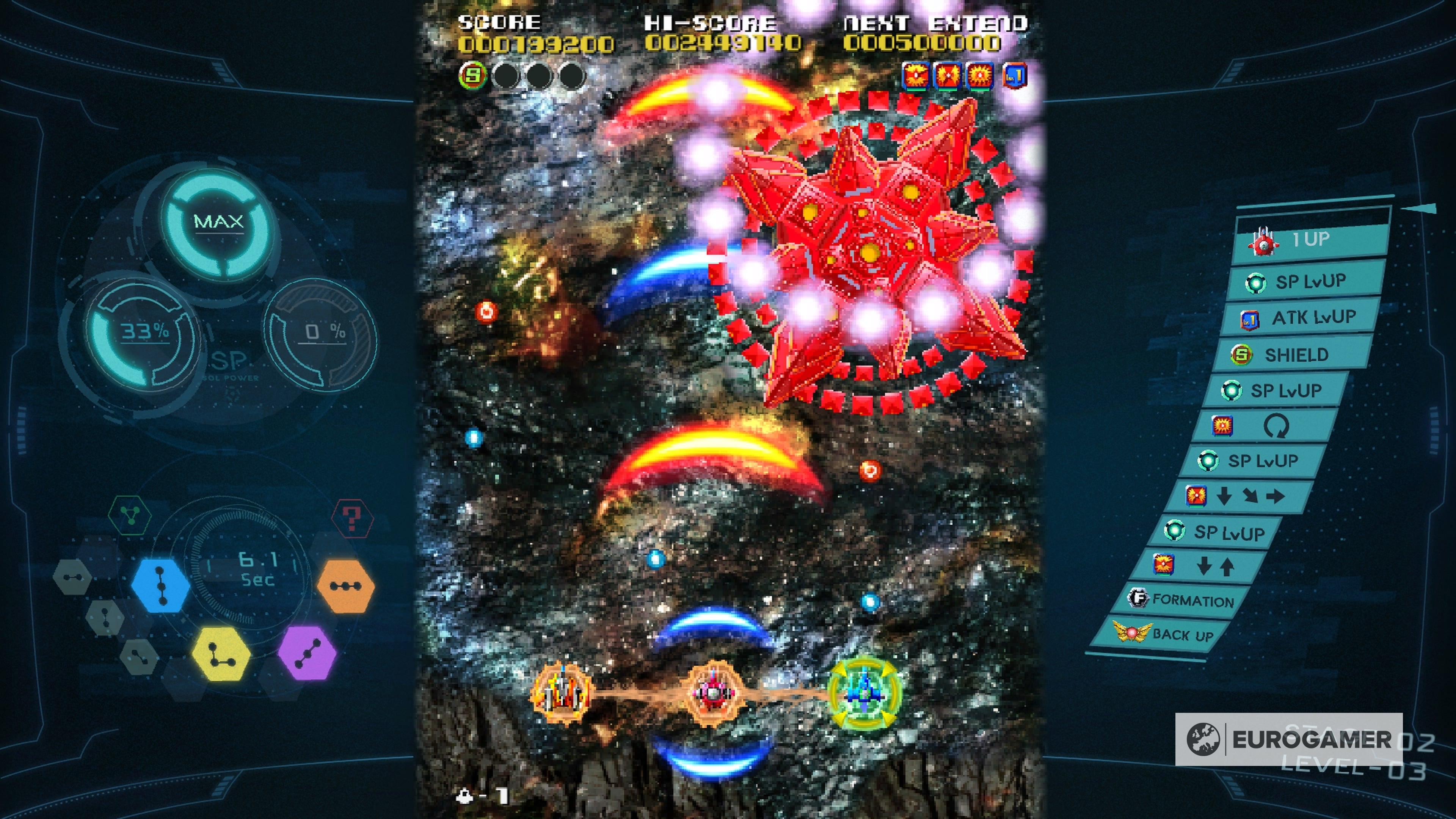 However, this is just the beginning. You can also use the spin input to launch additional attacks in different directions, which will be familiar to anyone who's spent a lot of time playing fighting games. It's very worth noting that rotating a stick and pressing a button to send directions while using the same stick to move your ship works pretty well – although it's easy to forget in the chaotic battle, you can In the seventh and final stage, there is no need to use it.
The same applies to another way of utilizing the docking system. As your ships separate, you can line them up in various formations instead of choosing to reconnect them. Adopting one of the six formations can give you a brief window that boosts momentum tremendously. These attacks can go a long way in getting you out of trouble by using spinning lasers to surround you or turn you into a giant indestructible phoenix. But then again, as you continue with the core job of shooting and dodging, with so many weapon options and variants to tinker with, it's easy to get into the habit of using standard weapons while cruising to higher levels without unleashing a single Formation attack.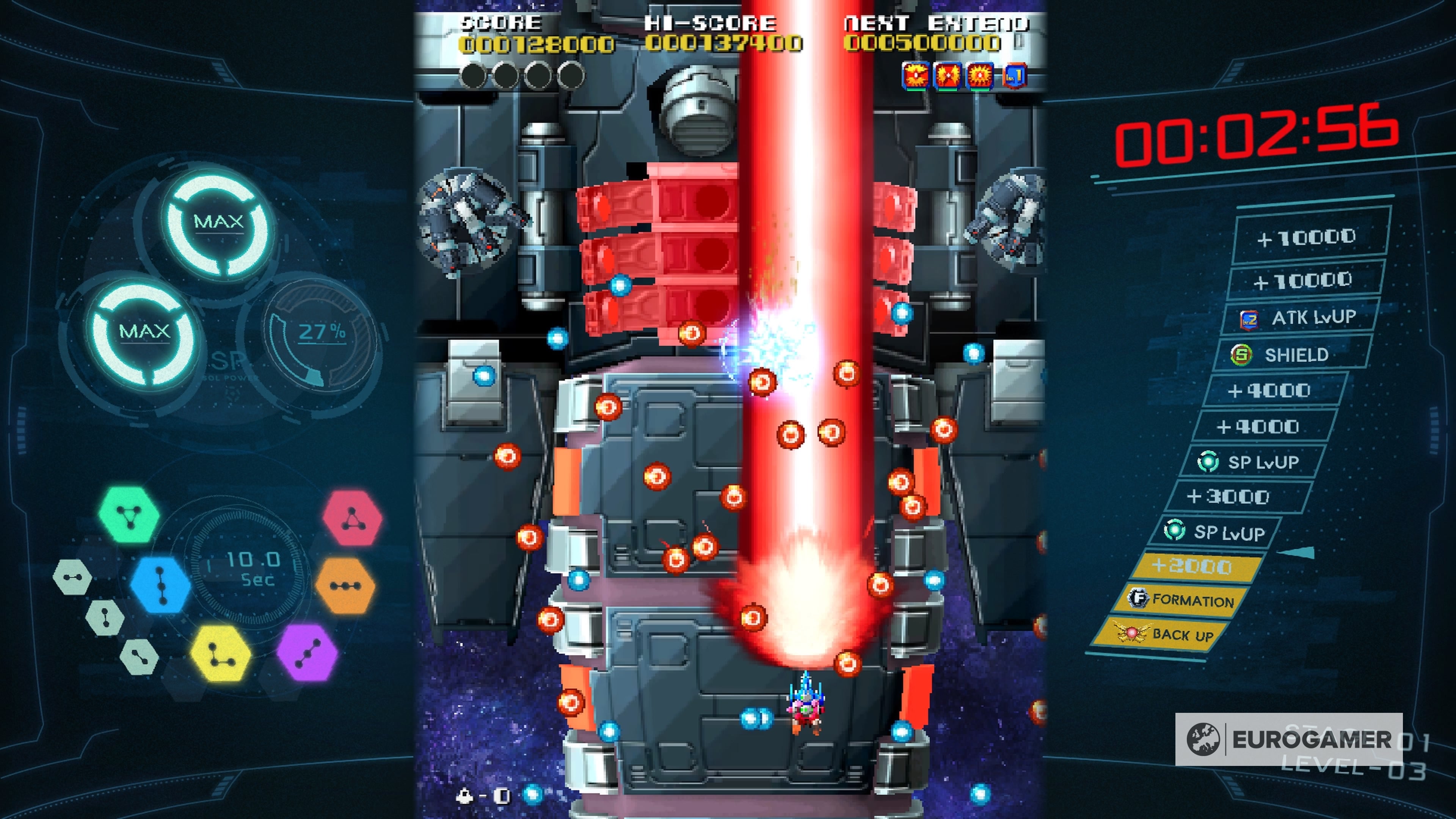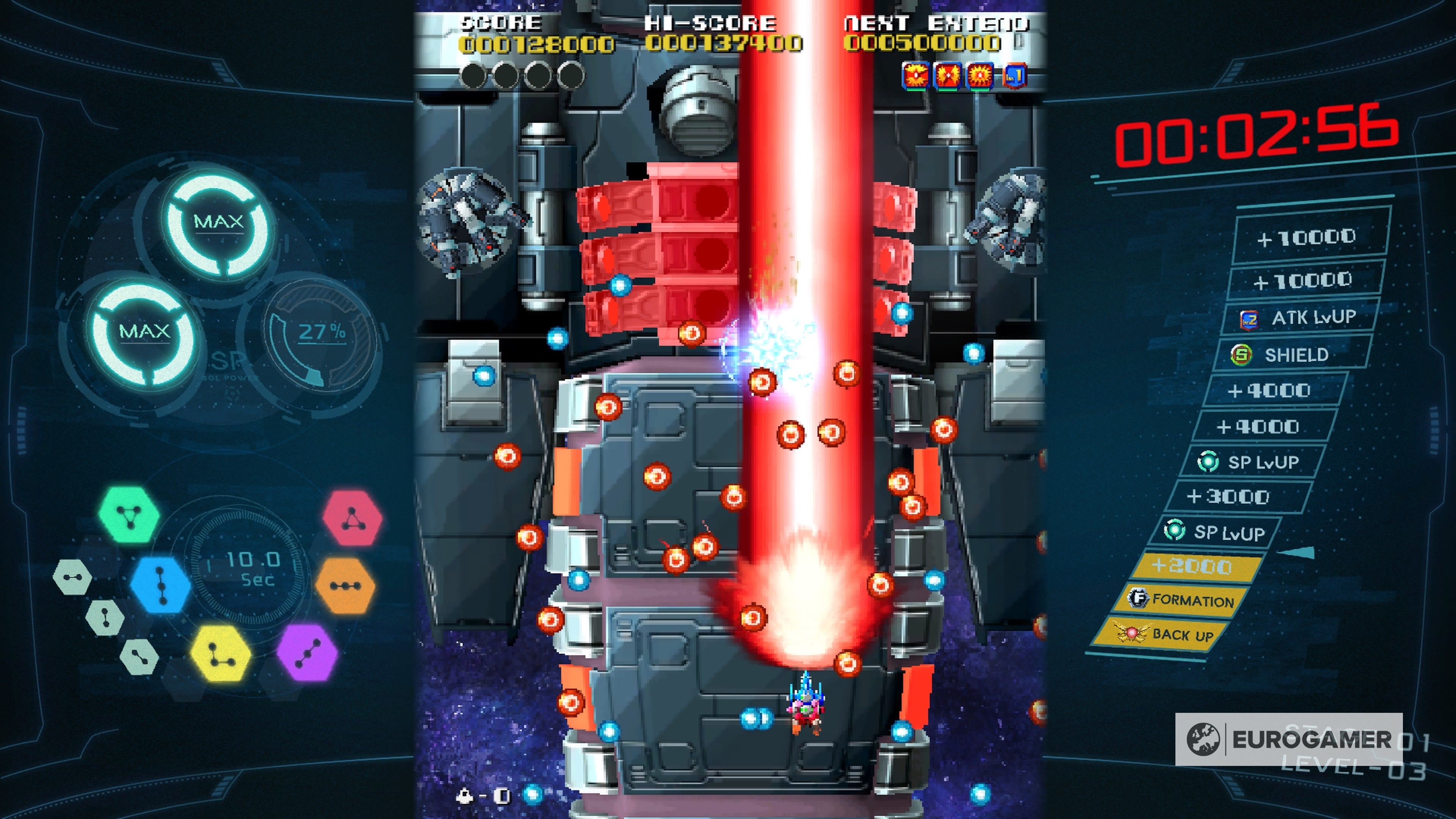 All of these systems are tied together by two core game assets. Killing enemies fills an SP meter, which is used for those charged special shots and more damaging formation attacks. Meanwhile, collecting the titular Sol coins dropped by downed enemies populates a reward table that continually grants new abilities, score boosts, extra lives, and more.
There's also a shield system where life doesn't end until your last ship elemental takes a hit, which makes Sol Cresta pretty generous in how much damage he can take before being blown away from the sky.
All these systems aside, Sol Cresta is a lengthy game by genre standards, far from short levels that get more complex as they go through. As you progress through the stages, it increasingly uses moving scenery and tense claustrophobic sections, narrowing down the quiet moments that make you stop and breathe. It's really exciting to play – even on lower difficulties, you're guaranteed to gasp and shave during the thrilling ride. Sol Cresta – which is known for its obvious April Fool's joke – also has a knack for delivering dramatic credits, fighting back from oblivion as you rebuild a damaged ship from pea shooter state back into an intergalactic powerhouse.
"If anyone expects Platinum's minimalist work, they're only going to let themselves down."
However, with so many systems at your disposal, it often feels a little inelegant. From one perspective, Sol Cresta's crossover system provides ample capacity for different playstyles. You can choose what suits you and ignore the rest. However, there's a point too often that it's easy to get lost in fiddling with formations and arrangements, etc., distracting yourself from getting really focused. However, unlockable high-score modes with online leaderboards, such as caravan arrangements, will give you plenty of motivation to overcome and stay focused.
Playing with the pre-release code, it should say the game temporarily hangs and stutters on PS4, but – fortunately – only when shifting between stages, it has little to no effect. Elsewhere, the display options seem fine, but are misplaced. There are options to rotate the display and add scanlines – but the latter feels so dense that they blur the motion rather than sharpen it. With the scanlines set to "heavy," it feels like the game is completely lost behind its display settings.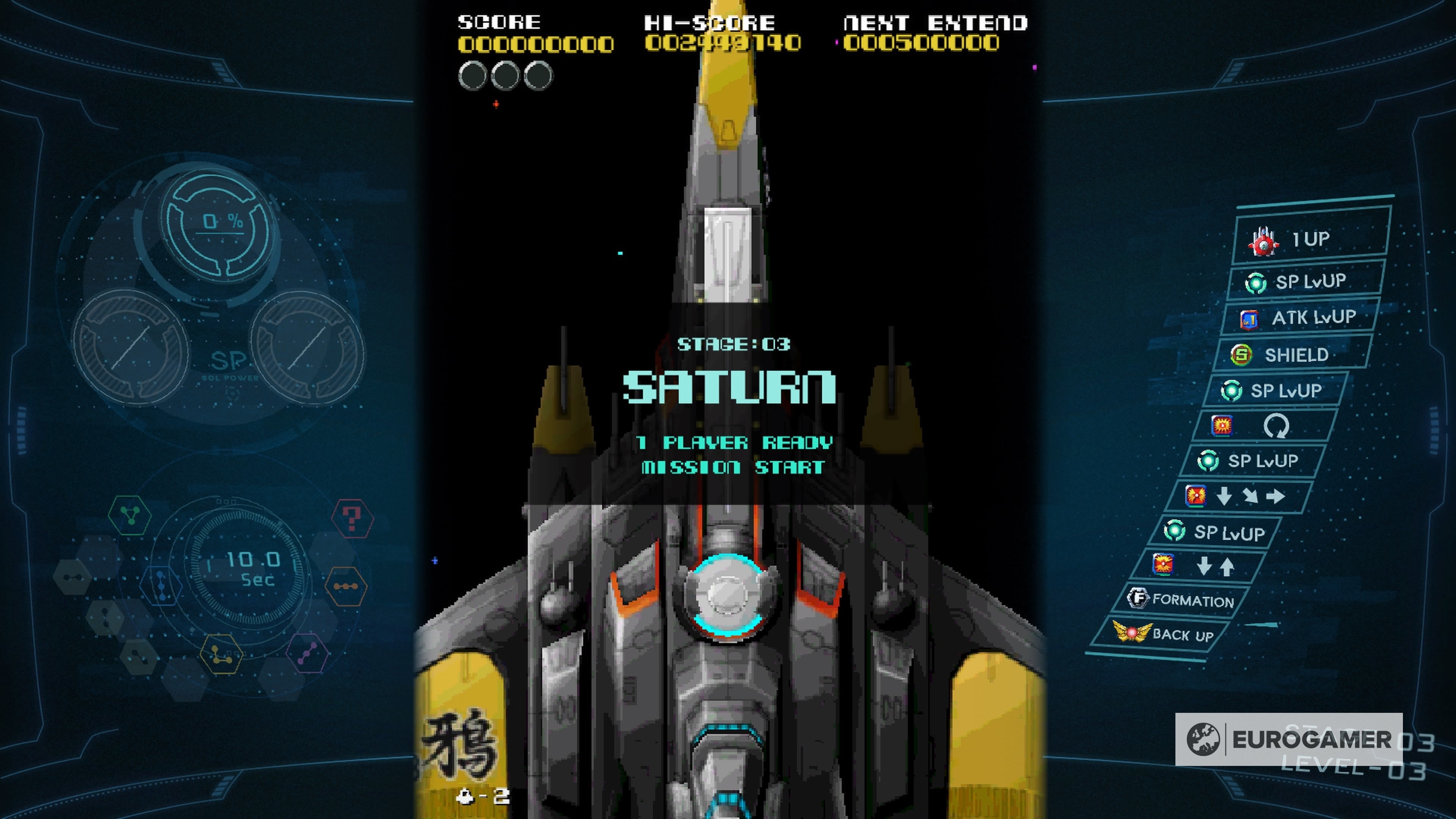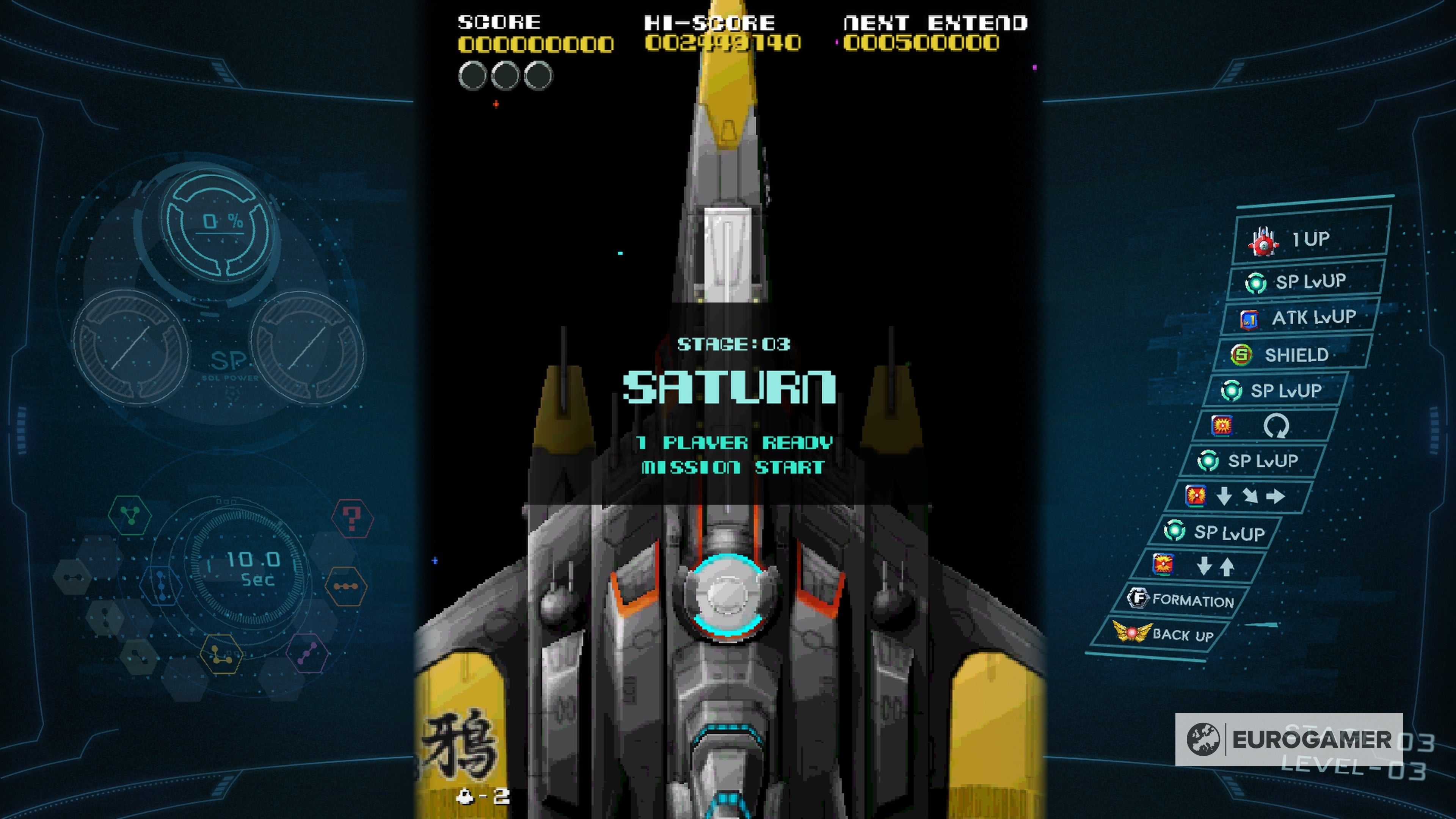 Visually, Sol Cresta could be divisive. It takes a scrapbook of the various look-and-feel styles that have defined the genre for decades, and eagerly brings them together. The result is visually busy, and then some, and while many might see a glamorous quirky aesthetic from the sparkle in platinum eyes, others might find too many elements just conflicting. The quality is a bit inconsistent, with some enemy sprites looking great while others are poorly defined.
At the same time, the audio is directly sublimated, the sound effects inherit the modern concept of the classic form, and the soundtrack complements the drama and energy of Sol Cresta. In fact, the most striking aspect of Platinum's creation is the music, which rivals the soundscapes of the genre's best works.
Sol Cresta may not be perfect, but it's definitely fun, atypical, and exciting. Of course, these are exactly the qualities we wanted from a studio that turned its attention to a 2D shooter after making something like Bayonetta. Frankly, the cave-like ones will be disappointing. Instead, we have something hard to pin down. Sometimes it feels like too much has happened to Sol Cresta. But it's better than doing too little. If anyone expects Platinum's minimalist pieces, they're only going to let themselves down.