If you own or manage a server Discord, you are definitely interested in putting bots on it. In fact, if you participate more or less actively in large communities, it is quite likely that you are already using them. I go a little further: I am almost sure that the first to welcome you to those servers it was a bot.
Ultimately, the bots of Discord They serve much more than automate the work and responsibilities of those who act as moderators: they are the salt of any pioneer, expanding or well-established community, adding multimedia tools, moderation, rankings and even internal challenges.
Not to mention custom commands, memes, or the ability to integrate sounds and music. Because Discord has become one of the favorite meeting points among gamers (and beyond video games), but that does not mean that it only serves to chat and agree before taking a Mario Kart.
Now, in iGamesNews, we have selected the most interesting bots and, of course, the essentials.
A varied list for you to go to fixed shot when it comes to giving personality to your server and you don't end up with more bots than active members. But also excellent excuses for your longtime friends and your work and leisure groups to have a little better time on the most playful communication platform, giving a touch of color to the process.
That there are 15 under these lines is no coincidence. For our part, we have tested more than thirty bots, separating the wheat from the chaff, and incidentally we have arranged alphabetically those that have convinced us the most, classifying their strengths. However, if you miss any, we can always make the list more interesting through the comment box.
Without further ado, here you go top 15 bots that you can already use on your Discord server.
Ayana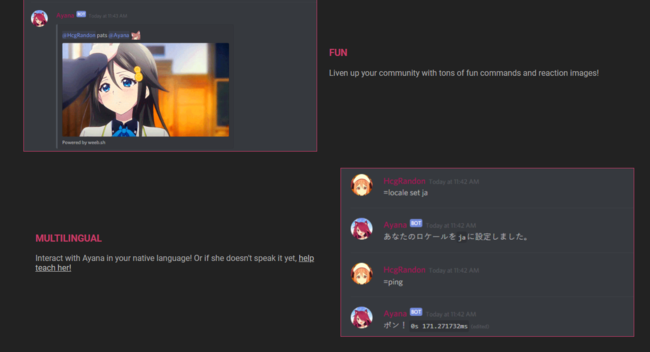 Used daily by more than 46 million users, Ayana presents itself as a versatile and customizable bot for your Discord server. Among its functions we can find moderation tools, music or fun. And beware, he speaks Spanish.
Thanks Memer
When we had to recommend a bot for our tutorial, Thanks Memer it was the first choice. A classic, yes, after all, it has been with us since January 2017. But it is also fair to admit that it has not stopped growing, already offering more than 260 commands.
Dyno
Dyno it is a safe bet. This bot, present on more than three million servers, offers more than 250 tools, an intuitive interface for moderators and a comprehensive service: moderation, anti-spam, role assignment, customizable commands, music … Practically whatever you want.
EPIC RPG
Do you remember the conversational adventures? EPIC RPG offers you a text-based RPG in which server members can face enemies, traverse dungeons with bosses (and rewards in the form of new commandos), fight each other, and even loot while leveling up and upgrading their armor.
Friend Time
One of the advantages of Discord is that it allows you to integrate into servers anywhere in the world and even generate international communities. Although, of course, each country has its own time zone. The solution to the latter is Friend Time,
a bot that automatically converts the times mentioned in the chats.
FredBoat♪♪
If your idea is to integrate music into your Discord channel, with this bot you will be very well served: FredBoat it can play music from YouTube, Soundcloud, Bandcamp, direct links, and even Twitch. What's more, it supports streaming playlists and broadcasts.
Hangman (The Hanged Man)
Do you have to wait until your teammates get in line? Hangman recover the classic game of hangman in which you will have to solve the word before there are lethal victims. It offers single-player and multiplayer game options, three levels of difficulty and the possibility of creating your own categories and challenges.
Mirai
Mirai it has set out to become the favorite all-in-one tool through an intuitive system. From moderation services with assignment of roles to reminders, extensions to Google, music player and even community tools such as voting systems or daily messages.
PatchBot
An especially interesting recommendation for the most gamers: PatchBot is responsible for collecting and providing the community with patch information and update notes for 46 games (and counting) including Fortnite
,
Overwatch
,
Apex Legends
,
World of Warcraft
,
Dota 2
O
Hearthstone
, among others.
Rythm
What Rythm Whether it is the most used music bot is no coincidence: its key is to combine versatility (being able to play songs from YouTube, SoundCloud or Twitch), a simple interface and the promise of stability. That is, the creators ensure that there will never be lag in the music or the bot itself.
ServerStats
Numbers matter in promoting and establishing a community, and ServerStats It proposes that you have them all in view: the members of the channel, who are playing, what are their roles … Everything you need to know about the server.
Tatsu
The strong point of Tatsu It is its socializing nature: on the one hand, it contributes to the activity on our servers through a system of experience, levels and reputation. To which we must add its options for welcome messages, notifications or an effective moderation system when making use of the permissions system.
TypicalBot
If your community is not very big, you do not expect it to grow too large and you only need one bot, TypicalBot Meets the profile: commands, admin roles, music, and a compendium of utilities ranging from rolling a virtual die to announcements, punching and hugging fellow members. And yes, there are also ban systems.
Waifu
One more multipurpose bot, but from the same name, Waifu, its cheeky anime touch is already noticeable. We will see illustrations, reactions and memes very, very kawai and some alternatives for moderation, music and automatic configurations that, without being as complete as other bots, do what they promise.
Wick
Who better than the bot version of John Wick himself to protect your server? The promise of Wick focuses on security functions, preventing spam, advertisements, NSFW content, sabotage and monitoring any suspicious content. And its icon has the face of Keanu Reeves.