Everyone who plays videogames has unfinished business, games they want to play sooner or later… but usually don't play until something important happens or boredom outweighs anything else. I'm sure you all have a few in mind.
Resident Evil is one of my pending subjects. Until a week ago, I had only played Resident Evil 5 in co-op. I remember playing with my cousin, taking turns driving Chris Redfield and Sheva Alomar, and blasting zombies in Africa. It seemed the best at the time, but the years have taught me that it is not the Resident Evil that best preserves the essence of the saga.
The releases of Resident Evil 2 Remake and Resident Evil 3 Remake motivated me a lot, but I ended up avoiding them. I don't remember what excuse I gave myself. I watched Resident Evil 2 Remake on a Youtube series and in various No-Hit competitions. As to Resident Evil 3 RemakeI wasn't that interested. With a week to go until the release of Resident Evil 4 Remake, I decided it was time: I bought the R packaccoon Citywhich includes remakes 2 and 3.
Resident Evil 2 Remake: the Raccoon City Police Station has put me in my place
My background in zombie games is based on Left 4 Dead, Back 4 Blood, World War Z and other titles where you can blow up hordes of zombies without much trouble. Stuff similar to what I played on Resident Evil 5. However, Resident Evil 2 Remake is another roll. I choose Chris Redfield for my first game.
The game makes its roll very clear to me during the first minutes. I eliminate my first zombie at a gas station, I take a key to escape and 3 zombies appear… and I have 5 bullets in the magazine. Resident Evil 2 Remake zombies can last up to 7-10 headshots. It's something that I don't like very much, but I understand that it is a very good mechanic for the survival style.
Back on topic: 3 zombies and 5 bullets. I don't get the accounts, but I still unload the charger on the head of one of them. Another manages to catch up and bite me, but I break free and run out of the gas station. Claire appears and escapes with her in a patrol car.
We arrive at Raccoon City, we were run over by a truck and we were separated. We meet at the police station. The street is full of zombies… although the police station isn't much better either. I try to help a policeman who calls for help, but I'm too late. The way back to the lobby is hell, but I manage to get there after killing several zombies. The lieutenant Marvin Branagh he helps me out… but he's been bitten and he's really screwed.
To the subject: I have to search three medallions to place them on a statue. Each medallion is unlocked by inserting a combination of three icons into its corresponding statue. And there I am: running around like a headless chicken, exploring, looting… and looking for two keys on a computer to get one. SHOTGUN that I have seen in the armory. I end up getting it.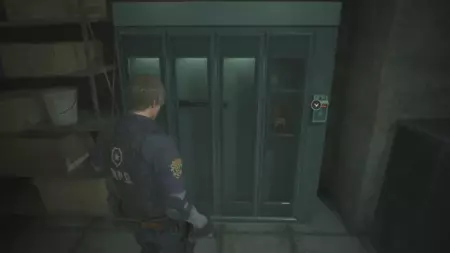 I thank Odin because the map of Resident Evil 2 Remake It offers a lot of information: if you have fully looted the rooms, which doors are open and closed (and what type of lock), the areas you have not discovered, the names of the rooms, the objects you have seen and not picked up. It's the wet dream of any clueless person… like me.
Shots here, puzzle solved here and medallions here, I manage to get the three medallions and access the secret room of the police station, which in turn leads me to the Garage. Once there, I meet a journalist who is locked in a cell and Ada, an agent who is investigating the whole thing and who also wants to get out.
The journalist has the garage c ard, but there's a problem: something huge has smashed his skull through the wall and I have to find some fuses to open the cells, which are full of zombies. When I am about to leave the cell area, it appears Mr. X (Tyrant T-103)
, a man of two meters who makes the ground tremble when he walks and who wants to burst me. Managed to escape.
Resident Evil 2 Remake becomes Resident Evil Escondite Remake. Mr. X follows me wherever I go like a crawl when you go to the shower. His footsteps can be heard from the floor, something that doesn't help my heart rate. As I search, I pass by the dog pound and the morgue, two ideal places for a zombie apocalypse. By the way, I have not told you: I am very clueless + I am very susceptible to jump scare. Result? I have wasted years of life on RE2R.
I manage to get the fuses, go back, open the cell and take the card. All the cells have been opened, releasing the zombies. The scene is gruesome: the exit hall full of zombies and Mr. X coming for me. There is no more exit. I want to die… and I almost did. I get to the garage and Mr. X catches me, but Ada slams him against a wall with a SWAT van
The sewers: hell on earth
the sewers of Resident Evil 2 Remake they rival in horror Caelid from Elden Ring and Infested City from Dark Souls. It is a stronghold of evil and rare monsters. Leon is out of the game for a while (which includes my entire arsenal) and I have to play Ada. She reveals to me that she is looking for a scientist named Annette, responsible for all this goofiness, and a test for the G-Virus.
Ada only has a gun with very little ammunition and a device to hack electronic systems. I hack here, I hack there, I save myself from burning to death in a large oven, I end up falling into a landfill and sticking an iron in my leg. Adam out of the game. Brief, but intense.
I get Leon and my entire arsenal back. Now I have to kick all the sewers to rescue Ada. The good? I find a flamethrower. The bad? This area has very little ammunition. Because I'm a gentleman, Ada, otherwise they'd give you a sack. I kick all over the dump to get some keys shaped like chess pieces.
I manage to open the door, but it appears Birkin 2.0, a monster I faced earlier. It's a boss that I defeated by shooting a big eye that he has on a mutated arm, nothing that can't be controlled by running and shooting. Well, come back for more. Their matchup is easy, but it costs me a couple of lives. You have to leave him immobile and throw him into the void after hitting him a couple of times with a container. Bites the dust, obviously.
The Laboratories: The Hell of Hell on Earth
I rescue Ada and we get on a forklift. He warns me to prepare my things because there is no going back. My partner confirms my suspicions: the adventure is coming to an end. "I was born prepared, Ada!". Leon and Ada flirt a little on the way and Ada eats his nose. I can die in peace!
The laboratories turn out to be less terrifying than I expected, but it doesn't mean that they are very shady. He advanced through the corridors and killed several zombies, being very careful not to waste bullets. He security system It goes for level bracelets (I, II, III and IV). Level II gives me access to the central area, the core of the laboratories. The west zone has Level II and the east zone has Level III. Virus G is in the latter.
The western zone is infected by plants with the G virus and humans have been infected by the plants. I do not doubt the least: it is time to use the flamethrower. The goal of the zone is "simple", to make a chemical that will kill all plants. I'm not exaggerating: it took me longer to do the product minigame than to complete the entire area.
Finally, I cooled it in a special room and went back to the console to introduce the product. All the plants and zombies die, and I can take my Level III clearance. THEN THE DAMN MR. X AGAIN! It's very heavy. I end by nickname: the COTY (Weary of the Year). I disengage and access the east side.
I retrieve the Virus and Dr. Annette tells me that Ada is not a government agent, but a bounty hunter who wants to sell the G-Virus to the highest bidder. then it appears Birkin 3.0, which busts Annette and forces me to face him. Bigger monster, but same mechanics. He threw everything I have at him and it left his eye as red as when you finish an 8-10 hour gaming session. Could you please stay dead for even half an hour?!
Now yes, I return to the central zone and I find Ada. She points her gun at me as soon as she knows that I have the virus and that I have found out that she is a bounty hunter. Everything starts to collapse. Leon lowers her gun because he likes her (obviously) and she starts to lower her gun, but Annette appears at the last moment and shoots him before dying. The catwalk we're on breaks and Ada falls into the void. Not even in video games am I lucky in love!
I go to the central elevator with a countdown of 10 minutes for the self-destruction of the laboratory, believing (Natheless of me!) that I only have to escape. Claire is also trying to escape. As I run, the COTY reappears, the fucking Mr. X. I dodge it and reach the last forklift. Obviously, Mr. X 2.0 shows up to have the big final battle.
I admit that Mr. X 2.0 kills me a few times on the forklift. Not because he's a tough boss, but because he's a shitty boss plus Resident Evil 2 Remake no tiene dash/esquive, which makes fighting on a forklift anything but fun. The key is to hold on until Ada (SURPRISE) throws a crate at you with a missile launcher and you blow the heavy into the air.
Now yes. I run towards the elaboratory train station and I get on a moving train, where Claire happens to be with a girl I don't know. I guess it's part of her story. I don't mind. I have escaped. Ada has broken my heart, but I am alive to fight another day.
Resident Evil 2 Remake It has taken years off my life, but I admit that I have delivered each year gladly. Despite being annoyed that there is no dodging and that the zombies are bullet sponges, I am left with the feeling of having played a great game that has kept me on the ropes at all times. And I love that! You are most likely playing Resident Evil 3 Remake while you read this. I'll tell you!
In ExtraLife | All Resident Evil games in chronological order: from Spencer Mansion to the Ethan Winters saga
In ExtraLife | Resident Evil 4 Remake: everything you need to do to prepare before the new zombie apocalypse
In ExtraLife | Analysis of Resident Evil Village: Gold Edition, the definitive version of Capcom that closes the story of the Winters family