Attractive waterproof Bluetooth box
Round, strong, and long-lasting: The Bluetooth Earphone Ultimate Ears Megaboom 3 is almost a classic. In the test, the current fully waterproof version with "Magic Button" must prove to be good value for money.


Test conclusion: no magic button required
UE Megaboom 3 does not require anything like "magic buttons" at all. It convinces with its sturdy advantages that it looks good on any Bluetooth speaker: long battery life, rugged and waterproof housing, good sound and easy to operate features. The bottom line is a good box.
We like that
good voice
Sturdy and waterproof
Ease of use
Long battery life
We don't like
Speaker lost
"Pump" from time to time
Magic button without magic
Table of Contents
How did it happen? We have forgotten the super craze! Over the years, we have been testing current Bluetooth speakers for this season, and somehow make the current Megaboom 3 a reality. Perhaps it is because Ultimate Ears (UE) also has Boom 3 and smart speakers called Blast and Megablast. That's it-Megaboom is very popular, and we have now carefully checked its pros and cons.
360 degree cylinder

Logitech's UE first adopted the cylindrical speaker design, and later often added "with 360-degree sound" decoration. The manufacturer also promised to use it for test equipment. But first, you should choose between UE Megaboom (from 115 euros) or the cheap UE Boom 3 (from 85 euros).
This should not be too difficult, because the difference is small, mainly size and weight. Although the more compact UE Boom 3 weighs about 610 grams and is 18.4 centimeters high, our test device UE Megaboom 3 weighs about 930 grams and is 22.5 centimeters high. The diameter (8.7 and 7.3) is also slightly different.
The most important data and functions of UE Megaboom 3

Waterproof rating reaches IP67
Magic button to directly access your favorite playlist
Up to 1 meter high drop resistance (manufacturer information)
Battery life is about 18 hours (test value at 75% capacity)
Stereo pairing (up to 150 speakers can be connected)
Suggested retail price 199 Euros
Online price: from 115 euros
Design and craft

UE Megaboom 3 is available in 8 colors, and our test speakers are wearing "forest green". There is nothing to complain about in terms of handling. The fabric-like nylon sheath is easy to maintain and durable, and the drive behind it is double protected from nails or other sharp objects.
Ultimate Ears Megaboom 3
Picture 1/5

The cylindrical shape of UE Boombox 3 is not based on wine bottles, but of course it is conducive to 360-degree sound. It's also very practical …
(Source: Ultimate Ear)
If we shake the speaker back and forth vigorously, there will be no sound. A good detail is the fabric bottle, which can connect a Bluetooth speaker to a backpack or tent. Megaboom is compatible with the wireless charging station "Power Up" provided by the manufacturer, you can choose to buy. It costs about 30 Euros.
Operation and daily life: "Magic Button" is not so magical

UE also uses "magic buttons" to promote Megaboom 3. You can find it on the top of the speaker. It is mainly used as a normal play / pause button. If you press twice, Megaboom 3 will play the next song in the playlist. magic? Instead. The function of long pressing the "magic button" to play the favorite album or favorite playlist stored in the application will not affect our work.
Let's keep trying and testing: the volume control via the huge plus and minus buttons on the front works perfectly without even having to look at it. In addition to the magic button, there is also a power button and a button for coupling at the top. It doesn't need more.
No microphone, no speakers

Charging is performed through the microUSB interface, which can well protect the water and dust after the waterproof rubber band is tightly closed. Fast loading speed. The box can be plugged into the socket in about 2.5 hours. This is very suitable for the longer battery life of UE Megaboom 3. The manufacturer promises 20 hours. If we set the volume to 50%, we can achieve a larger goal.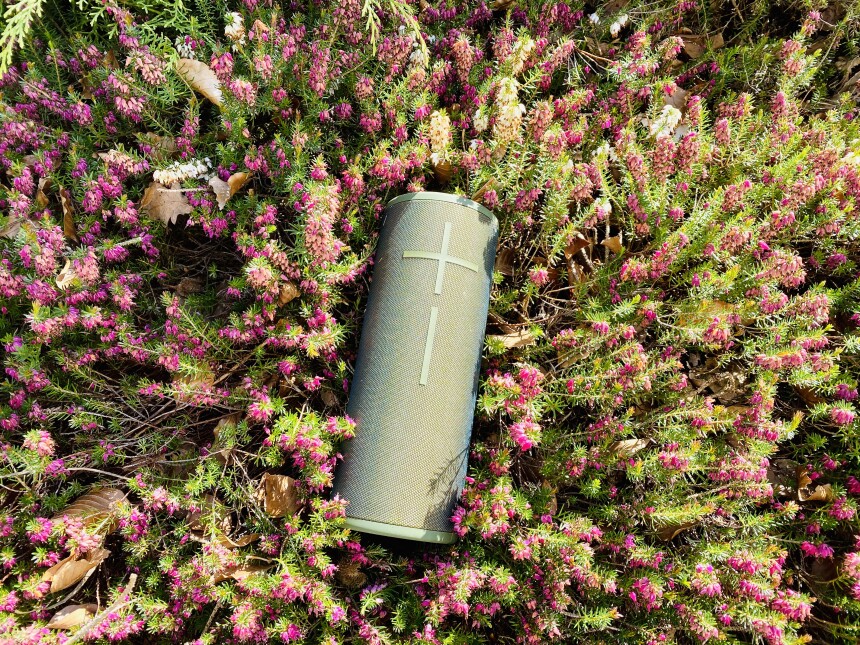 Unlike most other Bluetooth speakers, Megaboom 3 does not have a built-in microphone. This will break into the cards of people who are threatened by eavesdropping on smart speakers. But remember, you ca n't make calls through the UE-Box from your paired smartphone (Android or iOS), and you ca n't call Google Assistant or Siri.
Listening test: this is the sound of Megaboom 3 from Ultimate Ears

This name is required-provided by Megaboom 3. We especially like the sound of Bluetooth boxes with electronic parts. For example, Jon Hopkins (Jon Hopkins) extremely deep "eye-opening signal". There is no scratching and speeding, only a few Bluetooth boxes can do this, and UE Megaboom 3 is one of them.
However, the UE box is not just a humming bass monster. It also uses relatively large spaces relatively easily. If we play more complex works full of energy, such as Radiohead's "Man of War" or Die Sterne's "Summer will drive to the city", we will subjectively hear the volume increase and decrease, which is disturbing The sound of pumping is that jazz works like Joshua Redman's "Right Right Round" disappeared again.
Two small things: Jumps in the volume control may be more sensitive in the lower third. For some people, if you want to put the speaker on the bedside table as a sleep aid, the minimum volume may be too large.
At the other end of the volume range, we can hardly hear speeding. Thanks to the "360-degree sound", you know how to position your arm to you. This is particularly practical for mobile Bluetooth speakers. Despite the small losses, we still like the sound of Ultimate Ears Megaboom 3, and we believe most buyers will be completely satisfied with it.


Information about tested products
The manufacturer lent Megaboom 3.
You can find more information on how we deal with test products, how to conduct tests, and general guidelines for editors in the Transparency Guide.
Dimensions

86 x 225 x 86 mm

color

8 colors, including black, blue, red, purple, green

Automatic correction



No la

Wireless charging base or power bank



Yes
Alternatives to Ultimate Ear Megaboom 3
10 entries
Netzwelt recommends: the best Bluetooth speakers
The price of Bluetooth speakers is ten euros or one thousand euros. We only recommend models for swimming pools, parties, hikes and room discos.
Turn on the music now!