It seems that list of upcoming Nintendo Switch releases it has recently been updated with new games that are on their way to the console. Here we bring you several that have been confirmed today.
Games for Nintendo Switch
As on previous occasions, in the list that we leave you below you can take a look at the games along with their release date, price and details:
Annalynn – Available Now – $4.99
Get ready for an adrenaline rush from the past with Annalynn! This new arcade classic takes you back to the distant 1980s with its 2D platformer style gameplay. But don't be fooled by the retro aesthetic – Annalynn is packed with all the excitement and challenge you could want!
Eastern Exorcist – June 8, 2023
Eastern Exorcist is a stunning 2D side-scrolling action RPG set in a fantasy eastern world with vicious spirits and monsters.

Play as a skilled exorcist against chaotic evil to fight your way through the brutal world and experience different stories of joy and sadness.
Nova Lands – June 22, 2023
If I were to mix Factorio, Forager, and Satisfactory, Nova Lands would be just that. Explore, build and automate your base in this amazing 2D open world game! New planet, new home. Build your new base with all sorts of available resources, from basic rocks and wood to rare and unknown materials. Unlock new possibilities with each new building, maximize efficiency and move further to other islands.
On the other hand, it has been confirmed that My Time at Sandrock will be released on September 26, 2023 on Nintendo Switch.
Growth combines the beauty of cozy exploration with challenging navigation around obstacles. Populate fertile soil while respecting natural boundaries like rivers and mountains, all while transforming barren landscapes into lush forests, meadows, and more.
Three Minutes to Eight – Fourth quarter of 2023
"I woke up feeling ████ ███ █████. It's another rainy afternoon in ██████. I wonder if ████ ██ ████ should escape.

████ ██ ██ █ robot.

████ ██ going crazy.

████ ██ a murder?

What if ███ ██ ███ loses ██'s mind?

A loud explosion.

I think it could be ████ ██ ███ again ███ ███.

You should ask ███ ███ ████ for a loop."
StormEdge is an action roguelite where you have to balance your desire to use powerful abilities with the risk of taking damage or putting yourself in a vulnerable position. Experiment and try new things!
The Weasel Heights gang continues to surprise and delight you as you learn more about yourself, friendship, and love. Play with the genre of your choice and go out with the friend you like the most. Throw a big mystery into the mix and you're in for an adventure!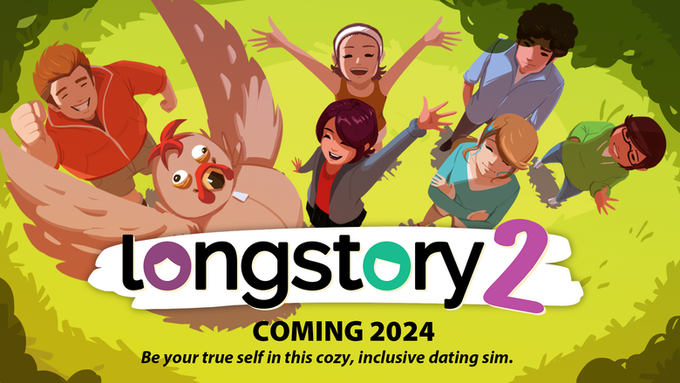 Take comm and as the captain of The Volare, Fig's ship and base of operations alongside his crew of oblivions.

Save settlements from pesky bandits and other creatures through a combat mechanic that combines hack-and-slash with strategy and stealth.
30XX combines the crisp controls and fluid movement you love from action platformers like Mega Man X, the replayability of a modern Roguelike (Binding of Isaac, Enter the Gungeon, Dead Cells, etc.) and co-op play in one magnificent package.
A Void Hope – Without date
A Void Hope takes you on an atmospheric puzzle platform adventure to find a cure for a collapsing city. Follow the story of a tormented couple as they try to unravel the reality of their nightmares and overcome the shadowy threats that lurk in the dark.
Quest Master – Without date
Quest Master is a dungeon crawler inspired by the classics that first made us love dungeon crawlers. Unleash your imagination, alone or in local co-op, to create dungeons filled with puzzles, traps, and monsters. Upload them for others to explore and challenge yourself with other players' creations.
Earth Memory – Without date
Another Crystal Shortage?! Was my train cancelled? Just my luck! Between that and the robots that are attacking us… Hey, while you're here, why don't you check all that out? Yes Yes! You are the perfect candidate for that mission. Forward! We are watching you!
Besides, Well done It will arrive on June 8, 2023 for $8.
What do you think? Does any catch your attention for the Nintendo Switch eShop? Do not hesitate to leave it below in the comments.
Via.