If you regularly use a physical keyboard, you will definitely use at least a few shortcuts. These can save you a lot of time, as well as the hassle of trying to find a specific option or setting.
Most of us have completely replaced copy (Ctrl+C), paste (Ctrl+V), cut (Ctrl+X), and undo (Ctrl+Z) with the appropriate shortcut, but that's just the tip of the iceberg on Windows 11.
Just two or three keys can be used to manage multitasking features, launch common tools and more. Almost all Windows 10 keyboard shortcuts have moved to Windows 11, but there are also nine new ones you should know.
In this article, we will review 20 of the most useful from Microsoft's latest operating system. Taking the time to learn them will make you more efficient, but it's also possible to create your own.
New Windows 11 Shortcuts
There are only two Windows 11 shortcuts that have never been in Windows before, and both relate to the Snap Layouts multitasking tool.
Press Windows + Alt + Up arrow keys to align the window you are currently using to the top half of the screen. You will then be prompted to add another open window to the bottom half.
Anyron Copeman / Foundry
Similarly, Windows + Alt + down arrow will snap the window to the bottom half, allowing you to add something on top.
Remember that you can already snap to the left half of the screen (Windows + left arrow) or the right half (Windows + right arrow). But if you like horizontal split-screen multitasking, it makes things much faster.
Updated shortcuts for Windows 11
The shortcuts here all existed in Windows 10, but their function has changed to reflect new features in Windows 11. Each of the seven shortcuts below lets you access an updated part of the user interface.
Windows + A – open Quick Settings menu (now separate from Notification Center and Calendar)
Windows + C – open Microsoft Teams chat (new feature)
Windows + H – open voice typing (new feature)
Anyron Copeman / Foundry
Windows + K – open Cast in quick settings, allowing you to quickly cast your screen to another that is connected to the same network (new feature)
Windows + N – open action center and calendar (now separate from quick settings)
Anyron Copeman / Foundry
Windows + W – Open Widgets (new feature)
Windows + Z – open Snap layouts (new feature)
Windows 10 shortcuts still available
As exciting as the new shortcuts are, many of Windows 11's best keyboard shortcuts were also available in Windows 10. Here are some of the highlights:
F2 – rename selected file or folder in File Explorer
Alt + Enter – show properties of selected file or folder
Alt + P – show preview panel in file explorer

Anyron Copeman / Foundry
Ctrl + N – opens a new file explorer window
Alt + left or right arrow – go to previous or next page in File Explorer or most web browsers
Windows + T – cycle through all open applications in the taskbar. Replace the key with a number to open the app in that specific position
Windows + Ctrl + D – create a new virtual desktop and open i
Anyron Copeman / Foundry
Windows + Ctrl + left or right arrow – move between multiple virtual desktops
Alt + Tab – switch to the last active window. Hold Alt and keep pressing the tab to choose another one
Alt + F8 – show your password (as typed) when logging in
Windows + Shift + left or right arrow – move the active window between monitors (when several are connected).
Remember that this list is far from exhaustive. Every Windows 11 keyboard shortcut is available on Microsoft's website.
How to Create Your Own Windows 11 Keyboard Shortcuts
Windows 11 doesn't have a built-in tool to create your own keyboard shortcuts, but it's easy via a free third-party app:
Download WinHotKey from Softpedia website
Click on the downloaded file and follow the instructions to install it
From the main screen, click on "New keyboard shortcut…"
Anyron Copeman / Foundry
Give the new shortcut a name if you want (it's not necessary), then decide which key combination you want to use
Click the drop-down menu under "I want WinHotKey" and choose one of the five options
What you see now will depend on what you chose. Click "Browse…" to choose a specific application, file or folder, enter specific text or choose what you would like to happen to the taskbar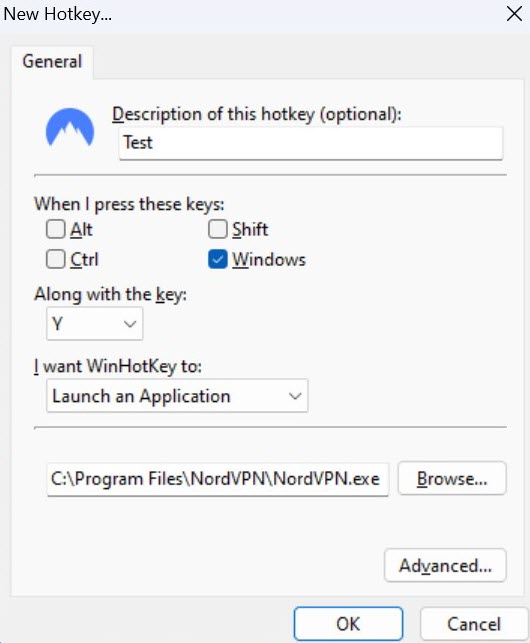 Anyron Copeman / Foundry
Click 'OK' to confirm
You will now see your new shortcut appear in the list of keyboard shortcuts. Use the shortcut you just set up to launch it anytime. To delete or edit it, just select it and choose the relevant options at the top of the window.
Related Articles