In one look
Expert Rating
Benefits
Impressive heavy-duty performance
Bright and crisp OLED display
High resolution webcam
The inconvenients
Not the best battery life
Color control could be improved
Our opinion
Acer broke the mold by combining a powerful processor with an ultra-slim design with the Swift Go 14. The OLED display is also impressive, but color control could be improved.
Most 13- and 14-inch laptops focus on mobility, with simpler processors designed for low-power performance to improve battery life. It also keeps cooling to a minimum and reduces battery size, resulting in thinner and lighter computers.
Acer was once best in class at reducing weight, with some of the lightest models on the market with its Swift series. However, the Swift Go 14 combines manageable weight with rock-solid performance.
The laptop is thicker and more angular than most of the competition, and as such can accommodate much more powerful hardware with the Intel Core i7-13700H processor. The H-series has higher performance cores, higher power consumption and higher heat generation.
You usually see this type of processor in powerful gaming computers or laptops for demanding creative work, and they often come with an equally powerful graphics card such as the Nvidia Geforce RTX or AMD Radeon RX. You don't get that here, so you have to settle for Intel Iris Xe graphics integrated into the processor.
My review unit has 16GB of DDR5 memory and a 1TB SSD. However, US readers can only get 512GB of storage.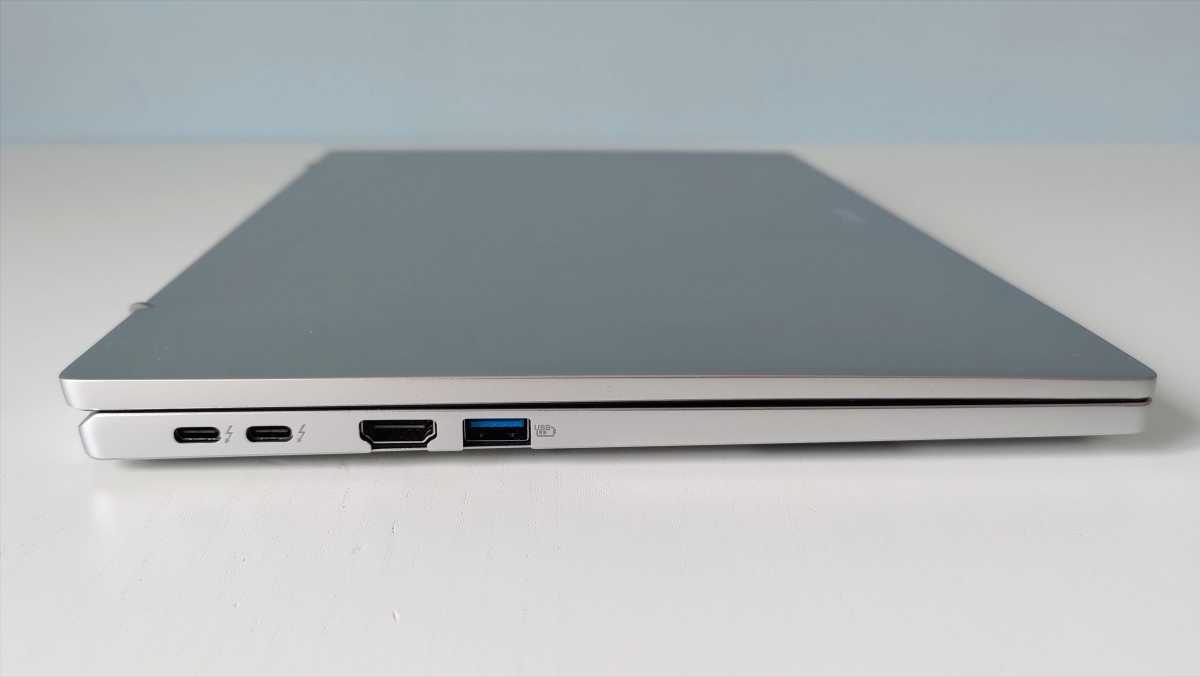 Matthias Inghe
Build quality and performance
The chassis is lightweight metal and the case is thin, lightweight plastic. Acer has kept the weight below 1.3kg, which is what we generally consider the limit for ultralight PCs. Getting such powerful processing in a lightweight computer like this is quite unusual – I can effortlessly edit 4K video and export it with just moderate pressure on the device.
This is made even easier by the computer's excellent screen, which comes with a 16:10 aspect ratio and 2,880 x 1,800 pixels, resulting in crisp visuals. It's an OLED panel, which means high color intensity and excellent contrast with 100% deep blacks.
The screen is very glossy, which can lead to some glare if you're working outside. I wouldn't recommend it because the screen isn't bright enough. At maximum, I get about 400 cd/m2 in spot brightness.
Inside, it's more than enough. The screen is certified for Vesa's True Black 500 HDR, and watching a movie in a darkened room is a great experience. That's largely thanks to the wide color gamut of the OLED panel, well above the standard DCI-P3 color gamut.
What's missing is a calibrated mode that controls the screen and provides color matching to P3 and/or sRGB, as well as the option in the settings to switch between them. Sounds like something Acer should invest in, as it's a display too good to ignore.
The keyboard has a simple layout with a bright backlight, but there's a low stroke height and soft response in the keys themselves, which makes it feel on the budget side.
Matthias Inghe
Cameras, audio and battery life
The Swift Go 14's speakers deliver clean, clear stereo sound, and with DTS audio enhancement enabled, you get extra richness in the mids and bass. However, this comes at the cost of overall sound quality.
For music, it sounds better if I turn it off and turn the volume up – it can be pushed all the way up without being too loud. There's more than a decent soundstage for voice reproduction, so video meetings sound great.
This audio is complemented by the 1440p webcam, which comes with good color and lighting automation. The computer's microphone has an effective noise filter, which helps drown out unwanted distractions.
If you want even better sound, you can connect a headset or desktop microphone via USB – this PC comes with a better range of USB ports than many competitors.
Matthias Inghe
Thanks to its high-performance processor, the Swift Go 14 can be quite noisy. Fans come in early and make a lot of noise. But they're also efficient, with hot air escaping through the rear grille, and as such neither the base nor the keyboard get uncomfortably hot.
At full power, battery life isn't great – it can be drained in just over an hour. But if I minimize the CPU load and pay attention to the brightness of the OLED screen, I can surf and email for a whole working day.
Price and verdict
Priced at $1049.99 (available direct from Acer in the US), you get what you pay for with the Swift Go 14. It combines powerful performance with a high-quality screen, generous storage and good range of ports.
The Acer Swift Go 14 is also an affordable PC alternative to the MacBook Air. You can work on it just as efficiently and creatively, and it's several steps ahead of computing power. No other company has dared to pack a performance-oriented processor into such a small form factor.
However, cooling and power efficiency can still weigh in favor of the MacBook and some other PC competitors – you can see how the rivals compare in our list of the best laptops. Unfortunately, this exact model is currently not available in the UK.
This review was translated and localized by Hannah Cowton for Tech Advisor. The original article was written by Mattias Inghe for PC för Alla – you can read his review of the Swift Go 14 here.
Features
Product Name: Acer Swift Go 14 SFG14-71
Tested: May 2023
Maker: Acer
Processor: Intel Core i7-13700H, 6 efficient parts up to 5 GHz + 8 efficient parts up to 3.7 GHz
Chart: Intel Iris Xe
Memory: 16 GB LPDDR5
Storage: 1 TB SSD, space for Micro-SD
Display: 14-inch OLED, 2880×1800 pixels
webcam: 1440p
Connections: 2 x USB-A, 2 x USB-C, HDMI, headphone jack
Wireless: Wi-Fi 6e, Bluetooth 5.1
Operating system: Windows 11 Home
Other: Fingerprint reader
Noise level: 0-37dBa
Battery life: 1 h 20 (high charge, full brightness), approx. 12 hrs and 20 mins (low load, low light)
Size: 31.3 x 21.8 x 1.5cm
lester: 1.25kg
Price: $1049.99 at Acer US (exact model not available in UK)
Landmarks
Cinebench R23, processor: 13,876 points
Cinebench R23, processor and core: 1,885 dots
Geek Bench 6CPU: 11,931 points
Geekbench 6, processor and core: 2,501 points
Geekbench 6, Charts: 17,105 points
Disc, Read: 3607.7 MB/s
Disc, write: 3472.17 MB/s