The upgrade procedure is an integral part of product development and improvement. Ajax operating system updates increase system stability and security, optimize system operation, ensure compatibility with new devices, and increase the list of capabilities.
Ajax is another emerging company that offers competitive domestic security programs that work internally and externally.
In this case we were able to test your security system which can be configured depending on the additional devices you choose. As you can see your website, the system is formed by the central domain, that is, the "brain" of the entire security system.
As we say, the central hub can be configured based on additional devices looking for. For us, in addition to the base hub we were able to test the following:
Hub 2 white
Motion Cam (motion detector)
Door protection (detector)
Fire protection
Leakage protects (flood detector)
An indoor siren
KeyPad (touch keyboard)
Space Management (Pocket Controller)
Button (alarm and control)
Isaac
Price and availability
Each product that creates a security system can be purchased separately. However, for complete protection, it may be best to get complete packages such as the one we are able to test. In our case, the price of all products is there $ 230.95.
Ajax Systems products can be purchased in Spain through four different distributors: Visiotech, JM systems, Sevitec either Mundicam. For a look at other types of purchases, we recommend you take a look Ajax's official website.
Design
Design may not be the first thing we look for when buying a home security system. However, we know that it is important for many and many users. At the end of the day, these devices meet our home decoration.
In this way, Ajax does not disappoint. We love being able to choose between two ancient colors (black and white) for finishing, both will go easily without stealing highlights from any other decoration in our house.
For us, we were able to test the white devices. Some aesthetics remind us of many of Apple's products, which are already recognizable by its originality and beauty.
Although they are prioritized in plastic for building all Ajax security devices, it is true at no time to be considered a cheap device. On the contrary: from packaging, to the final product at your fingertips, it looks like a product the premium.
Tools and Devices
As we mentioned above, the Hub they sent us is the 2nd model Ajax blank. This "concept" is able to communicate with up to ten different cameras, control over 50 rooms and connect to up to 100 devices.
In addition, Hub 2 will manage to transfer all photos from the leader you have installed, you can control your application with the app we will talk about later.
The basic premise of the Ajax security system is that you can stay calm without having to continue to monitor security cameras. The Ajax system is smart enough to alert you when something happens to alert you, be it a thief, fire, flood, broken windows or open doors.
In the event of an alarm, you will be notified of the Ajax app and an image will be sent to you with pictures of what happened.
It should be noted that all information accessed through the security system will be encrypted. We understand that this is something that will worry many users and many users, because no one likes the idea of ​​hearing it tested. Therefore, encryption is a way for us to be quiet about our privacy.
There are two channels through which Hub 2 works to send the alarms and images needed: dual SIM cards and Ethernet. You will quickly find any information you need to be aware of. Also, alarms take 0.15 seconds to arrive. Ajax has implemented a technology where you will know if the Hub is broken or has some kind of problem to work on.
Motion Discovery Camera: MotionCam
This device will take up to five photos at a time when it detects movements that should detect an alarm. MotionCam is responsible for detecting movement, alerting you to intruders into a room or room.
It can control up to 1700 meters of space if you want to use it in an open space. The quality of the photos you take is not the best, but it is good enough that you can recognize faces and see details (640×480 pixels).
Magnetic Wireless Open Detector: DoorProtect
This device will allow us to receive notifications about open doors or windows. You can use it in any type of door, of course, you'll need as many DoorProtects as the doors you want to protect. However, we think that a large door-mounted detector, in addition to a motion detector, will suffice.
Alarm and control: Button
Button is one of the last devices included by Ajax in its catalog. As a remote bag, it can also function as a wireless access key. Includes as a function of the "control mode" function thanks to which you can stop various ways such as lowering your store's blind or opening a garage door. (You will obviously need some devices)
Wireless Smart Plug: Socket
In addition to being smart and wireless, this plug comes with low energy. You can turn off and unlock devices connected to the command via the app.
Fire Finder: FireProtect
This machine can alert you to excessive smoke, carbon monoxide, or heat. Needless to say, this device is only for people in the house. Fortunately, we were unable to check the performance of this device, as we had not encountered fire in the last days.
However, we can say that we liked the possibility of operating or operating this device independently of the central security system.
Touch keyboard: KeyPad
Thanks to KeyPad you can set alarms. You will need to install it at the door of the house to be able to use it and work when you enter and exit. You can work on various modes such as complete security mode & # 39; It also has a machine where you will receive an alarm if you are not entering or trying to incorrectly enter a code.
Controller Pocket: Space Station
You can always manage this remote control remotely. It will help you feel more secure, because by pressing a button you can send an alarm to the contacts you choose or even to the management.
Flood detector: LeaksProtect
In this case the same happened with the fire machine: we could not check it as we had not been hit by flooding. It's a small tool that can't be recognized anywhere. It has IP65 for dust and water resistance.
We liked the fact that you don't need to use any tools to install this product. You just have to configure it to work with Hub 2 and that's it. Ajax promises that LeaksProtect will be able to detect any leaks within seconds.
Internal siren: HomeSiren
In this case we checked the internal siren. In case you need an external device, you'll need to get a StreetSiren model, designed for external use.
The white model comes with a gray bulb that covers the front of the app. Because of the LED you can always tell when the siren is activated or not working.
Thanks to the app you can choose the exact time you want the alarm to continue when ringing, in addition to the alarm volume.
Working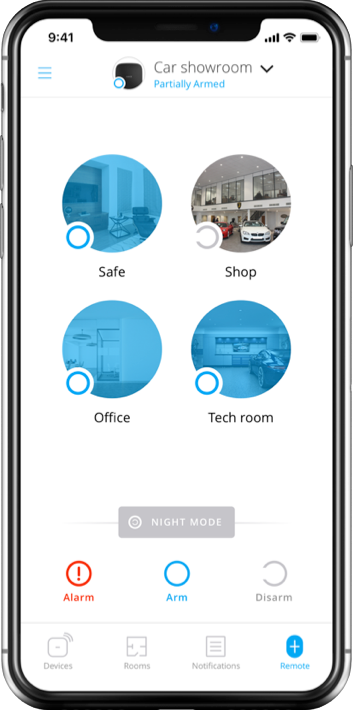 On the other hand, the next best step should be to install the program for you smartphone and create an account with Ajax. For security reasons, you will be required to verify your account with the code sent by SMS and email.
Later, the process is easier than it looks. You will need to follow the steps the program proposes to you, it will all depend on the devices you want to connect to.
Probably the most difficult problem is deciding where and how to install the devices. In this case we recommend that you also follow the instructions provided by the application wizard. Keep in mind that in most cases you will have to perform the task, so make sure you have the necessary tools.
Based on our personal information, we think that in order to get the most out of a comprehensive security plan, it should be used in a large house or shop, shop, or business.
For us, we have been able to do a floor test that is not that big, and somehow it has felt like the system itself is not completely exploited.
Rating: useful?
If you have a desire for a complete and effective security system, we can assure you that Ajax Systems is right for you. We liked the possibility of customizing the system according to your needs and preferences, buying only the additional devices you need.
We also love the design of each of your devices and how easy it is to install. Of course, you'll have to make holes in the wall, so if it's not something you're willing to go through, you'll have to forget about this plan (any good plan will require you to make holes, on the other hand).
Parts of the program that we were able to test effectively and clearly. The navigation machine is accurate, and its alarms and pictures are quickly sent through Ajax promises.