Apple officially unveiled the next-generation 14-inch and 16-inch MacBook Pro alongside an updated Mac Mini last week, and it's on sale now.
Key features of the new MacBook Pro line include up to 96GB of unified memory, support for 8K external displays via HDMI, upgraded Wi-Fi 6E support and, of course, all-new chipsets M2 Pro and M2 Max – the first of any Apple technology to feature SoCs.
Let's start with the less powerful (but still ridiculously powerful) Apple M2 Pro chipset.
According to Apple, the chipset comes in two variants with a 10 or 12-core processor and offers up to 20% better performance than last year's M1 Pro chipset. Coupled with the processor is up to a 19-core GPU which Apple says is 30% more powerful than the previous chipset, and up to 32GB of unified memory.
There's also an improvement in AI performance with a 40% increase in Apple's Neural Engine, which should see processes like AI-based image selection in Photoshop become even faster.
It also has an enhanced media engine with hardware-accelerated H.264, HEVC, and ProRes video encoding that allows playback of multiple 4K and 8K ProRes videos without using much power.
Combined, the M2 Pro offers a sizable upgrade over the Apple M1 Pro, making it a tempting option for on-the-go creatives who don't sacrifice power efficiency.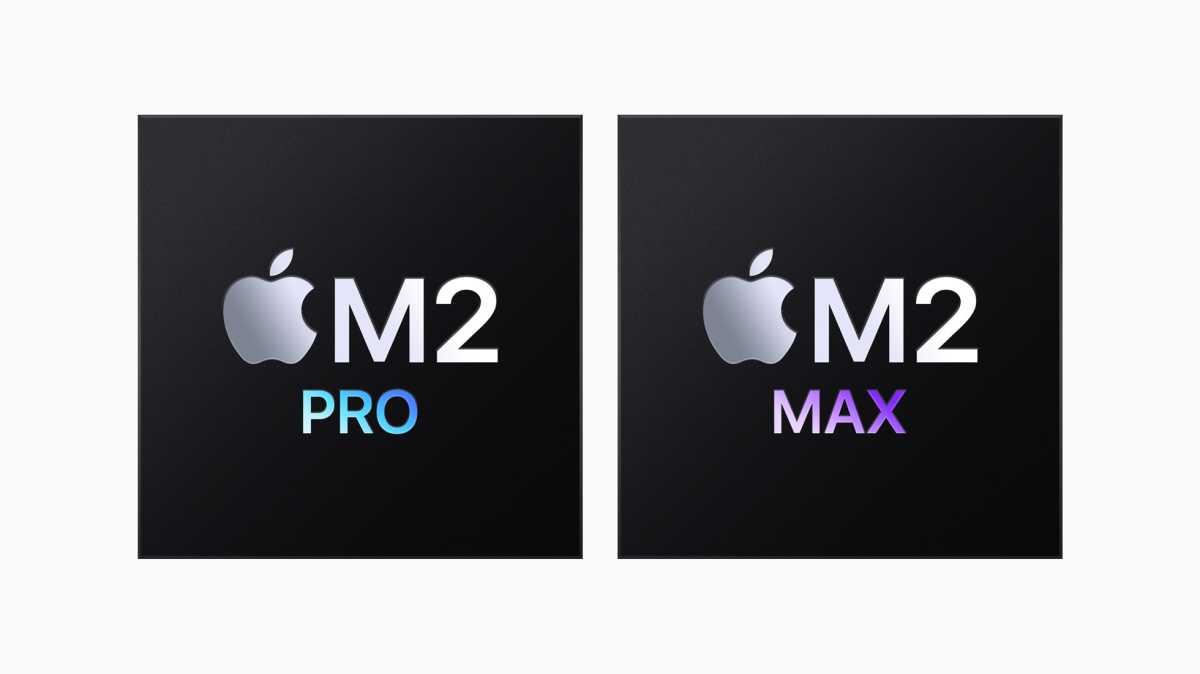 Apple
Those looking for the best possible mobile performance can opt for the M2 Max chipset, featuring a 12-core processor with eight high-performance chips and four high-efficiency cores that deliver a 20% increase in performance over the M1 Max chipset . That's paired with up to 96GB of Unified Memory, up from the M1 Max's 64GB.
This is coupled with a GPU with up to 38 cores which offers a 30% performance boost and like the M2 Pro, the M2 Max boasts a 40% improvement to its Neural Engine. The M2 Max also features two separate video encoding engines and two ProRes engines that enable video encoding up to 2x faster than the already capable M2 Pro, making it the best option for video editors of both. .
Whichever you choose, you'll get up to 8TB of SSD storage – although that will be quite expensive.
Chipset aside, the new range comes in the same updated 14- and 16-inch designs that debuted in late 2021, with 120Hz ProRes technology, a host of USB-C and Thunderbolt ports, a dedicated memory card and a full size HDMI port for easy connectivity. There's also the infamous notch cutout, although like the older model it still doesn't offer Face ID connectivity.
Pricing starts at $1,999/£2,149 for the 14-inch model and $2,499/£3,349 for the 16-inch model. Many retailers sell both – see where to buy the new MacBook Pro in the US and UK for details.