It's finally happening! On March 31, exactly two weeks from today, you can find Quill in Moss: Book II. As the next game in the franchise, Book II builds on the story you started with Quill in the original Moss. In this sequel to the journey, the stakes are higher than ever as Quill strives to save the world from Moss and end the ruthless reign of the Arcane. New allies, old friends, and the world around you will offer help along the way, but in the end, it's only you who can lift Quill to save this world and together become legendary.
To celebrate this announcement, I had the pleasure of sitting down with Justin Massongill and Tim Turi from PlayStation to record an episode of PlayStation Underground to give you a taste of some of the environments, enemies and challenges you will encounter in this new adventure. . As I showed off some unique new features, including a teaser for a cute fat
encounter that Quill is about to face – I deliberately left out a lot of the really cool stuff that we want you to experience for yourself. And I have a feeling you'll be glad we didn't spoil them for you.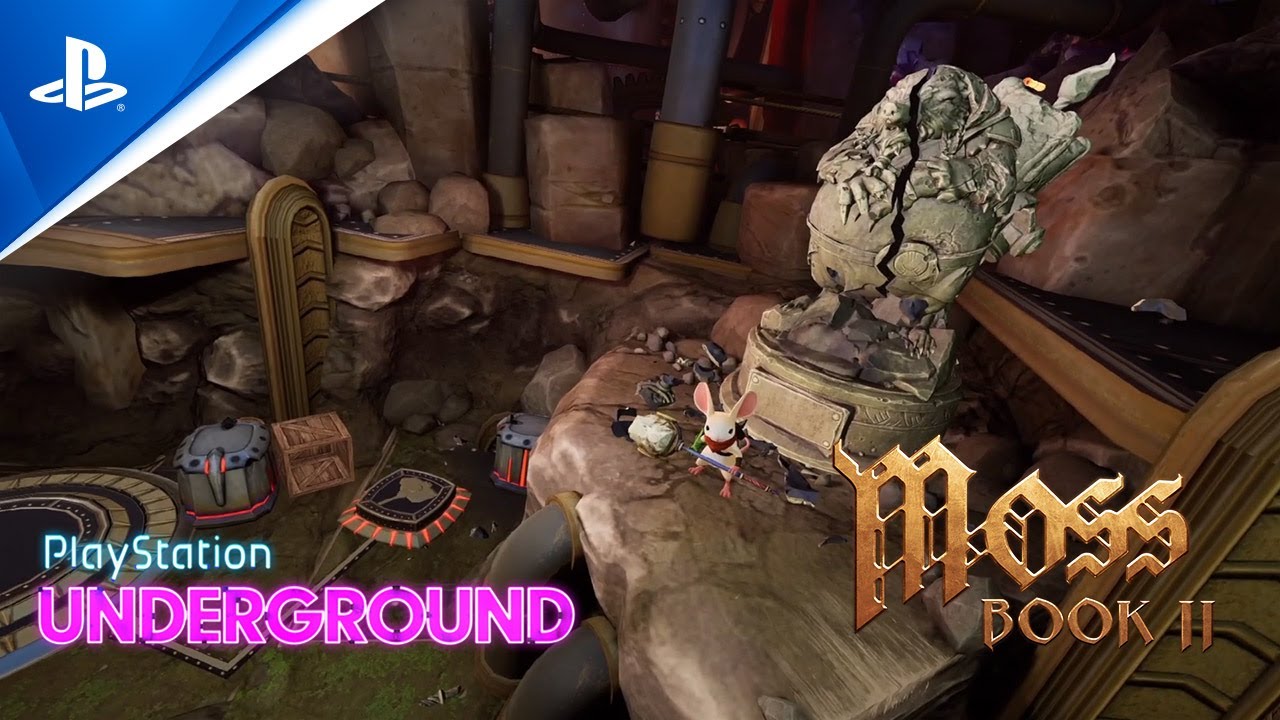 If you don't have time to watch the entire PlayStation Underground episode, here are some highlights I think you'll enjoy:
We start the episode in the Gardens, an area just outside the castle that you went to in the first game. There's a reason you made the trip to the castle, but we won't spoil that for the few of you who haven't played Moss yet. By now, you're a few chapters into the game where you've already met a few new characters, and you (the reader) and Quill have unlocked some new abilities. As the Reader, you have a real physical presence in the world, and in addition to guiding Quill, you're also able to reach out and interact with the environment, which you can expect to do in all new ways. in Book II. With your new attunement with nature abilities, you can now grow vine bridges and paint vines on walls to help Quill get to places she otherwise wouldn't have been able to go. This will be important as you travel through the game.
While running across vine bridges is exciting, since Moss, Quill has learned a new skill: rock climbing. With your ability to grow vines on walls and her ability to climb, she can now reach high ledges. This is very exciting, as it allows us to create new platforming challenges that Quill will need your help to navigate.
But these gardens aren't all flowers and butterflies – there's a danger lurking in the shadows. And as you make your way to the Conservatory, you'll face the Ripper, a new enemy (just one of many!) that you can catch and interact with. It's super fun to roll them up and release them like wrecking balls. Let's just say that sometimes you'll want to keep them to help you solve puzzles.
As you play Book II, you'll travel to exciting new locations, including the foundry beneath the castle, the epicenter where arcane weapons are forged. Luckily, Quill receives a hammer to better equip him for this daunting challenge. As you will see, its size is quite heavy, which makes it an A parcel fun crushing things. And with Quill and you working together, he can be used not only to craft scrap from armored enemies, but also as a crucial tool for getting out of other sticky situations.
Along with new weapons – yes, I said plural weapons 😉 – you'll encounter new enemies as you progress through arcane territory. Here is a quick overview of the Bomber:
As you'd expect, you'll have to watch your step as he throws mines your way. And get ready, because it takes more than a simple strike to ward off this threat…
And while I've said it before, I can't stress this enough: the journey through Moss: Book II will be grueling – filled with triumph and heartbreak – which is why Quill needs you to its ratings. Your adventure will be bigger than before. Filled with more emotion. More interactivity. More challenges. It won't be easy, but saving the world never is.
And if you think Quill's Hammer is impressive, let's just say you haven't seen anything yet…
The Polyarc team is extremely proud of this game and we can't wait to share it with you. And believe us, it was just a small taste of this brand new adventure. We hope you liked what you saw today and will fall in love with Quill again in the weeks to come.
Seriously, can't March 31 come sooner?