Wellness gem Garden of the Sea combines exploration of the world with farming, creativity and more. If you're looking for progression and adventure, you'll find it. If you are looking for relaxation, stay where you are and let the world slowly take its course. The wholesome game will launch on PlayStation VR2 on February 22.
Create gardens and craft anything you want to customize them, bamboo, coral, wood, stone, plant parts, etc.
Pet and feed the many types of animals with vegetables from the garden and cuddle their babies
Expand and decorate your house by crafting items, furniture and painting
Go fishing for new friends to hang out in your pond
Take your ship for a spin to experience new land types and environments
No violence – all reach out and befriend
Complete quests to unlock the hidden mystery of each island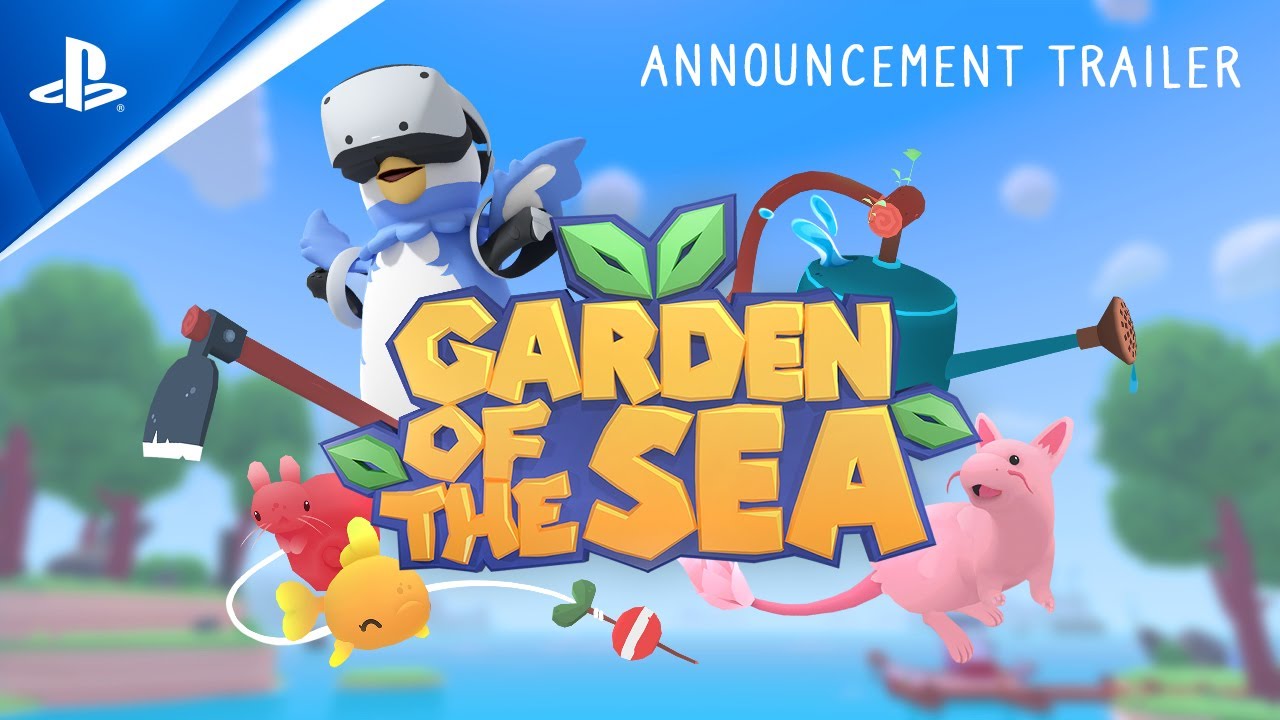 Garden of the Sea invites you to cross the ocean as playful sea creatures swim, discover new lands and new treasures, create a home and fill it with the best of the best from your adventures.
Meet the developers
Linnéa, Christoffer and Flippy from Neat Corporation.
We spoke to two of the developers: art director Christoffer Svenningsson and artist Filip "Flippy" Tengwall.
What led to the start of development of Garden of the Sea?
Christopher: I've wanted to do a specific type of game for a long time, like a more fantasy version of Stardew Valley and Harvest Moon. Something bright, imaginative and wholesome with lots of creativity, farming and places to explore. On a boat!
Scary : It's a genre that many of us at Neat like to play ourselves, so when we heard the idea, it was easy on the mind to say "What if this in VR?"
Christopher: As the idea caught on, we found ourselves working in stealth on Garden of the Sea even while the first Budget Cuts game was still in production. It had been in the pipeline for a long time, so the concept evolved slowly and organically as we explored as many ideas as possible. It was just a lot of fun to work in and a relaxing contrast to the dark hallways of the budget cuts, so it was hard to stop us. Someone took a photo of me on a break, lying on a bean bag, playing GotS like a happy guy with a huge smile on my face. This one definitely found its way onto our instagram at some point.
What was the heart of what you wanted to create?
Christopher: The original terrain is actually quite different from what the final game ended up being, although much of it is still there. I wanted to explore a world that feels familiar on some levels but still different from everyday life. Early on we played with many ideas, like islands floating in the sky and exploring them on an airship, but in the end we landed (no pun intended) with the ship in an archipelago. We hadn't seen many animals in VR so the aspect of care was also new for us to explore. There aren't many VR farm simulator games in general. On top of that, we felt these types of games were the most interesting for us personally, we were really excited about the project. I've been following this genre for a long time, so as a fan, it felt very natural to bring it to the VR scene. And it turned out that it works very well.
I can confess that I first played Stardew Valley while on sick leave due to insomnia and stress, and for a while it was the only way to find a relaxed feeling to pass the time. where I was too exhausted to do anything else. And while reading some Garden of the Sea player reviews, I came across a few that mentioned mental health and how Garden of the Sea has helped them in various aspects of their lives.
Scary : Off the top of my head, there's a fairly recent review that mentions feeling less alone while playing. It reminded me of when the pandemic hit. We had the game open for purchase and play to gather player feedback before finally making an official release in January 2022. There were obviously a lot of unknowns and fear in society at large and we were all working on home, like most people who could were. We've stayed in touch with the gaming community for feedback and many people have also reached out to us privately just to let us know how the game is helping them cope. Even though it is a single-player game, many people felt that it helped them through isolation and other difficulties.
Christopher: I can also recognize it in my own life, having grown up in the countryside on a farm with lots of animals around. You feel more alone here in the city, where many people don't have the space at home to keep pets. I definitely feel an emotional connection to GotS animals even though they are digital, which surprised me a little.
Scary : I think VR as a medium generally amplifies immersion a hundredfold. Since many games are all about action and conflict, virtual reality in entertainment has proven to give us stronger adrenaline rushes and more realistic scares. But it was cool to find out that we can also use this immersion boost to work with other emotions, like what people usually call "positive" emotions. This was especially clear to us when we saw people playing the game. Their reactions to cute animals were often surprisingly strong, like "whoait's cute!"
Garden of the Sea will be a launch title for PS VR2 on February 22.