Attention PlayStation players! Join Task Force 141 up to seven days before the official launch of Call of Duty: Modern Warfare 2 via a digital pre-order of the game on PlayStation.
Players who pre-order a digital edition of Modern Warfare II will gain early access to the game's Campaign mode* as well as other rewards. Starting October 20, enjoy a full week to focus on the globetrotting single-player Operation before the full game launches on October 28.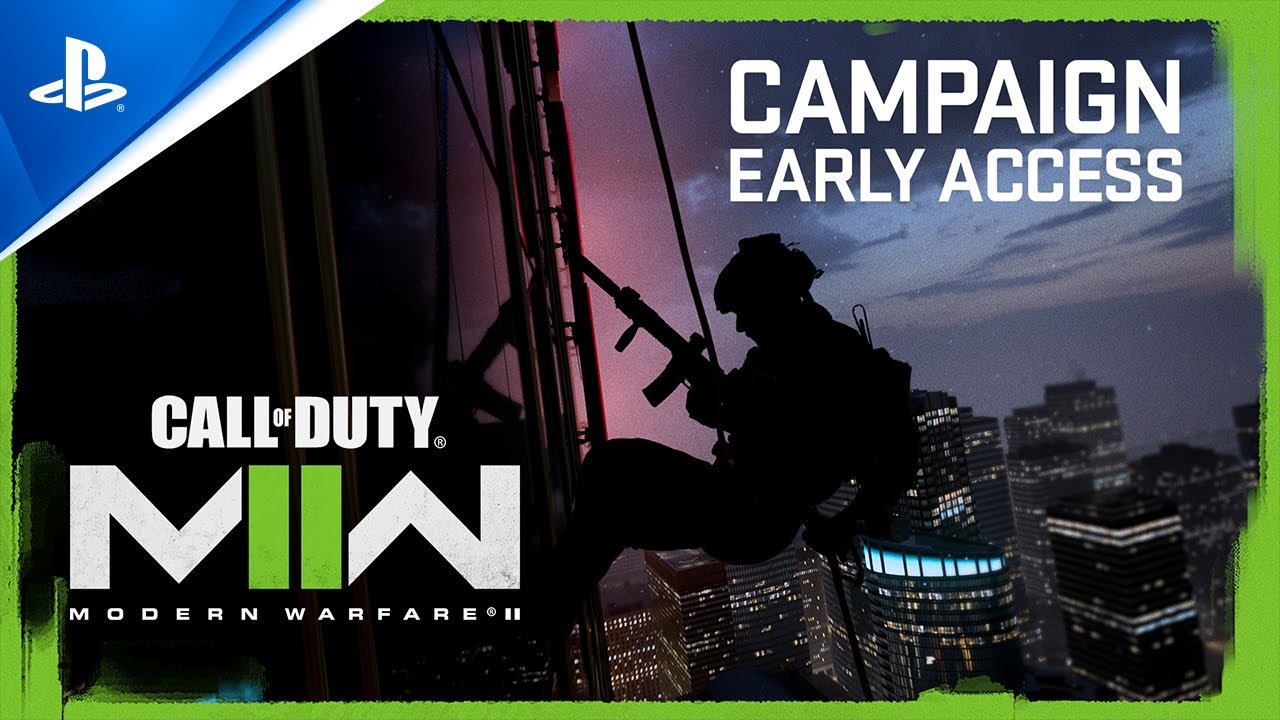 Join classic heroes, new allies
Task Force 141 faces its greatest threat yet – a newly aligned threat with deep connections. The campaign includes missions in Europe, Asia and the Americas, and is intended to be an incredible experience on many levels: sieges at sea with submarine combat, explosive assaults 30,000 feet above enemy fortresses, and stakes high, low profile stealth missions in plain sight and under cover of darkness.
We're excited to update PlayStation players on how Infinity Ward is approaching the campaign for this year's release.
Game development is not an easy task. The collaboration between the studios is the central element in keeping the game's development process on track. Having a well-rounded team is crucial to creating a AAA title, especially for the Modern Warfare franchise. Infinity Ward leverages the wealth of experience the team has gained in past games, film and television production to ensure this title can be the best possible game for the player base.
For Modern Warfare II, Infinity Ward will immerse players in a cutting-edge experience that will immerse players in stunning, action-packed gameplay, a reality that everyone can enjoy.
With enhanced graphics built via photogrammetry technology, the Modern Warfare II delivers impressive visual fidelity and will cover some of the finer details, like water physics and graphics, to create the most immersive experience yet.
Additionally, with improved shadow systems, the campaign will feature improved lighting to create an even more realistic ambience that will help players fully immerse themselves in Modern Warfare II's single-player mode.
In addition to the upgrades you can see, Infinity Ward has gone beyond the upgrades you can hear. Through further engine enhancements, this has opened up new possibilities for better sound capture and new features including real-time mixing and natural limiting to help players focus on the task at hand, dive into the narrative and engage players throughout the missions.
With early access to the campaign, you'll be fully prepared to roll out into the game's multiplayer options when they open at game launch.
Modern Warfare II Pre-Order Benefits
In addition to having early access to Modern Warfare II Campaign, digital pre-orders also grant in-game content for immediate use in Call of Duty: Vanguard and Call of Duty: Warzone. You'll also get early access to the Open Beta** and in-game content available when Modern Warfare II launches.
Modern Warfare II Pre-Order Rewards
Up to a week's early access to the entirety Modern Warfare II Country.
Access to the full game on October 28.
Early access to open beta.
Doomsday Pack***: Instant access to the Deathknell Legendary Oper ator Skin and Bloodthirsty Legendary Weapon Blueprint for use in Vanguard and Warzone.
Modern Warfare II Vault Edition Pre-Order Rewards
You'll get all of the previously listed rewards, plus:
Red Team 141: Four playable Multiplayer Operators – Ghost, Farah, Price, and Soap – each wearing a special masked outfit, which will be available during the Open Beta.
FJX Cinder Weapon Chest: To Call of Duty: Next, we plan to share more details about this and the new Gunsmith, which will also be available during the open beta.****

Season 1 Battle Pass and 50 Tier Skips: If you purchase the Vault Edition after the first season, the Battle Pass and free tier skips apply to the current season.*****
Ghost Legacy Pack: Over 20 free items celebrating the Task Force 141 icon, for Modern Warfare (2019) and Warzone, unlocked upon pre-purchase.******
Get Full Access to the Multiplayer Beta
Your pre-order gives you early access to the future of Call of Duty multiplayer combat. The Modern Warfare II open beta will be free on PlayStation and will be split into two playable weekends. Early beta access is granted to those with digital or retail pre-orders.
First beta weekend: first on PlayStation
The first beta weekend is available on PlayStation 4 and PlayStation 5 and is scheduled to run from Friday, September 16 at 10:00 a.m. PT through Tuesday, September 20 at 10:00 a.m. PT. This weekend is for PlayStation 4 and PlayStation 5 players only. You can access the beta without requiring the PlayStation Plus subscription service.
PlayStation Open Beta: The remainder of the weekend, from Sunday, September 18 at 10:00 a.m. PT through Tuesday, September 20 at 10:00 a.m. PT, is available to all PlayStation players, regardless of pre-order status. PlayStation players can now experience the massive amount of beta content available in Modern Warfare II and can unlock rewards available in-game at launch.
Beta Weekend 2 (Crossplay)
The second beta weekend is scheduled to run from Thursday, September 22 at 10:00 a.m. PT through Monday, September 26 at 10:00 a.m. PT. Weekend 2 is a free open beta open to all PlayStation 4 and PlayStation 5 players, whether or not you've pre-ordered the game. Crossplay will be active, so you can play with the larger community no matter what hardware they're playing on .
Stay tuned for more on Call of Duty: Next
Mark your calendars for September 15, 2022. Get a glimpse of the immediate future of Call of Duty at the Call of Duty: Next Franchise Showcase Event! Expect plenty more details regarding Modern Warfare II, information on the upcoming Call of Duty: Warzone, and more on the mobile version of Call of Duty: Warzone (also known as Project Aurora). This multi-hour event will include a full Modern Warfare II multiplayer reveal, a host of your favorite streamers playing the games in real time, plus more information and surprises!
Stay frosty.
*One week based on estimated access, actual play time subject to possible outages and applicable time zone differences.
**Actual platform availability and MP Beta launch date(s) subject to change. See www.callofduty.com/beta for details. The minimum open beta duration is 2 days. Limited time only, while early access beta codes run out, at participating retailers. Online multiplayer subscription may be required.
*** Call of Duty: Modern Warfare II on the pre-order platform is required to use the Final Judgment Pack. Sold/downloaded separately. **** Weapon Vault design limited to Weapon Vault content at launch.
***** Battle Pass and Tier Skips, or equivalents, will be accessible in Modern Warfare II once the Season 1 Battle Pass, or equivalent system, becomes available in-game. Redeeming the Battle Pass only applies to one season of Modern Warfare II Battle Pass, or equivalent system.
****** Call of Duty: Modern Warfare / Call of Duty: Warzone required to use Ghost Legacy Pack. Sold/downloaded separately. Must be redeemed by October 28, 2023. All pre-purchased customers are eligible to receive Ghost Legacy Pack rewards at a later date. However, Modern Warfare (2019) and Warzone are not available on Steam. For more details, please see the Call of Duty FAQ.
********* All pre-purchased customers are eligible to receive Ghost Legacy Pack rewards at a later date.