I'm Zack Hiwiller, Lead Designer on Knockout City. I'm here to tell you that things are getting tense in Knockout City. First, we had an AI that started taking care of everything (Why can't Perennial Labs just make some AIs that I don't know help you find a place to go to lunch?), and now ? You wouldn't believe me if I told you. It's better if you just… watch. Here, check it out in this trailer: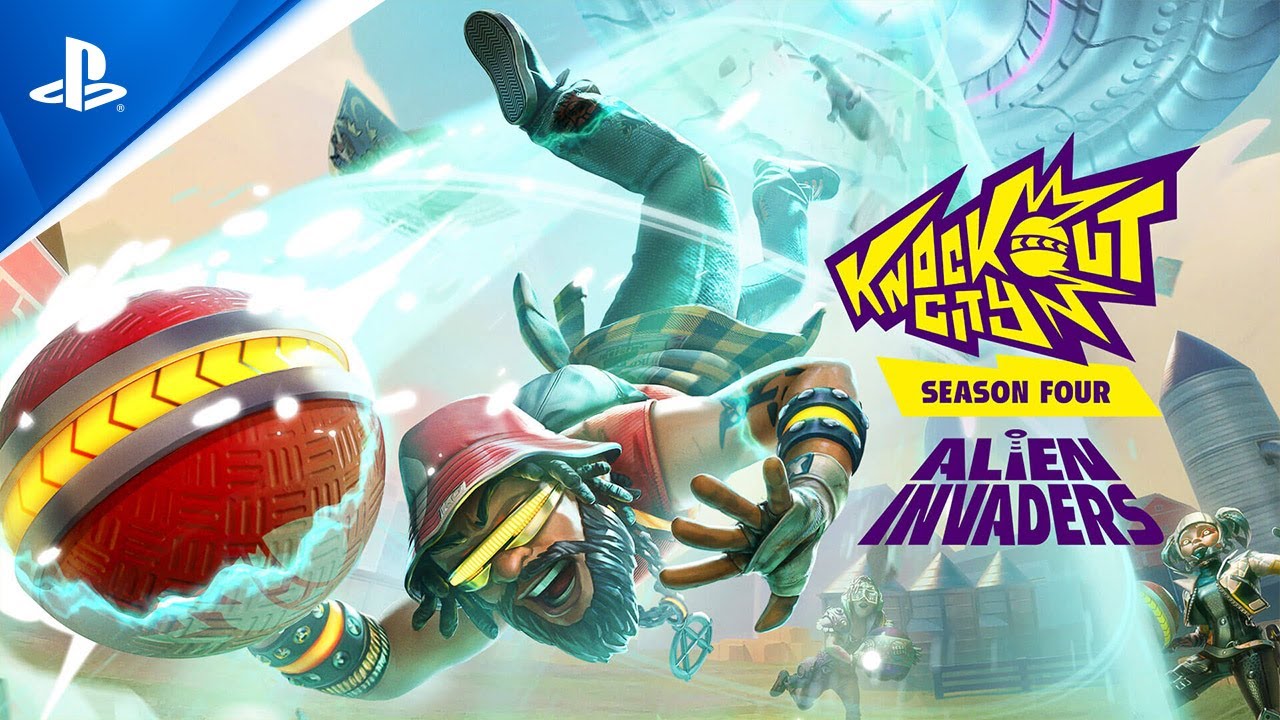 One of the benefits of developing a live service game like Knockout City is that you can constantly try new things. If these things work for gamers, you are building on them. Otherwise, you try something else. Cycles can be very fast. We want to constantly update the content of the game and keep each experience up to date; we've filled Season 3 with events, and you can expect more of where it came from in Season 4. We have four two-week events planned for a twelve-week season that begins with our playlist of Conflict escalates on December 7 and ends, as always, with a week of Midnight Madness in late February. The start of Season 4 will also feature our new map: Alien Smash Site.
The level design process on Knockout City gives us the ability to focus on centering each level around a specific unique mechanic. For example, at Holowood Drive-In we have movie thumbnails that change every minute, dramatically changing the level geometry throughout the game. In last season's Lockdown Throwdown, we added menacing turrets that throw caged bullets at you if you get caught in the spotlight of a security drone.
This season, we're taking brawlers to Alien Smash Site, located on a peaceful farm hovering above the ground on the outskirts of town. It was a peaceful location in Knockout City until recently, when the Knockout City Defense Force shot down UFOs directly on it. It has a full range of combat spaces: tightly enclosed barns, large open spaces (more on this in a moment), and places to flank and engage in an ongoing battle.
This is Knockout City's biggest level yet, so he needs something to help get through. Luckily the aliens left a bunch of little saucers that you can hover over and slide from place to place, even using its tractor beam to suck up balls (or players in Ballform, before throwing them into the nearest pit). For me, using the saucers is the most fun in our Basketbrawl mode as you can climb on the saucers to dunk opposing balls through the hoops.
Hovering is a big plus as there are a bunch of pits in the level which are difficult to cross otherwise. Of course, getting hit with a dodge ball over a pit can cause you to lose your turn, so you need to be careful. As always, we try to match the pros and cons so that each choice is situational. Driving a saucer makes you faster and gives you more crossing options, but you become a more visible and vulnerable target. There is a lot of verticality on this map to manage.
Alien Smash Site is a lot of fun, but far from everything we have going on. We've got a new 100-level Brawl Pass packed with all kinds of rewards, a new Deep Space Expeditions Season (our ongoing audio streams revealing the story behind the season), and of course, a cosmetics sequel. on the alien theme (which you now have more time to complete, including those brilliant Diamond Contracts at the end). As always, you earn enough Holobux in each Brawl Pass to purchase the next season's Brawl Pass, so you never miss out on these exclusive cosmetics. And, to top it off, we now have a native version of PlayStation 5 (with a free upgrade for PlayStation 4 owners) for even better graphics and an option for 120fps. You can still get the game for free on PlayStation Plus until December 6. Download it now to get access to Season 4 when it launches the next day!
Much like our aliens… friends… we're always listening and making changes based on your feedback. Join our Discord server and let us know how you appreciate all that Season 4 has to offer! We've brought the KO team back to League Play by popular demand and we have a lot more good stuff in the works that I can't tell you about just yet. Aliens won't let me mention… * cry of pain * I mean, uh, I'm limited by my development contract. Yeah, that's it. He h.