Over a year ago, in February 2020, with the launch of the first preview of Android 11, it was discovered that Google was preparing for the double tap gesture, but this feature did not materialize in this version. Months later, Apple went ahead with iOS 14 adding the touch the back on their iPhones and now it looks like Google will finally add it in Android 12
because it was leaked a few months ago.
Android 12 Beta 2 already includes among its new features this last key, which Google has dubbed ** quick touch *, a new gesture that will allow us to perform a certain action.
quick tapping
By default the quick tapping of Android 12 It is disabled by default. The user must activate it from Settings> System> Gestures> Quick press
, or by searching for 'Quick Touch' in the settings search field.

The quick key will allow us double tap the back of the mobile to do one of the following:
Take a screenshot.
Access the digital assistant.
Play or pause multimedia content.
Show recent apps
Show notifications.
Open an app.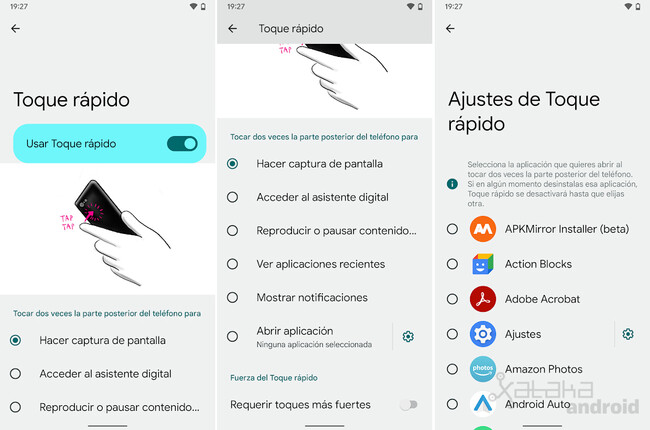 The 'Quick touch' configuration also allows us to activate an option that requires stronger touches, to avoid possible erroneous activations if by accident we make small taps on the back of the mobile.
Currently, this novelty does not seem to work on all Google Pixels. For example, in the Pixel 3 or Pixel 3a, you can enable quick touch but it doesn't respond to gesture, it doesn't do anything. In contrast, in the Pixel 5 and some Pixel 4a 5G if the quick touch works.
Via | 9to5Google